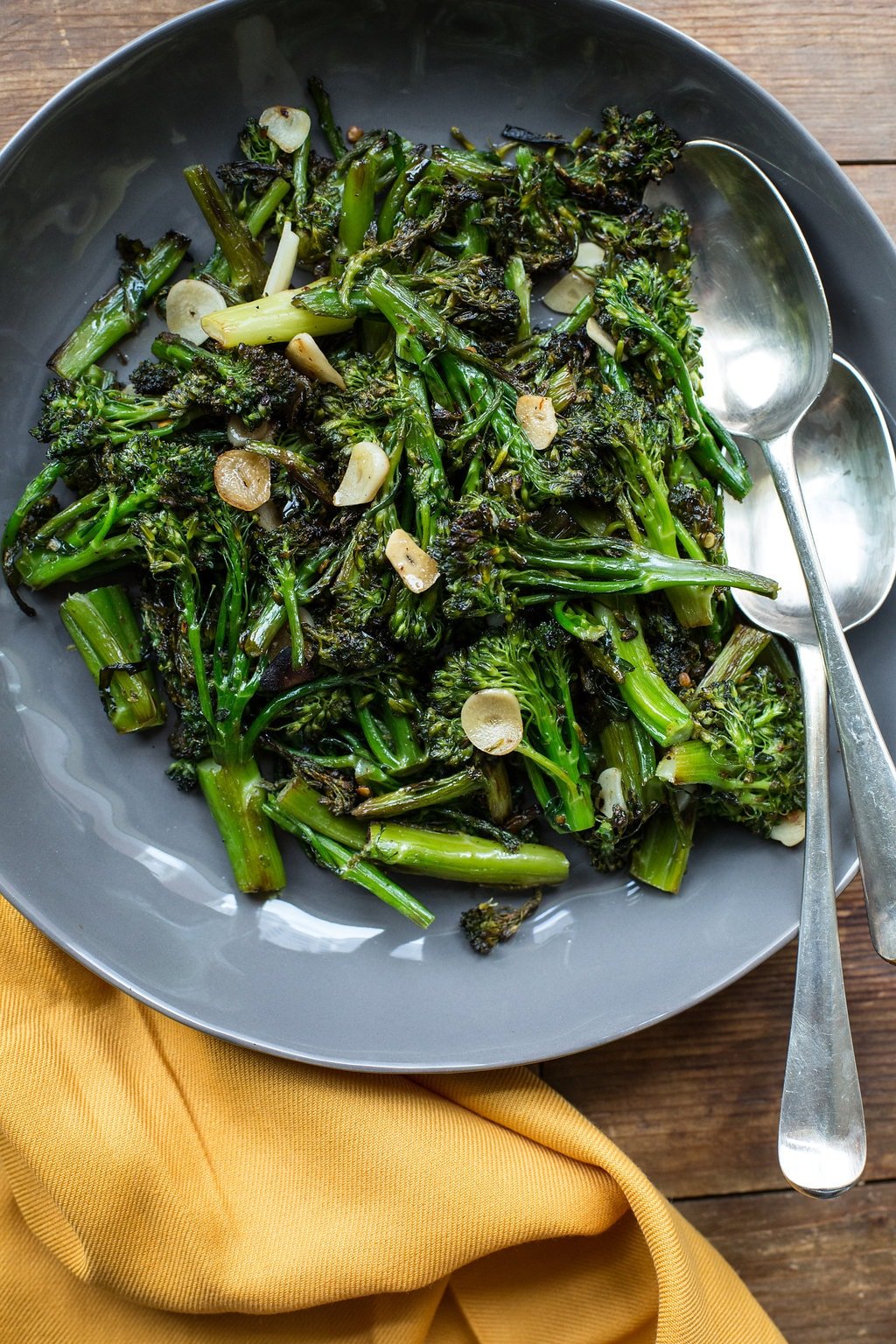 Damn, those Italians, they know their way around the kitchen. And the best part is that the best dishes are often so completely, amazingly, refreshingly simple. Like 4 ingredients simple (no, we don't count olive oil and salt. Or water. Or air.)
I love broccoli. I can roast broccoli with olive oil and salt all day long. It's perfect in stir-fries, too, and casseroles, and quesadillas, etcetera, etcetera. I rarely just steam or blanch it, however, because I find steamed broccoli to be kind of disappointing. But this dish, this is the opposite of disappointing.
A super simple pan seared broccoli or broccolini dish with garlicky deep flavor and great texture.

Tweet This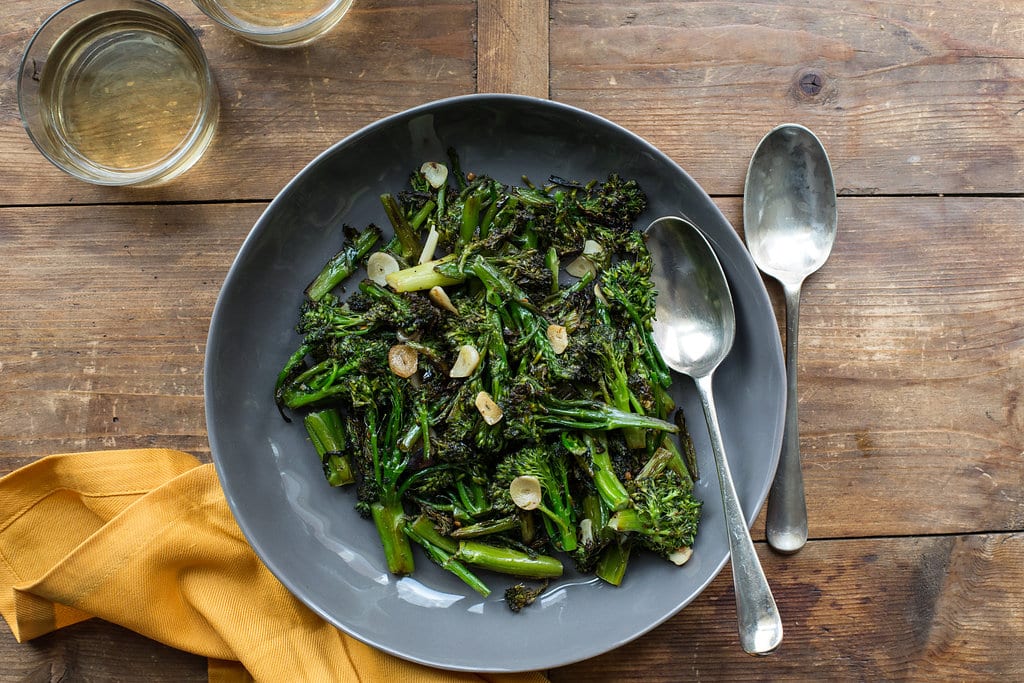 What is Strascinati?
The technique of making "dragged" (or strascinati) is most often used with broccoli in Italy, though other vegetables can be prepared this same way, such as broccoli rabe or cauliflower. With this method, the common step of parboiling the vegetable before sautéing is skipped, and the result is that the vegetables stays firmer, and the flavor is more concentrated.
A generous amount of olive oil along with hot peppers and garlic are usually used….and I certainly saw reason to tamper with tradition there. You'll see that the garlic and pepper flakes are added towards the end – this lets you cook the broccolini over nice high heat, but prevents that garlic and pepper flakes from burning.
You don't want to keep flipping and fussing with the broccoli too often, or it will finally cook through, but it won't brown, which gives it that nutty caramelized flavor that makes this dish pretty sublime. Also, this dish works best when there is a little bit of crunch left in the broccoli – though you should feel free to cook it until it is as tender as you wish it to be.
Broccoli vs. Broccolini
I made this with regular broccoli first, then with broccolini which is like broccoli but with longer slimmer stalks and a smaller head of florets, all of which are edible and have a slightly milder flavor than broccoli.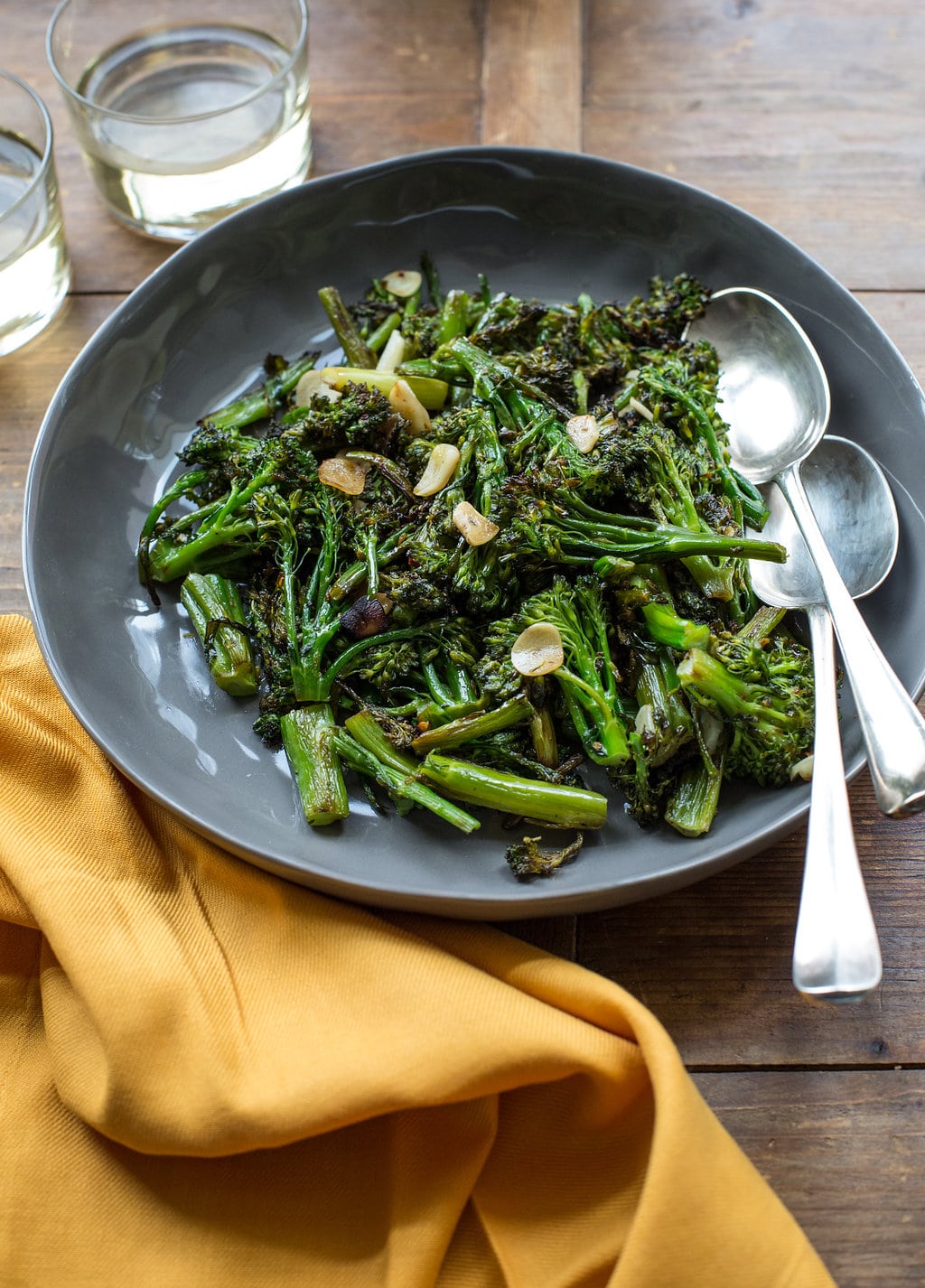 Like this recipe? Pin it to your favorite board on Pinterest.

Pin This
Broccolini Strascinati ("Dragged" Broccoli)
A super simple pan seared broccoli or broccolini dish with deep flavor and great texture.
Ingredients
1 ½

pounds

broccolini

3

tablespoons

extra virgin olive oil

Kosher salt

to taste

3

cloves

garlic

very thinly sliced

½

teaspoon

red pepper flakes

or to taste

3

tablespoons

dry white wine
Directions
Trim the broccolini and cut it into 1-inch pieces, using the stems and the florets.

Heat the olive oil over medium-high heat in a large skillet (with a lid), the biggest one you have; you could also use a wok. Add the broccolini and cook, stirring to flip the pieces around occasionally, until they start to turn golden brown, but are still crisp tender, about 8 minutes. Season with salt, and add the garlic and the red pepper flakes, and sauté for one more minute, until you can smell the garlic.

Add the wine and cover the pan for 2 minutes, allowing the liquid to come to a simmer. Remove the lid and sauté for another minute until the liquid is almost evaporated and the broccolini is as tender as you like it. Remember that it will soften a bit more off the heat. Serve hot.
Nutrition Information
Calories:
117
kcal
|
Carbohydrates:
9
g
|
Protein:
4
g
|
Fat:
7
g
|
Saturated Fat:
1
g
|
Sodium:
37
mg
|
Potassium:
6
mg
|
Fiber:
1
g
|
Sugar:
3
g
|
Vitamin A:
2051
IU
|
Vitamin C:
105
mg
|
Calcium:
83
mg
|
Iron:
1
mg
The nutrition values are provided as an estimate. It is not intended as a substitute for the advice of a qualified healthcare professional.
Made this recipe? Post a photo of your delicious creation on Instagram with our hashtag #dinnersolved