This post may contain affiliate links. Please read our privacy policy.
Mangosteens are a lovely fruit to get to know. The flavor is sweet-tart, and very refreshing, once you pop it out of its hard shell. Enjoyed on its own, or added to a fruit salad, this unusual fruit also boasts a lot of health benefits.
What Are Mangosteens?
If you don't know what a mangosteen is, don't blame yourself. For a long time, the mangosteen fruit was banned from being imported into the U.S. because of agricultural concerns about insects. That ban was lifted in 2007, at which point purple mangosteens crossed our borders and began fascinating American chefs.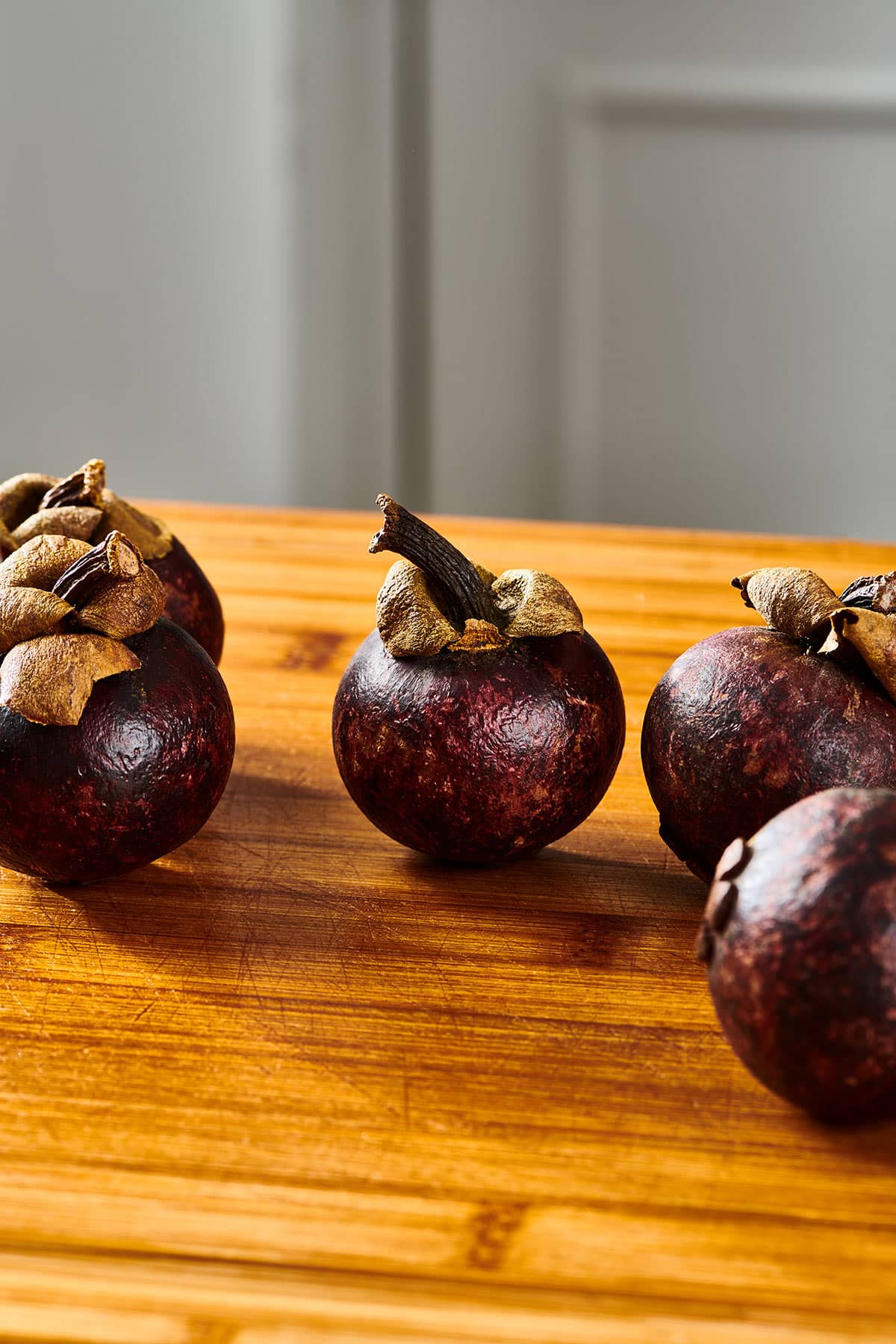 This fruit can be grown anywhere with a tropical climate and is produced in countries all around the world, including Thailand, Mexico, and Colombia, among others. This beautiful fruit has an outsized reputation: sometimes called the "Queen of the Fruits" or "Fruit of the Gods."
Visually, mangosteens are quite striking. Their rinds are a deep purple, with plushy green leaves and a stem still connected to the top of the fruit like a cap. Inside the rind, the flesh of the mangosteen is bright white and looks a little bit like jumbo lumps of crab meat. The contrast between the rind and the fruit itself is marked — once opened, the fruit looks kind of like a little baboon's bottom!
Selecting Mangosteens
When they are ripe, mangosteens grow to be about the size of a tennis ball, and their outer rinds are hard to the touch. If you're choosing between mangosteens at the store, select the ones without yellow resin dried onto the outer shell because the presence of this resin might be indicative of problems on the inside of the fruit.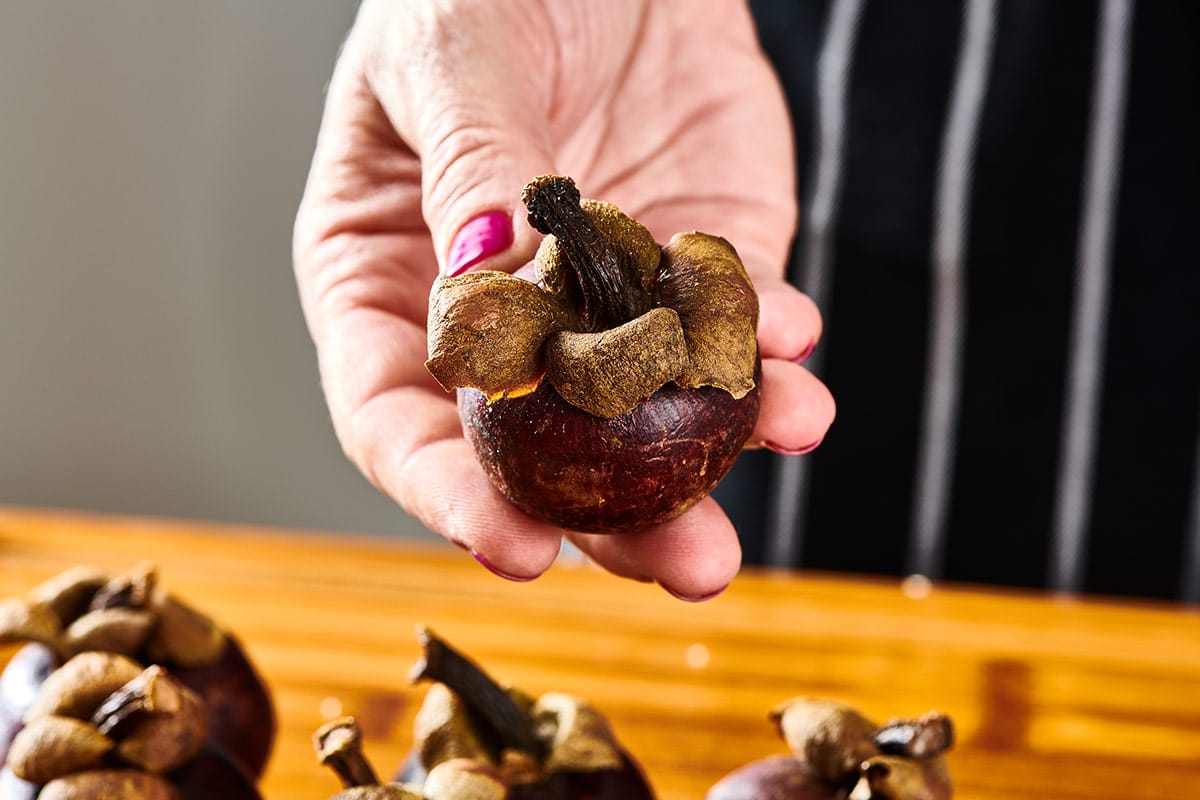 What Do Mangosteens Taste Like?
The pulp of the mangosteen is acidic and sweet, with a similar consistency to lychee fruit. Taste-wise, it can be compared to a version of a banana or a peach, only with a pronounced sour flavor. That's what makes eating a mangosteen such a treat: it's like eating a piece of sour candy!
Where to Find Mangosteens
Mangosteens are only able to be cultivated in tropical regions. In countries around the equator like Laos, Indonesia, and Thailand, you can find mangosteens for sale everywhere, from supermarkets to fruit stands in the street. Unfortunately for Americans, it's nowhere near as easy to get your hands on mangosteens. If you're not in a Southern state, these guys likely aren't even stocked in your supermarkets! You can always order mangosteens online, but be warned: the shipping costs can be high.
In general, where available, you can get your hands on fresh mangosteens between May and September within the United States.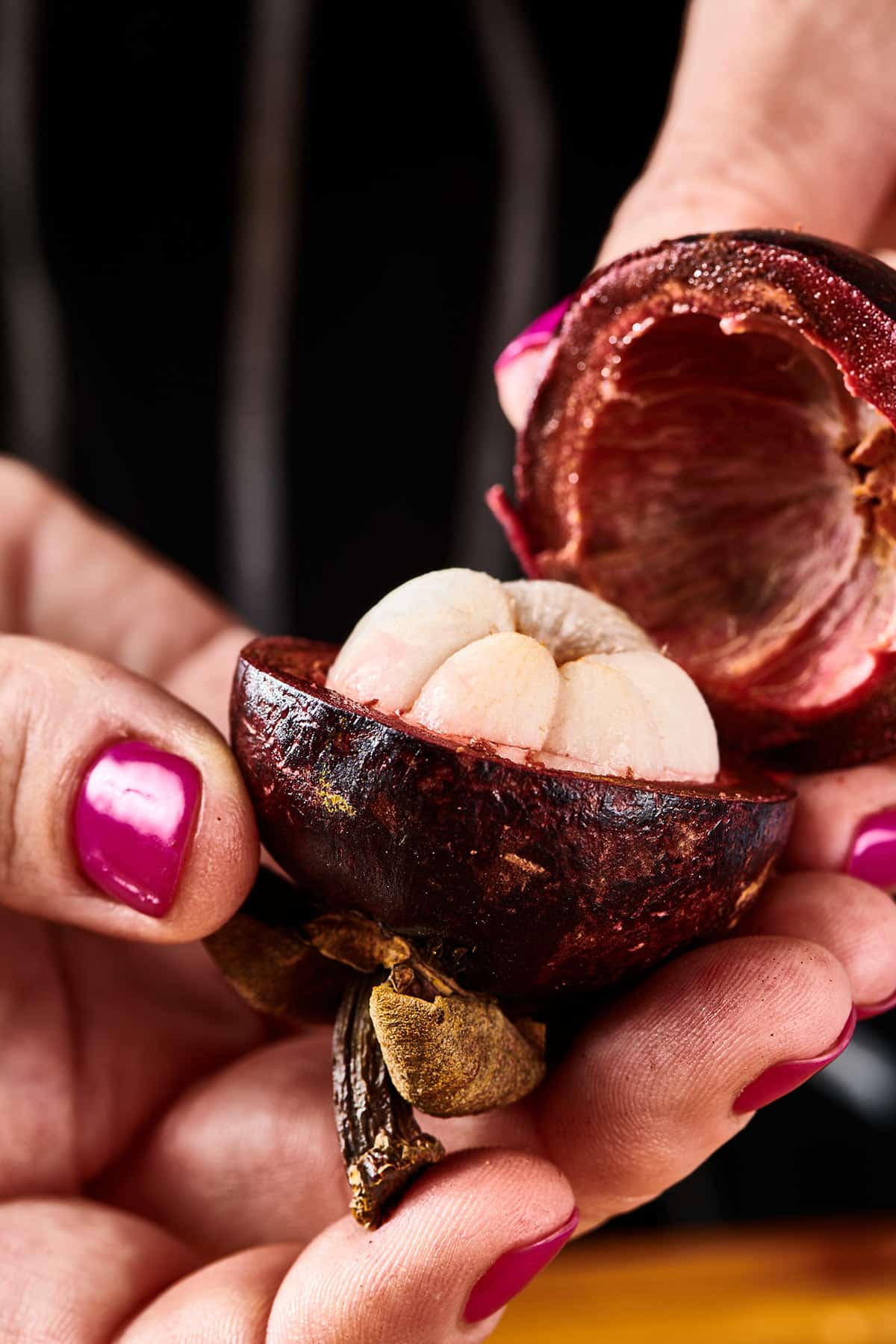 What Are the Benefits of Eating Mangosteens?
Mangosteens have, in part, been dubbed the queens of fruit because they are believed to have healing properties. The science is still being determined, but WebMD notes that they are thought to aid in everything from preventing cancer and heart disease to curing diarrhea and gum infections. It is definitely true that these fruits pack some powerful antioxidants. This is also a low-calorie fruit with significant vitamins, minerals, and fiber. But, if you eat too many mangosteens, they can also cause health risks like constipation, bloating, nausea, or vomiting (via the National Library of Medicine) — so don't overdo it with this magical fruit!
How To Cut Mangosteens
The first step to opening your mangosteen up is to cut into its rind around the thickest part of its circumference with a serrated knife. The older your fruit is, the harder it will be to cut through that rind. You'll want to make a shallow cut all the way around the circumference of the fruit, taking your time and being careful. Cutting deeply will injure the flesh of the fruit and might result in you losing some of its delicious juice.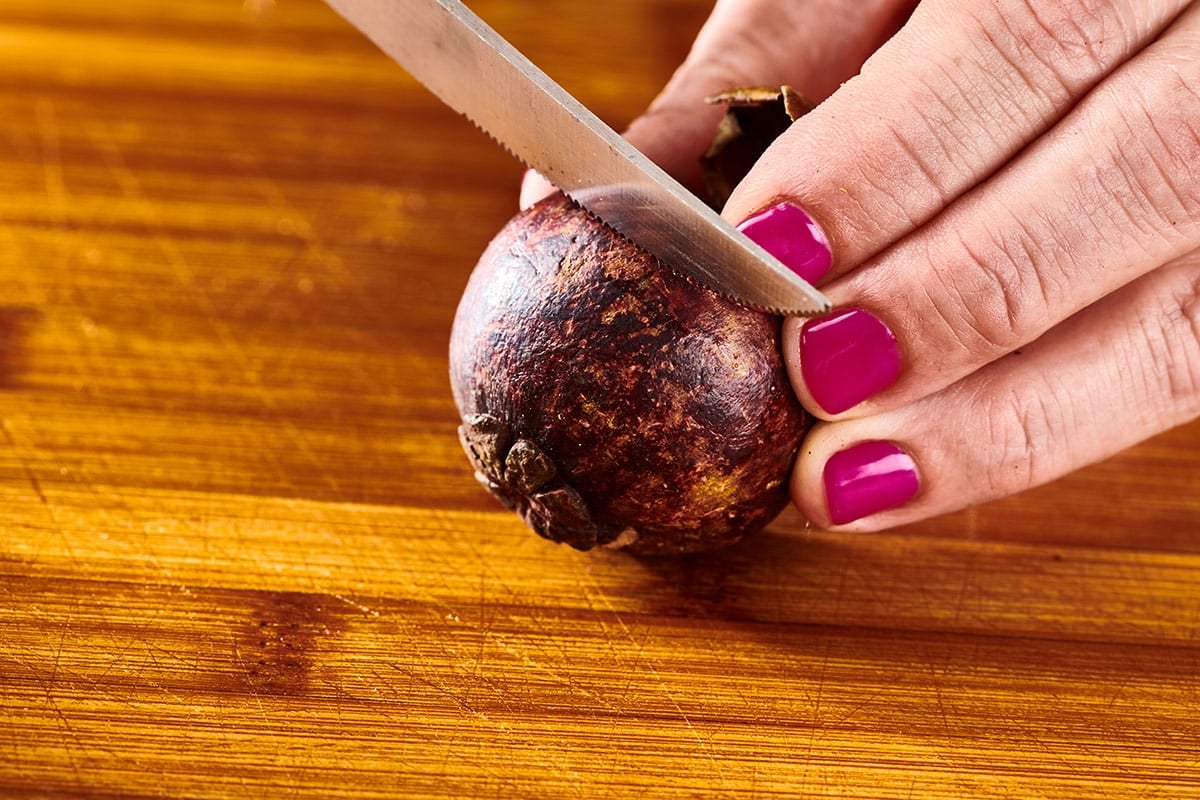 Once you've made an incision, pull apart the fruit halves in a circular motion, like you're opening an avocado. (If this isn't possible yet, you need to cut deeper.)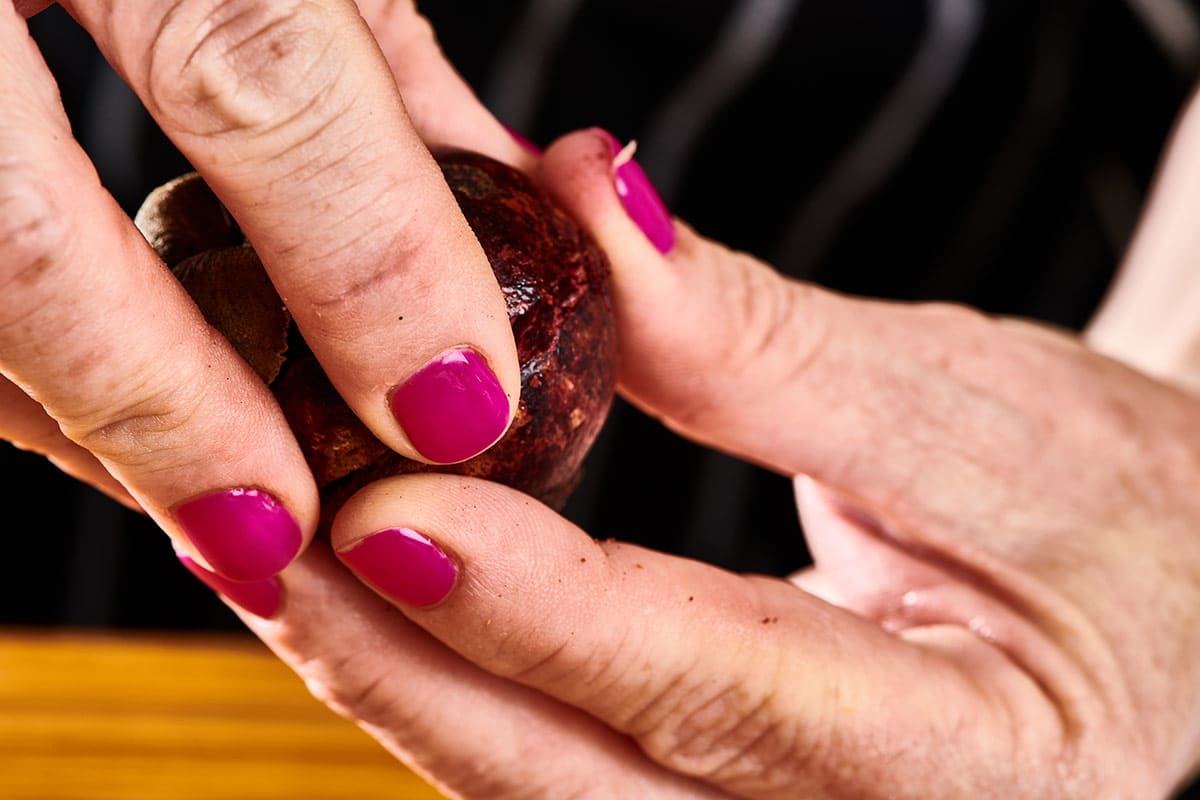 After twisting the halves apart, you should be able to see the bright white flesh of the mangosteen. Pull the lumps out as you would with the segments of an orange, and steal a bite.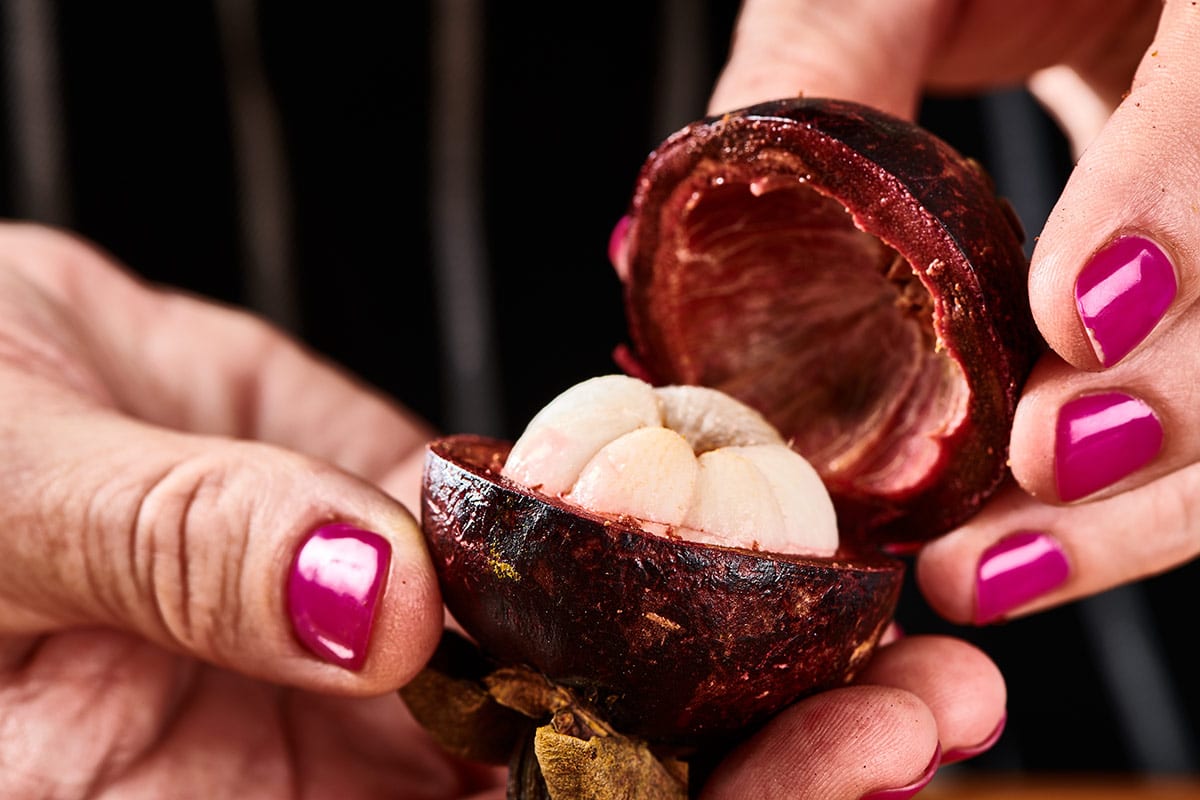 How to Cook With Mangosteens
Once you've prepared the mangosteen flesh, you can use it in your dishes in all sorts of ways. It is a great addition to any fruit salad, and I would rather enjoy it raw on the occasions I can find it. But it can also be cooked into baked goods much like you would use a peach or a plum — mangosteen tart or clafoutis, anyone? The sharp taste of mangosteen juice is an exhilarating addition to a cocktail. The skin is inedible, but I've read that it's possible to juice the peel to infuse drinks with a shock of brilliant purple. If you want, you can also add a pinch of mangosteen juice to your sauce for a curry or stir-fry — and cut up some chunks to throw in there, as well.
Everything you need to know about buying, preparing, storing and eating mangosteens.

Tweet This
How to Store Mangosteens
Make sure you put your mangosteens in the fridge when you bring them home: they have an incredibly short shelf life and won't last for many days. For this reason, when you buy mangosteens online, they are usually rush-delivered and often require overnight shipping.
Fun Facts About Mangosteens
Did you know that where mangosteens originate from is still a mystery? Here are some other fun facts to boost your mangosteen knowledge:
If you look at the bottom of your mangosteen, the number of "petals" on the raised bottom directly corresponds to the number of segments that will be inside the fruit!
Mangosteens are the national fruit of Thailand.
The mangosteen is featured in the poem "The Crab That Played With the Sea" by Rudyard Kipling. The closing couplet reads, "You will know what my riddle means / when you've eaten mangosteens."
Try Adding Mangosteen to These Recipes