This post may contain affiliate links. Please read our privacy policy.
Another 5-ingredient weeknight pasta dinner hero dish. It's a recipe to reach for when the most appealing thought about dinner is how little time it will take in front of the stove.
How to Choose Sundried Tomatoes
All sundried tomatoes are not created equal. First, some are packed in oil, and some are sold just dried. If you are using the ones in oil, you want to drain them as well as you can, and then you may want to reduce any other oil called for in the recipe.
Then the ones that are just dried can be unforgiving hard little disks, or they can be plump and yielding, and those are the ones you want for this dish, and for any other. Harder sundried tomatoes can be slightly reconstituted—just place them in a bowl with hot water to cover and that them soak for about 20 minutes, then drain and proceed.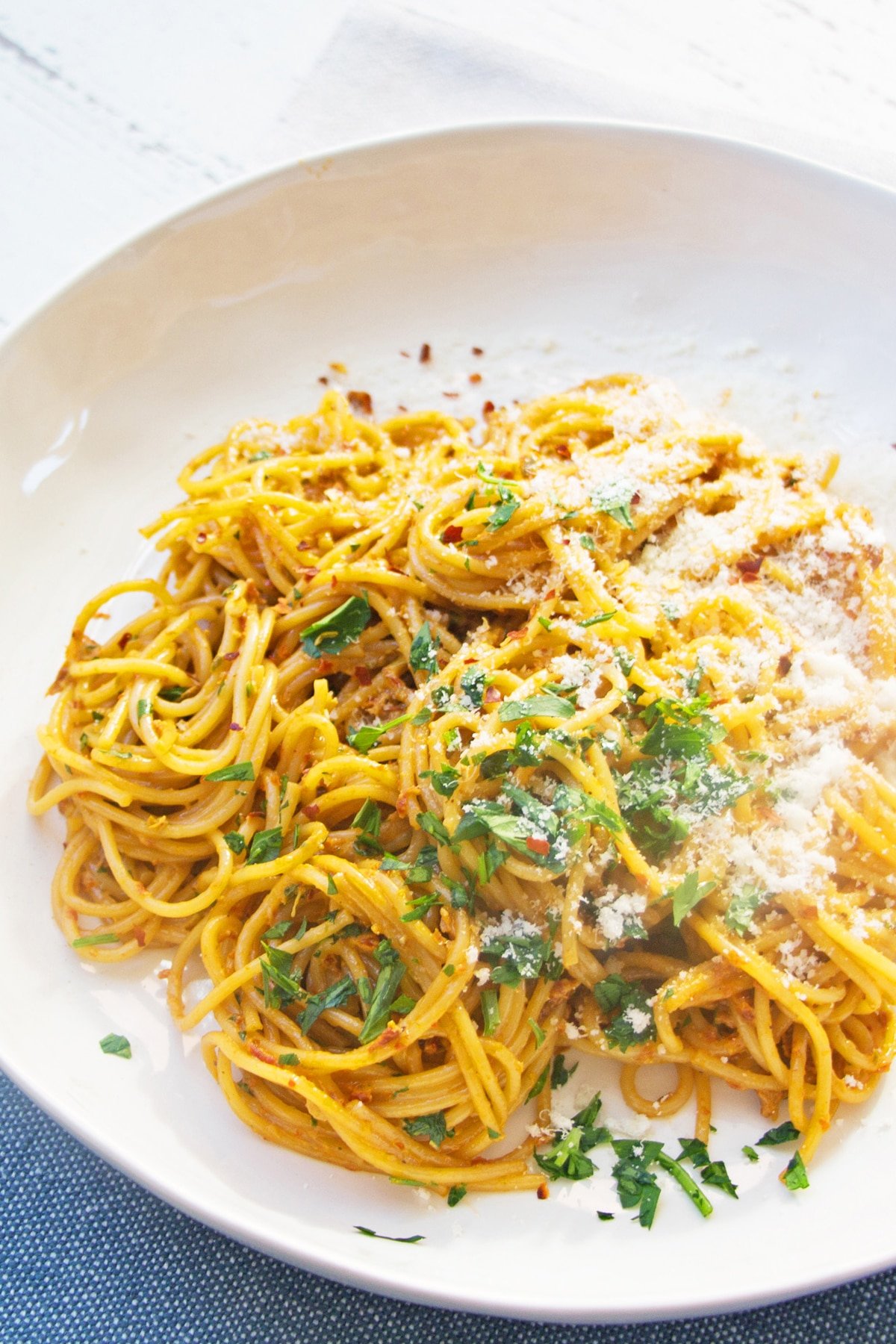 A while back I was in Venice (I know, I know….just as terrible as it sounds) and spent a lovely morning at a big open air market. At several of the produce stand there were a number of bins of sundried tomatoes, each with different prices per kilo. To my untrained eye, the biggest difference seemed to be size. But I'm sure there was more to it than that—my Italian begins and ends with food terms (Tagliatelle, Prosciutto, Parmesan) but thus far I still don't know what the difference was between them. Back to Italy, I guess (someday).
Pasta with Sundried Tomato and Scallion Sauce: A very flavorful and easy 5-ingredient pasta dinner with simple ingredients.

Tweet This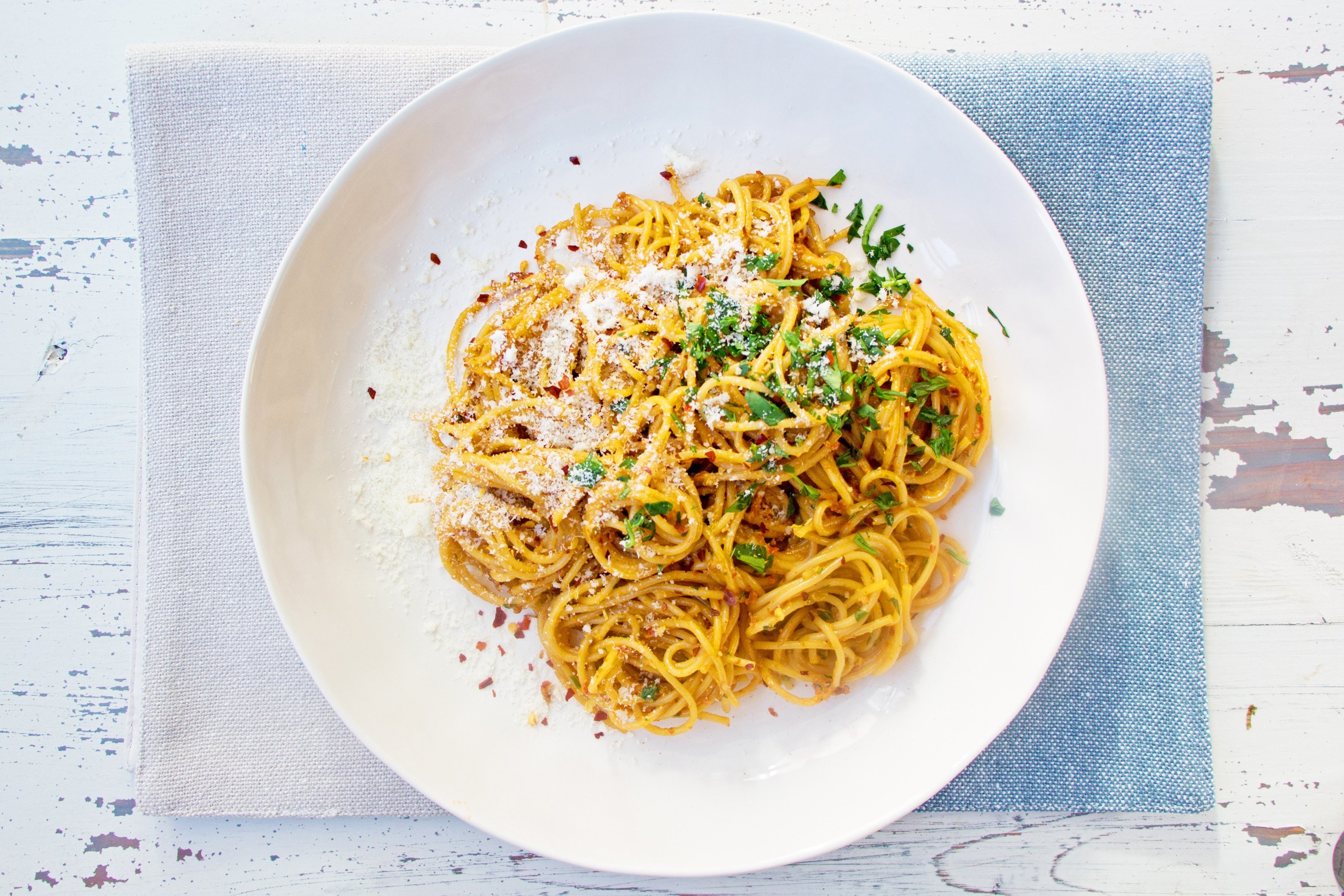 I bought a bag of mid-priced ones, and smuggled them home in my laundry (oh, don't pretend you wouldn't do the same). They were so supple and flavorful, and stayed that way for months, and I can only wonder how much better the most expensive ones might have been. But no regrets—#nosundriedtomatoregrets.
Still, I do need to make a point of asking someone more in the know how to decide which to buy next time I am in such a delightful predicament.
Try roasted tomatoes (which you can roast yourself easily, or purchase at an upscale food market) instead of the sundried for a slightly different, smokier flavor. Or stir in a few tablespoons of Sundried Tomato Pesto. This is a creamy, vegetarian pasta with simple flavors.
Using Cooking Water In Pasta Sauce
The technique of using some of the pasta cooking water in the sauce is an old one, and it helps to bind the sauce to the pasta, thanks to the starch in the cooking water.  Additionally, finishing cooking the pasta in the sauce itself infuses the pasta with the flavors of the sauce.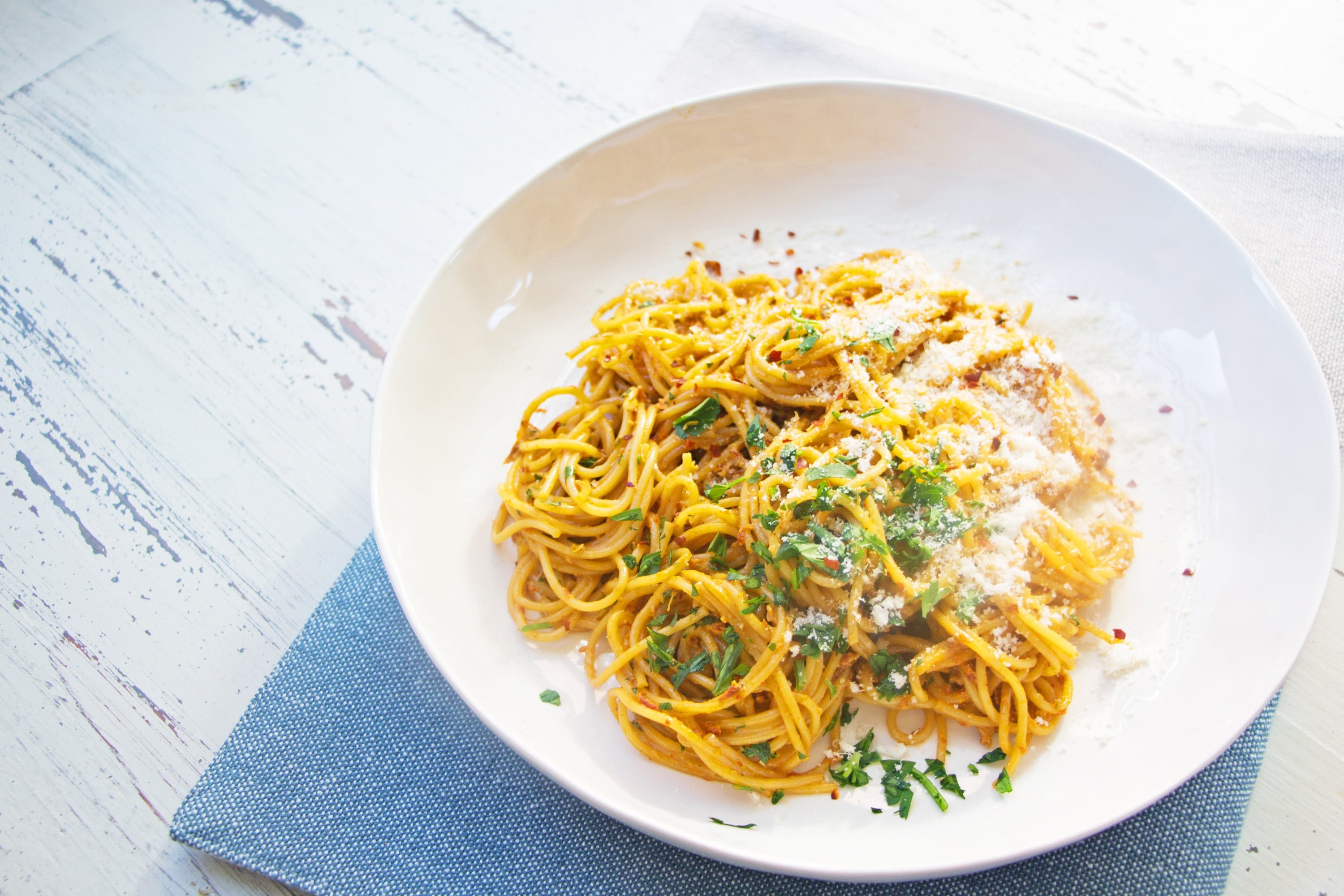 An extra sprinkle of Parmesan and parsley finished off the dish nicely, as does a sprinkle of red hot pepper flakes. The only reason red pepper flakes aren't listed in the recipe itself is because I promised you 5 ingredients (not counting pasta, olive oil, salt and pepper) and I need to deliver on that promise.
Other Quick & Easy Pasta Recipes:
Like this recipe? Pin it to your favorite board on Pinterest.

Pin This
Pasta with Creamy Sundried Tomato and Scallion Sauce
Sometimes one of the most appealing things about a recipe is the small amount of time it takes in front of the stove.
Ingredients
Pasta with Creamy Sundried Tomato and Scallion Sauce
Kosher salt to taste

1

pound

spaghetti

or other long skinny pasta

6

scallions

trimmed and cut into pieces, both white and green parts

16 to 20

sundried tomatoes

in oil, drained, roughly chopped

1

cup

half-and-half

Freshly ground pepper to taste

⅓

cup

chopped parsley

¼

cup

grated Parmesan cheese

plus more to serve
Instructions
Bring a large pot of water to a boil over high heat.  Salt the water generously, and let it return to a boil.  Add the pasta, and cook accordingly to package directions, stirring occasionally.  You will want to drain this pasta and reserve 1 cup of the cooking liquid about two minutes before it is thoroughly cooked, as it will continue to cook in the sauce.

While the pasta is cooking, add the scallions, tomatoes and about one quarter cup of half-and-half to a blender or food processor.  Puree the mixture.  Pour it into a saucepan along with the rest of the half-and-half and heat until almost simmering over medium low heat.  Do not allow the mixture to boil or it will separate.  Season with salt and pepper.

Drain the almost-cooked pasta, adding 1/2 cup of the reserved cooking water to the creamy sauce.  Return the pasta to the large pot, add the sauce, and toss and stir over medium heat for another minute or two (tongs are very good for this) until the sauce is evenly distributed in the pasta, and the pasta is cooked to your liking.  Add some or all of the remaining pasta cooking water if desired. Stir in the parsley and the ¼ cup Parmesan and serve hot.  Pass the extra Parmesan at the table.
Notes
What the Kids Can Do:
Measure the ingredients, and cut the scallions and sundried tomatoes with an age-appropriate knife, if they are old enough. Finding a sturdy plastic knife for older kids is a great way to give them some investment in the kitchen. My son used his plastic knives for years.
Nutrition
Calories:
369.66
kcal
,
Carbohydrates:
62.42
g
,
Protein:
13.73
g
,
Fat:
7.18
g
,
Saturated Fat:
3.85
g
,
Cholesterol:
18.59
mg
,
Sodium:
101.74
mg
,
Potassium:
455.38
mg
,
Fiber:
3.5
g
,
Sugar:
4.44
g
,
Vitamin A:
625.88
IU
,
Vitamin C:
9.14
mg
,
Calcium:
123.54
mg
,
Iron:
1.89
mg
Nutrition information is automatically calculated, so should only be used as an approximation.
Like this? Leave a comment below!