There is something super extra special nice about a gift that does double duty by pleasing the recipient, and then also doing good in the world.  The following food-related gifts are not only sure to make the beneficiaries happy, but also benefit some very worthy charities.  Stock up on a bunch and have them on hand when you need to pull out a hostess gift, a "secret Santa" present, or treat someone in your world to a little good karma love.
---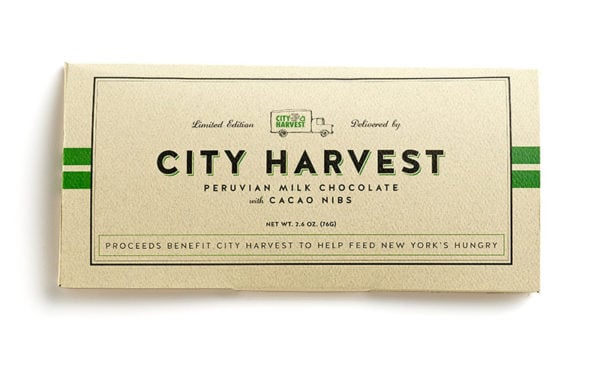 No one is ever sad to find chocolate in their stocking (or maybe taped to the top of another gift). This particular City Harvest chocolate bar is made by noted chocolatier Eclat, from creamy sweet Peruvian milk chocolate and studded with every so slightly bitter cocoa nibs. All of the proceeds will go to City Harvest, which feeds hungry people in NYC, which is my fair city. It's a hell of a chocolate bar! A stocking stuffer to make you feel good in many ways.
I have been on the board of City Harvest for 15 years, and the work that they do is amazing and necessary, rescuing food from various places – restaurants, supermarkets, farms, companies with surplus – and making sure it gets to the soup kitchens, pantries, and other locations where it is needed.
In 2018 City Harvest will rescue 61 million pounds of excess food which will feed 1.2 hungry New Yorkers. If you want to know more about City Harvest, click here.
---
I will never have too many spatulas in my kitchen, never ever, and to that end I am now collecting these amazing and fun spatulas from Williams Sonoma, created to benefit No Kid Hungry, the initiative created by Share Our Strength to make sure childhood hunger is eradicated in this country. Each spatula is designed by a celebrity from Questlove to Giada de Laurentiis to Gwen Stefani. They are SO cute.
Williams Sonoma has sold over 50,000 spatulas, which have connected kids with over 1.5 million meals. 30% of the retail price goes directly to Share Our Strength's No Kid Hungry.
To find out more about what No Kid Hungry and Share Our Strength does click here.
---
If you know someone who loves food and loves jewelry, then you have found the perfect one-two punch of a gift. Whole foods are the star of this line of bracelets and necklaces, which come in sterling silver, 14K gold, and diamonds. Choose from ingredients like garlic, chicken, fish, lobster, avocado and carrots, plus a bunch more. My sister is so getting an artichoke bracelet this year.
The company works with famous chefs, who pick their favorite hunger relief charity, and then Delicacies donates 10% of every purchase to hunger-relief organizations. Right now, Carla Hall is the featured chef, and she has selected the charity The Door.
---
Glassybaby is an artisanal glass and votive company that makes the most luminous gently curved glasses. It was started by a woman named Lee Rhodes who, while fighting cancer, was buoyed by the glow of a candle in a handblown orange glass made by her husband. She decided to start this company to make and sell handblown glasses and votives, and give away 10% of the profits to charities "that makes people, animals, or the planet heal." So far they have donated more than $8,000,000 to over 400 charities.
The colors of the glasses are breathtaking, and her son writes lovely names and descriptions for each of the 400 hundred and some odd versions. To hold one of these heavy glowing glasses in your hand is a lovely experience.
---
Speaking of chocolate and NYC…another amazing chocolate gift is a box of one of the most famous brownies on the street of my city, Chuck's Famous Brownies. Chuck is the longtime (15 years!) baker at GLWD, which is an organization that makes and delivers healthy and delicious meals to people who are too ill to shop and cook for themselves.   Many people rely on this critical charity.
Back to those amazing brownies: they come in various sized boxes, but when in doubt, go for the 24-count box. These are truly some of the best brownies you will ever share.
To read more about the work of God's Love We Deliver, click here.