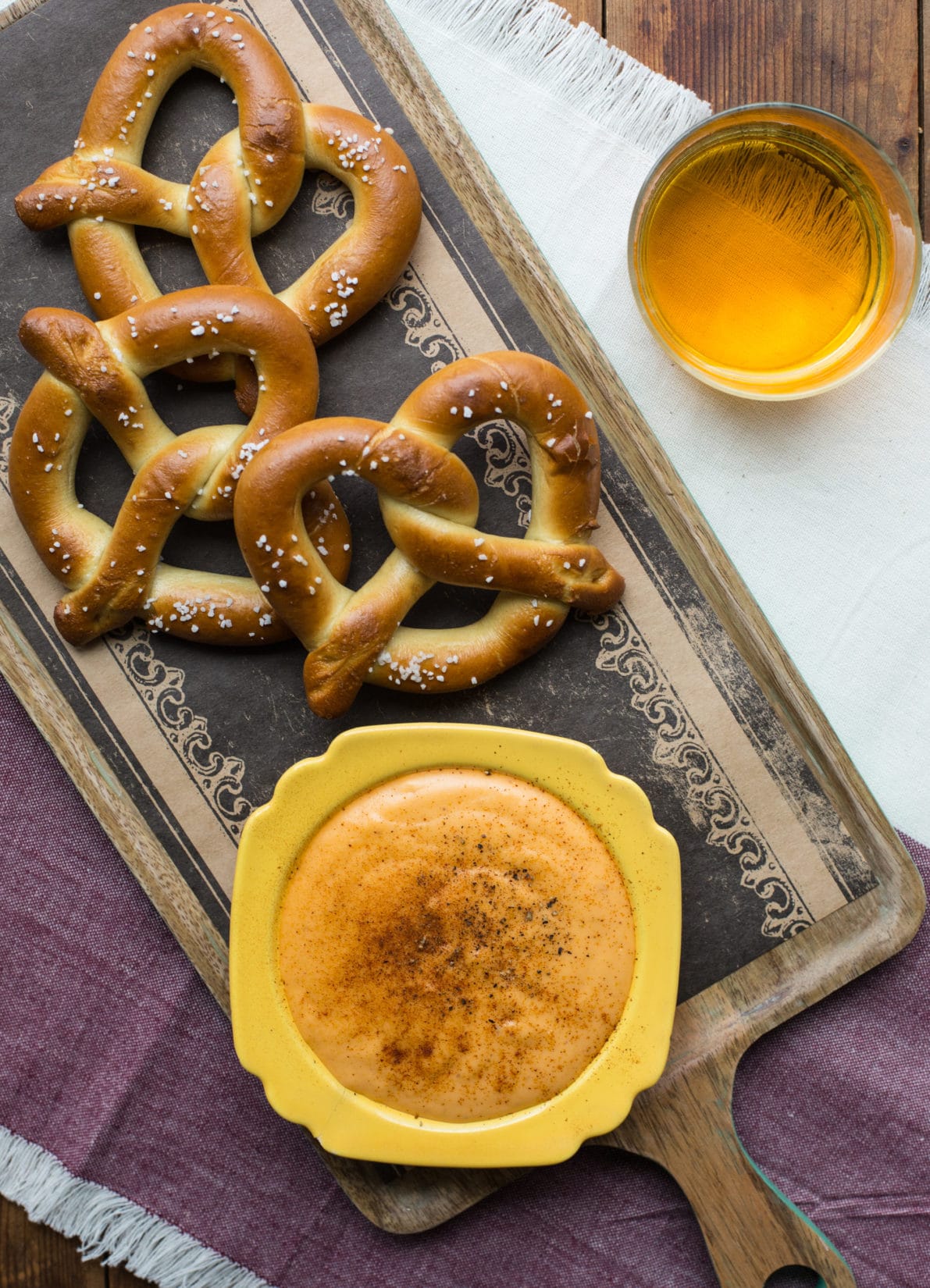 I'm writing this looking out my window at a blizzard. Not a snowstorm – a blizzard. That's what the folks are saying on the news, but I am watching the wind blow billows of snow in circles all up and down Third Avenue and I don't need to be told what's happening.
These people on the television (who seem super excited about the slightly scary news they are delivering: "Dangerous," "Frostbite," "Hypothermia," "Wind Chill," are just a few of the ) and warning everyone to stay inside at all costs. And that is could reach up to -20 degrees tonight. (You all saw the – before the 20 right?)
I guess these weather people don't have a dog. Who needs to be walked. 4 times. A day.
And the rest of my family is away for 5 days.
Oh my goodness.
Oh shit.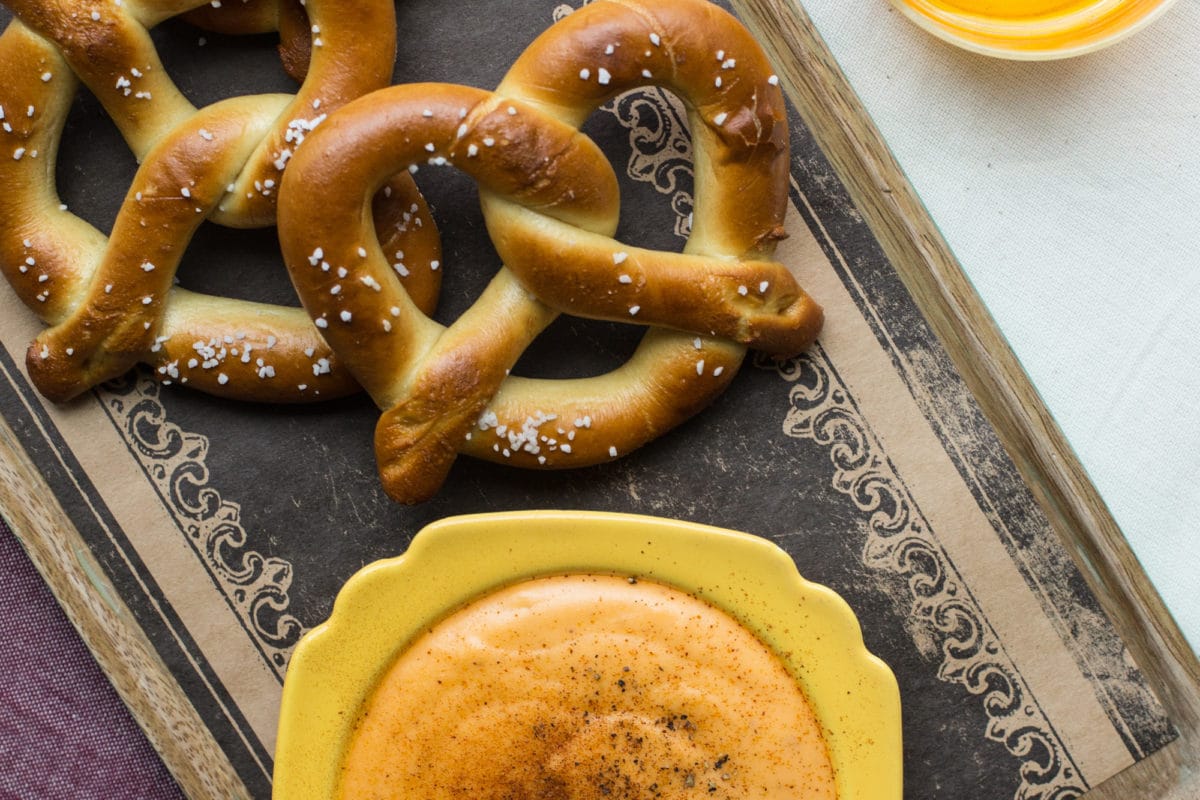 There is only one thing to do right now. And it sure ain't whipping up a light salad. It's making some comfort food. Preferably something with cheese. I think I've got to do a little test run of an upcoming Superbowl snack.
Growing up I loved the hot pretzels that my mom stashed in the freezer, ready to be heated up in the toaster for an afternoon snack. I do remember being impatient enough that I sometimes bit into a slightly frozen center instead of waiting those extra two minutes for the whole thing to get hot and soft, but hey, life is a series of choices. I certainly would not have been patient enough to make this cheesy dip, and I would have been in big trouble if I had taken it upon myself to open up a beer to use in the dip – "What? It's an ingredient mom; I'm cooking!"
Beer Cheese Dip for Super Bowl
And now I'm a grown up I'm very excited about making this super snack for the Super Bowl, and serving it WITH beer. Cheese and beer and hot pretzels in one snack? There are some definite perks to being an adult. The dip is fine for kids, though, as the alcohol burns off in the cooking—but you do want to taste the flavor of the beer, so pick a lager that you like, with some presence.
Root, root, root for the home team (I know that's a baseball song, but it's ok. These pretzels also go with baseball, by the way).
If you have a big crowd and want to make a larger batch of pretzels you might double the dip recipe and keep it warm in a slow cooker. It can also be gently reheated over low heat in a saucepan if it starts to thicken up too much.
One more thought—this seems like it would be a pretty good idea poured over tortilla chips for a super creamy nachos. Kind of like that orange cheese sauce that gets ladled over chips at sports games and carnivals and movie theaters only much, much better.
More Hot Cheesy Dip Recipes:
It turns out, upon reflection, that I like hot cheesy dips. Apparently a lot. Check out:
I can quit any time I want.
Cheese Beer Dip with Hot Pretzels
Cheese and beer and hot pretzels in one snack?  There are some definite perks to being an adult.
Ingredients
2

13-ounce boxes of frozen hot soft pretzels

12 pretzels in all

3

tablespoons

unsalted butter

3

tablespoons

all-purpose flour

¾

cup

milk

preferably whole

¾

cup

good beer

2

teaspoons

brown mustard

Sriracha or other hot sauce

to taste

4

ounces

cream cheese

cut into pieces

2

cups

shredded sharp cheddar

Coarse or kosher salt and freshly ground pepper

to taste
Directions
Prepare the pretzels according to package directions.

Meanwhile, in a saucepan over medium heat, melt the butter. Add the flour and cook, whisking constantly, for 2 minutes. Slowly whisk in the milk and beer, then increase the heat to medium-high and bring the mixture to a simmer. Add the mustard and Sriracha and cook, whisking occasionally, until the mixture begins to thicken, 3 to 5 minutes.

Whisk in the cream cheese until it's melted, then add the cheddar cheese in several batches, whisking until each batch has melted before adding the next. Serve hot, with hot pretzels.
Nutrition Information
Calories:
545
kcal
|
Carbohydrates:
83
g
|
Protein:
15
g
|
Fat:
16
g
|
Saturated Fat:
9
g
|
Cholesterol:
43
mg
|
Sodium:
1081
mg
|
Potassium:
157
mg
|
Fiber:
2
g
|
Sugar:
1
g
|
Vitamin A:
428
IU
|
Calcium:
190
mg
|
Iron:
5
mg
The nutrition values are provided as an estimate. It is not intended as a substitute for the advice of a qualified healthcare professional.
Made this recipe? Post a photo of your delicious creation on Instagram with our hashtag #dinnersolved