This post may contain affiliate links. Please read our privacy policy.
Oh, April, hello! Hello! Welcome, welcome, welcome. We've been waiting for you, like…well, all year. But really, especially this year. You know why.
Easter is but moments away, and whether you celebrate Easter or not, this is the month we really truly shove those heavy coats into a back corner of the closet, and turn our attention from roasting to ramps. Though, I also know that some of those summer vegetables might get roasted on non-grilling nights. But I'm getting ahead of myself.
Depending on where you live, "Spring" may hit at different times. A mixture of envy and anticipation gets stirred up if you are in a part of the world where those fresh peas and strawberries are still weeks away. We'll try and stick with the anticipation, since envy won't make those asparagus spears grow faster.
Are you gardening this year? Last year I tried, and it was a pretty epic fail. The fault lies squarely with me. I think this year if I do it, it will only be if I have the discipline to put down one of those weed-preventing mesh mats under the top layer of soil. Last year it was me vs. the weeds, and the weeds were the clear victor. Me finding two tomatoes for dinner amidst the brush was something to see, I'm sure.
Ok, April!!!
---
13 Seasonal Recipes to Make This April
The classic, perfect baked ham — shiny with a tangy sweet glaze, crosshatched, ideal for Christmas, Easter, and any large gatherings that call for a ham.
---
This Greek-style leg of lamb has a little spiral of extra flavor inside, and looks like it was more complicated than it really is to make.
---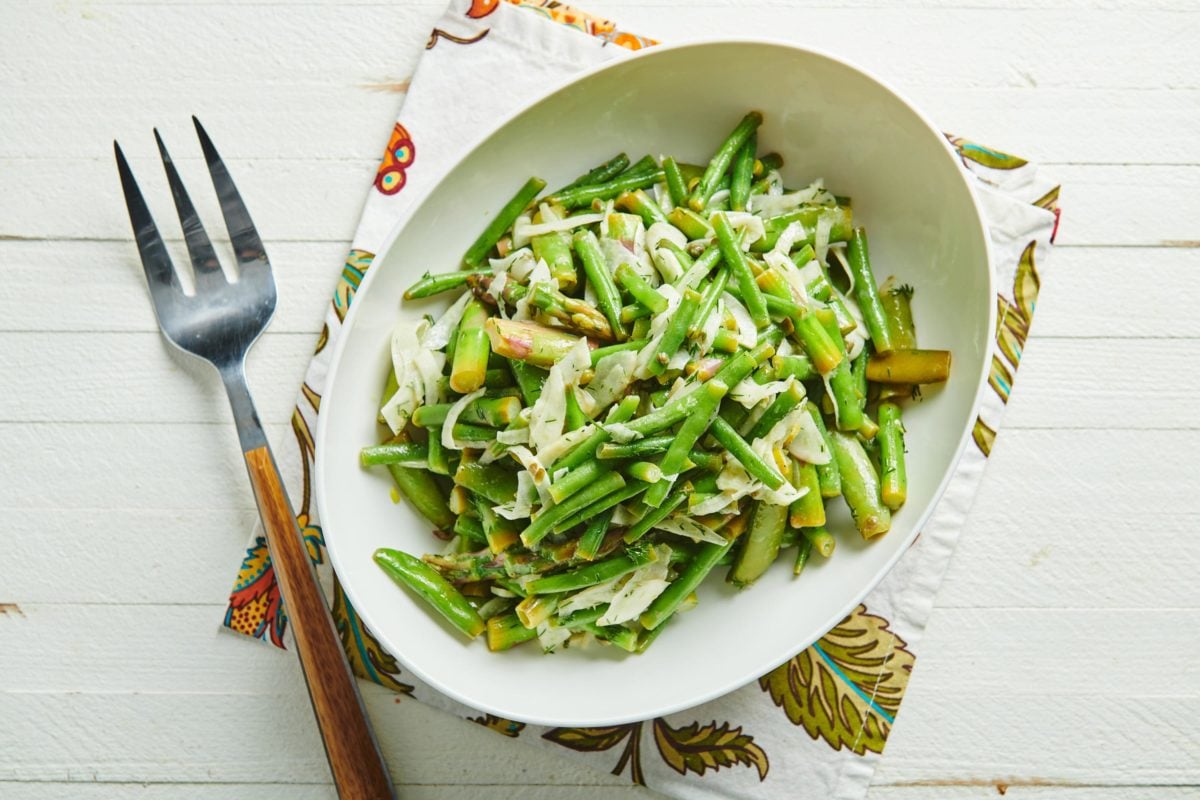 Simple, perfect, crisp-tender, goes with everything.

"This is a fantastic salad! It's light and fresh and crunchy, all the things you crave as Spring starts to bloom."

Annie
---
Please, just look at that glorious crust.
"SOOOO good!! I marinated the pork chops then ended up freezing them because I got called out of town. DELICIOUS!!! However, one thing I had a problem with was getting the "crust" on the pork chops. At medium-high. I couldn't get a crust without overcooking the chops. Next time, I will sear the chops on high, then add the marinade. I didn't ever remove the chops; I added the marinade as soon as the chops looked close to being done. The marinade reduced quickly, and then I served it. DELISH!!! Thank you for an awesome recipe!!!"

Jazz
---
A handful of ingredients turns a pound of shrimp into a terrific quick and easy weeknight dinner in under 30 minutes.
"Great Flavor…The sauce was so tasty….Easy too. Would not change a thing."

Charleen
---
These old school hard shell tacos made with ground turkey will become a much-loved part of the weekly rotation.
---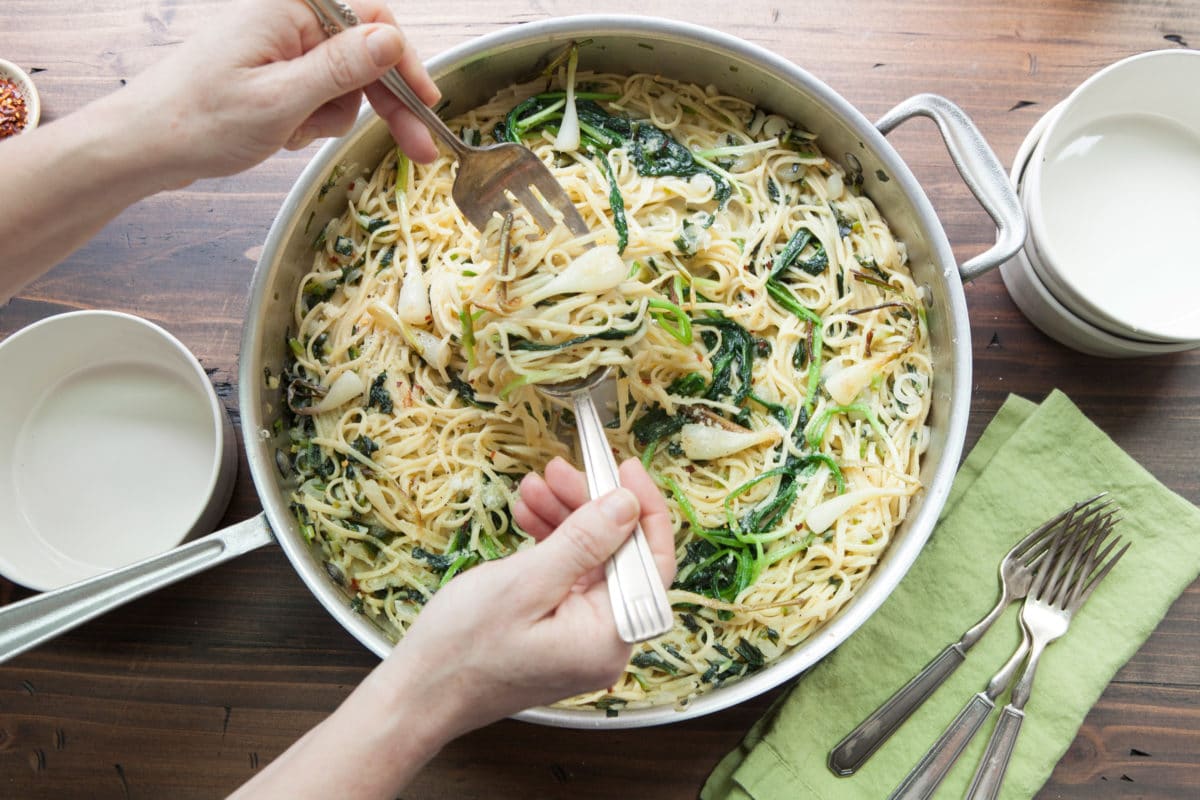 A simple ramp pasta to make the most out of the ultra seasonal ingredient.
"I just made this and it was delicious! I did add a tiny bit of fresh lemon juice and lemon zest to it as well as used homemade fresh pasta for personal taste. Our ramps are at their peak right now (Southern Ontario) so this will go on the list to make again next year! Thank you for a lovely recipe."

Allison
---
Strawberry shortcakes are THE dessert to make in the Spring. If you can find wild strawberries, or at the very least really flavorful ones from a farmers' market, this is nothing short of heavenly.
---
Perfectly grilled asparagus is a spring and summertime joy, a great side dish to all kinds of meals.
---
Tortillas are layered with a savory filling of beans, vegetables, and Mexican seasonings in an unusual twist on a lasagna.
---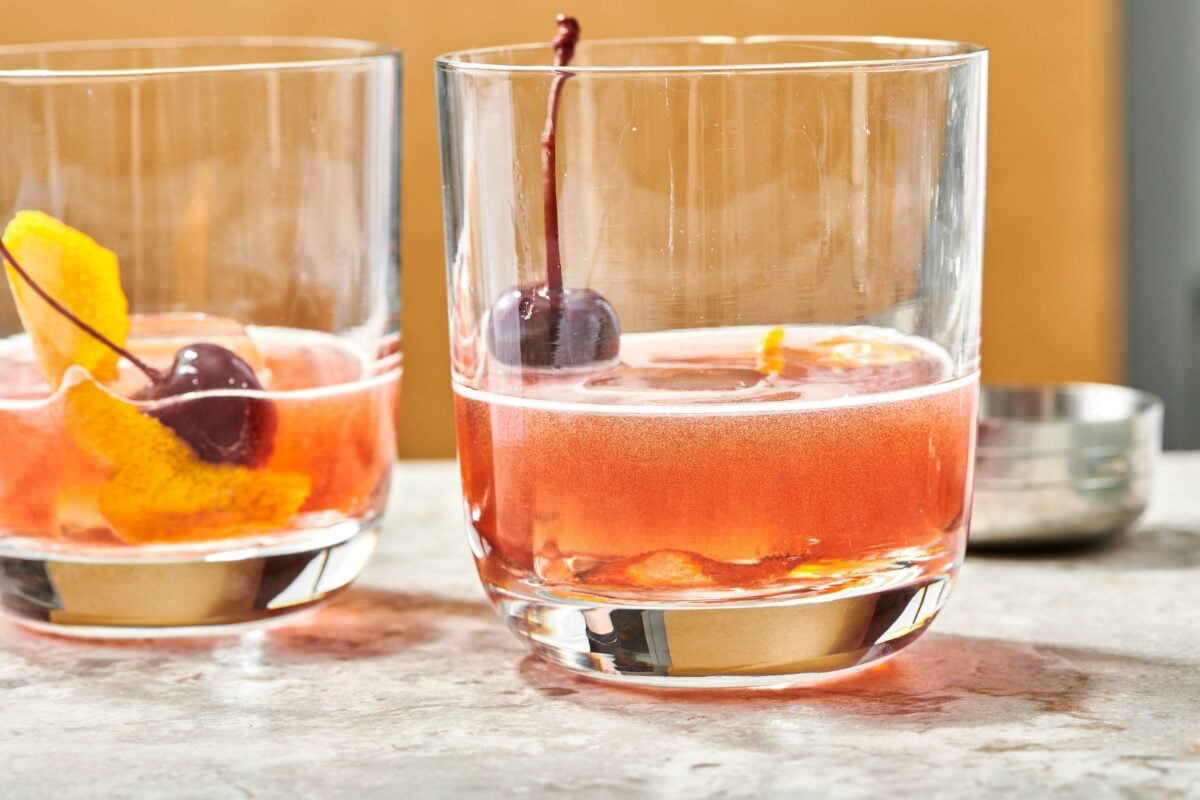 The classic cocktail made with whiskey or bourbon, sweet vermouth and Campari, garnished with a cherry and/or an orange twist!
---
Garlicky and "buttery" and perfectly delicious.
---
This fresh, versatile, simple, creamy dill sauce pairs well with everything from seafood to vegetables to lamb.
---