This post may contain affiliate links. Please read our privacy policy.
Some of you may have your entire Thanksgiving meal planned at this point. I'm impressed. We're not that together in my family, despite what you might imagine. In fairness, most of the menu is the same year after year, so it's never a total shocker in terms of what we will be eating. But there are always a few new dishes, and who does what changes ever so slightly from year to year. My mom is the perennial host of Thanksgiving, and the doler-outer of assignments, and let's just say she doesn't work too far in advance.
And, as the holidays approach, I get a lot of calls from my friends basically saying, "Just tell me what to do!" The good news is that there are so many choices! And of course for some, that's the bad news too…
I'm not going to tell you to make a turkey that's probably already on the agenda, or you're probably pretty decided one way or another on a Thanksgiving main course. But here is the rest of a well-rounded Thanksgiving dinner menu:
Mashed Potatoes: These need no comment.
Butternut Squash and White Bean Ragout: This is this year's mandatory orange squash dish—bright, colorful, and substantial enough for vegetarians to consider it a main.
Easy Cornbread: This is so simple, and you can serve some of it as wedges or squares and turn another batch into a fantastic stuffing (also vegetarian-friendly, if you make it with vegetable broth).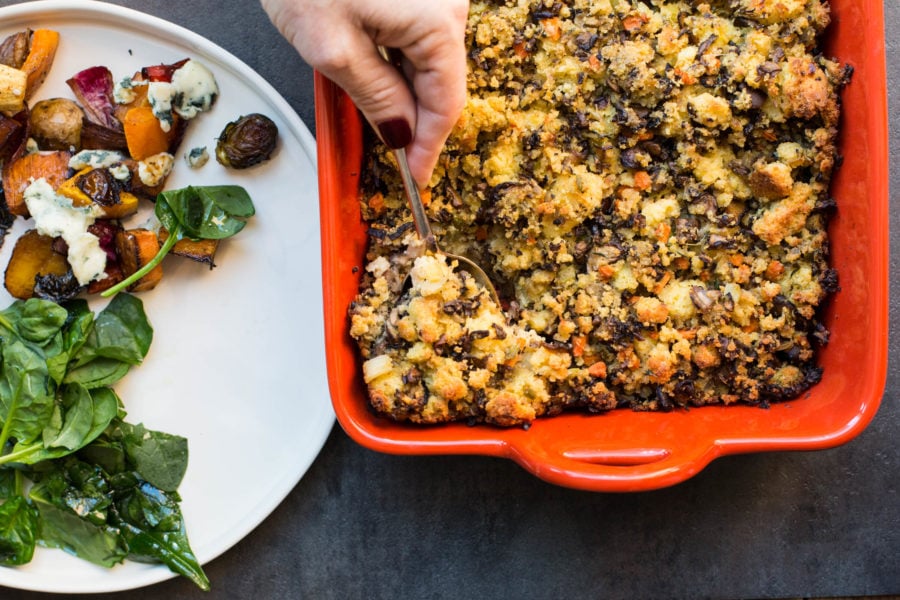 Light Green Crunchy Salad: For my family, a crisp green salad is critical for balancing out the richness of everything else.
Sweet Potato Pie with Whipped Cream: Do not be afraid to delegate. Dessert is the perfect answer to the question "What can I bring?" (Wine and cheese are two other excellent answers.)
The Best Streusel Apple Pie Ever: This pie is the defining dish of Thanksgiving for my family. It defies hyperbole.
A few other choices for swapping in or adding (not trying to complicate things, just offering options):
Roasted Cauliflower and Carrots with Olive Drizzle: I could eat this all day, every day, and it looks beautiful. The olive dressing can be served on the side so people can add it as they wish.
Red Quinoa Salad with Arugula, Artichoke Hearts, and Olives: Gorgeous, vegetarian-friendly, interesting, and autumnal.
Lentils and Carrots with Dried Apricots: Again, vegetarian, substantial, and easy on the eyes. My mom loves this one, so come to think of it, it's now officially on the menu.
Everybody, ready, set, . . . family dynamics!
Happy Thanksgiving,
Katie