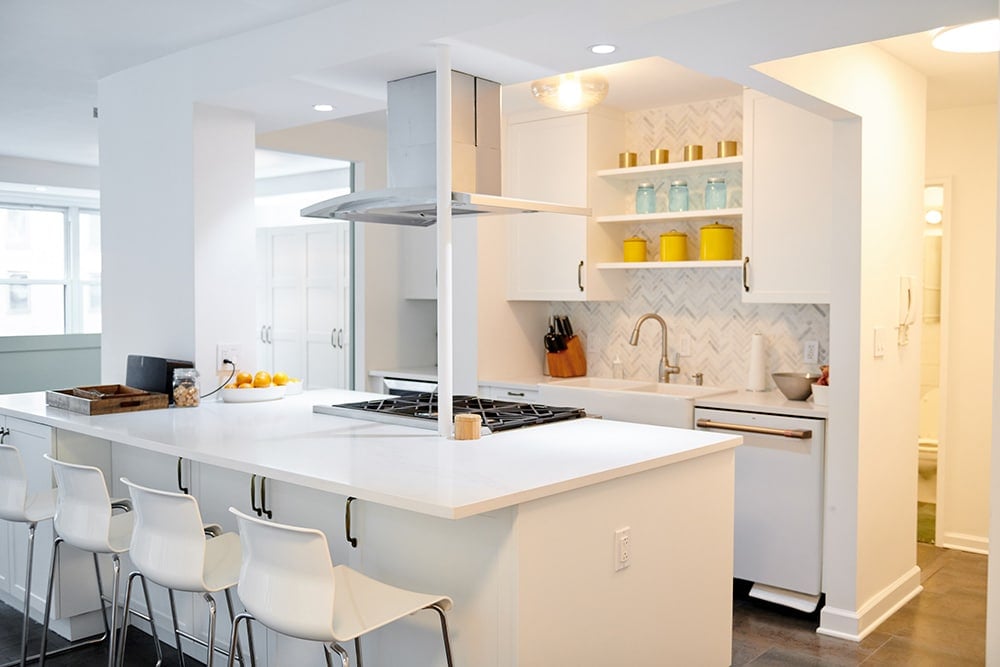 Kitchen Equipment includes all new high-end GE Café Appliances including a 6-burner gas range, dishwasher, 32-bottle wine fridge, and fridge with French doors, ice maker, and freezer section.
Various sized pots, pans, and any and all small kitchen equipment you may need. Table, glass, and flat ware, as well as extensive serving dishes, are available for tastings and dinners of up to 24 people.
Other studio highlights include an extensive collection of over 1,000 unique props – from utensils, linens, and one-of-a-kind plates and bowls, to sake cups from Japan and porcelain silverware. Gallery of all our props is coming soon. A range of professional food photography surfaces and sawhorses allow for breathing space while working.
Appliances
All new GE Café Appliances with matte white.
GE Café Series Dishwasher
GE Café Series Microwave
GE Profile 32-bottle Wine Fridge
Six burner gas range with ventilation and light hood
Fridge with exterior cold/hot water and ice maker, with French doors. Separate climates in the fresh food and freezer sections maintain temperature and humidity
Other Kitchen Features
Double white enamel farmhouse sink with retractable spray faucet
Garbage Disposal
Caesarstone Countertops
Dish towels included with rental
Sonos Bluetooth Speaker
Coat Closet for Events
Small Appliances
Kitchen Aid Mixer with Whisk Hook Paddle Attachment
Single Serve Keurig
Nutribullet
2x Air Fryer
Russel Hobbs 6-Slot Toaster
Mini Cuisinart Food Processor
Full-Sized Cuisinart Food Processor
Braun Immersion Blender
Hand Mixer
Grill Press
French Mandolin
Kitchenaid Blender
Pots and Pans
Various sizes, includes:
12in Cast Irons
Various size sauté pans
Nonstick pans
Sauce pots
Dutch oven
Soup pots
Wok
Cooking Prep Supplies
6x Deep Third Pans
3x Deep Nine Pans
Half Speed Rack with:

12x Full Sheet Trays
4x Half Sheet Trays
6x Quarter Sheet Trays

Full Size Cooking Rack
2x Half Size Cooling Rack
3x Quarter Size Cooling Rack
All Clad 13×16 Roaster with Rack
9×13 Baking Pan
15pc OXO Knife Set
5pc Chef's Knife Set
Various Cooking/Prep Utensils – Spatulas, Spoons, Graters, Peelers, Lemon Press, etc.
Various Cutting Boards
Large/Small Rolling Pins
Food Scale
Various Mixing and Prep Bowls
3x Colanders
Liquid Glass Measuring Cups
Dry Measuring Cups
3x 8ft Folding Tables Available
Serve + Style
18x Dinner Plates
12x Stemless Wine Glasses
24x Stem Wine Glasses
36x Various-Sized Drinking Glasses
8 different types of 8in plates
Colorful Casserole Dishes
Vintage and Antique Utensils
Unique Mason Jars
Various Color/Sizes Linens
Various Bowls of Sizes/Shapes/Colors
Mugs
Pitchers
Vases
Runners
Antique Champagne Glasses
Serving Platters
Surfaces for Photography
Erikson Surfaces: Dark Wood, Concrete, Rustic White, White Wood Boards
2x Sawhorses with White or Black Surface 2'x4'
If you have specific needs for kitchen or prop equipment that you don't see here, please let us know and we can often make accommodations – OR, if you don't see what you need, just ask! We likely have it!
---
Book The Studio Now
If you are interested in booking The Studio, or if you have any questions, please contact me, Katie Workman, at katie@themom100.com or use the contact form below.
---