This post may contain affiliate links. Please read our privacy policy.
I'm a little sad to realize that this series of Saturday Supper wine-and-dinner menus is winding down. Believe you me, there's no chance that I will be stopping this practice in my world – there will be dinners at home, and there will be wine with them for loads of Saturdays to come. I am looking forward to the days where there are more people at the table, for sure, but it's been really, really nice to use these dinners to anchor the week and retain a bit of normalcy in not-normal times.
So, what's up for this Saturday? I'm pretty excited about this one. This week the main event is a tomato based (canned tomatoes, pantry friendly for sure) Provencal Fish Stew. A bowl of this is like a tiny little trip to the Mediterranean. It's unbelievably easy, and you can use whatever inexpensive flaky white fish you have available to you, from tilapia to cod to halibut. The addition of a small amount of saffron is amazing, but optional if it's not at hand, or if you're not feeling splurgey, as it's a pricey spice.
Pair this with an Endive, Arugula and Orange Salad to make the table feel even more colorful, and to echo the orange zest in the fish stew.
And what are you pouring you ask? Let's get right to it. Once again you have choices. If a white is calling to you, you should grab a bottle of Loveblock Vineyards Sauvignon Blanc. This elegant, crisp, medium-bodied wine offers delicate aromas of peach, juicy citrus. Some New Zealand Sauvignon Blancs are heavy on the fruit, but Loveblock is restrained with a fresh acidity. You'll also pick up an enjoyable lingering mineral-laden finish. Think of it for oysters and other seafood, and light pasta and chicken dishes.
At Loveblock, they farm and grow grapes in accordance with New Zealand Organic Certification standards and meet Sustainable Winegrowing New Zealand (SWNZ) accreditation requirements. For those of us who are looking to support more sustainable wine growing practices, this is a terrific, vegan friendly pick (did you know that not all wines are? This was news to me….), especially when you can catch it on sale, as here, for $22.
But what if you want a red? The beauty of this stew is that it can happily pair with red, white, and even rose. So if you are able to have friends share this meal, maybe in an alfresco setting, you can offer a choice of wine.
If you are feeling it's a red wine moment, try Cecchi Chianti. Established in 1893, Cecchi is one of the oldest and most prominent producers in Tuscany, pioneering the growth and development of the Sangiovese grape worldwide. Cecchi prides itself on crafting wines that showcase the pure expressions of the family's historic vineyards.
The more traditional wine style of the Cecchi Chianti is balanced and clean. The lively ruby red color makes for a very cheerful pour, and then you'll enjoy aromas of fresh fruit, orange peel and spices. This medium bodied wine is balanced with firm structure and a real plushness in the mouth. See if you can pick up the notes of cherry, blueberry and plum as you sip.
And guess what? All this can be yours for around $15. In cooler weather, remember this chianti when you are making all sorts of pasta dishes, braised chicken or roasted meats.
The grand finale of this dinner is a Blueberry and Peach Crostada. Berries are bursting right now, and peaches are starting to come into the markets. Serve it with a scoop of vanilla ice cream, and another half a glass of whichever wine you are enjoying this evening.
---
Saturday Supper #6: The Menu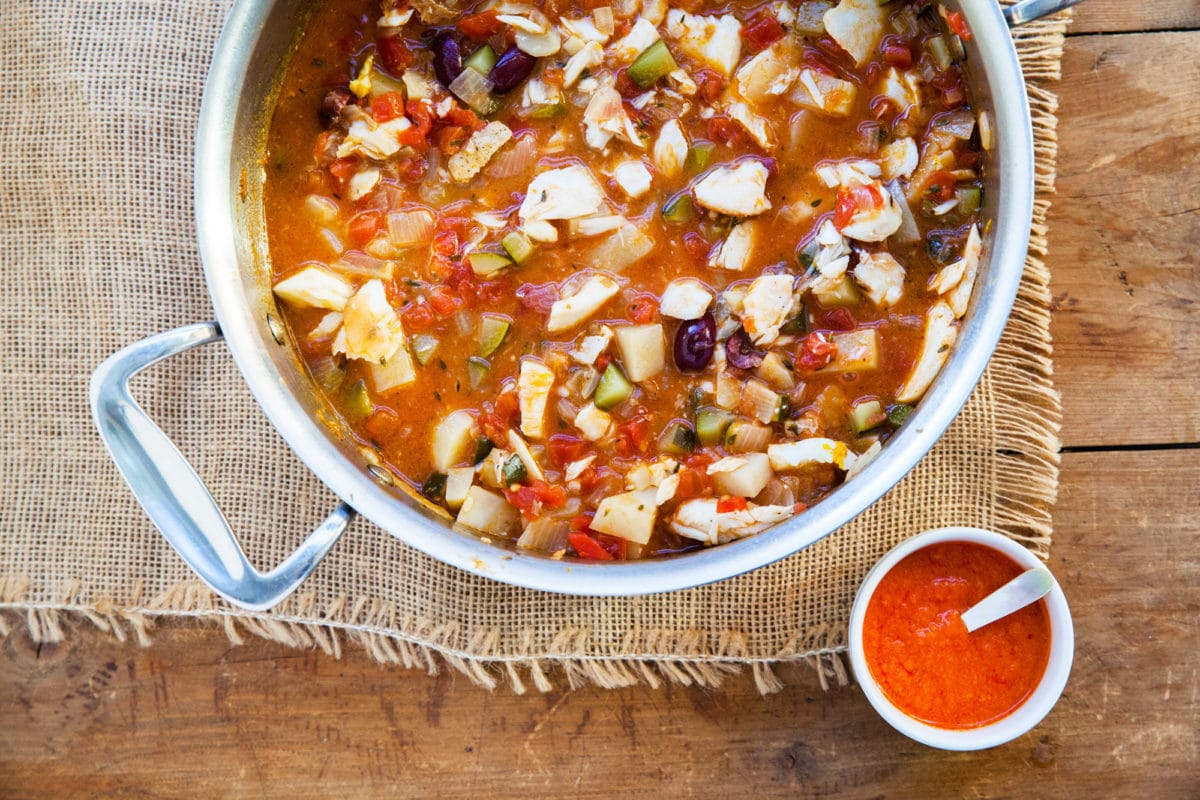 You can absolutely positively serve this as is with a bit of shredded basil.  Or you can make an easy red pepper rouille, which is a bread-thickened sauce featuring peppers and various seasonings.  It comes together quickly and it definitely makes a fish stew dinner feel like a celebration.
---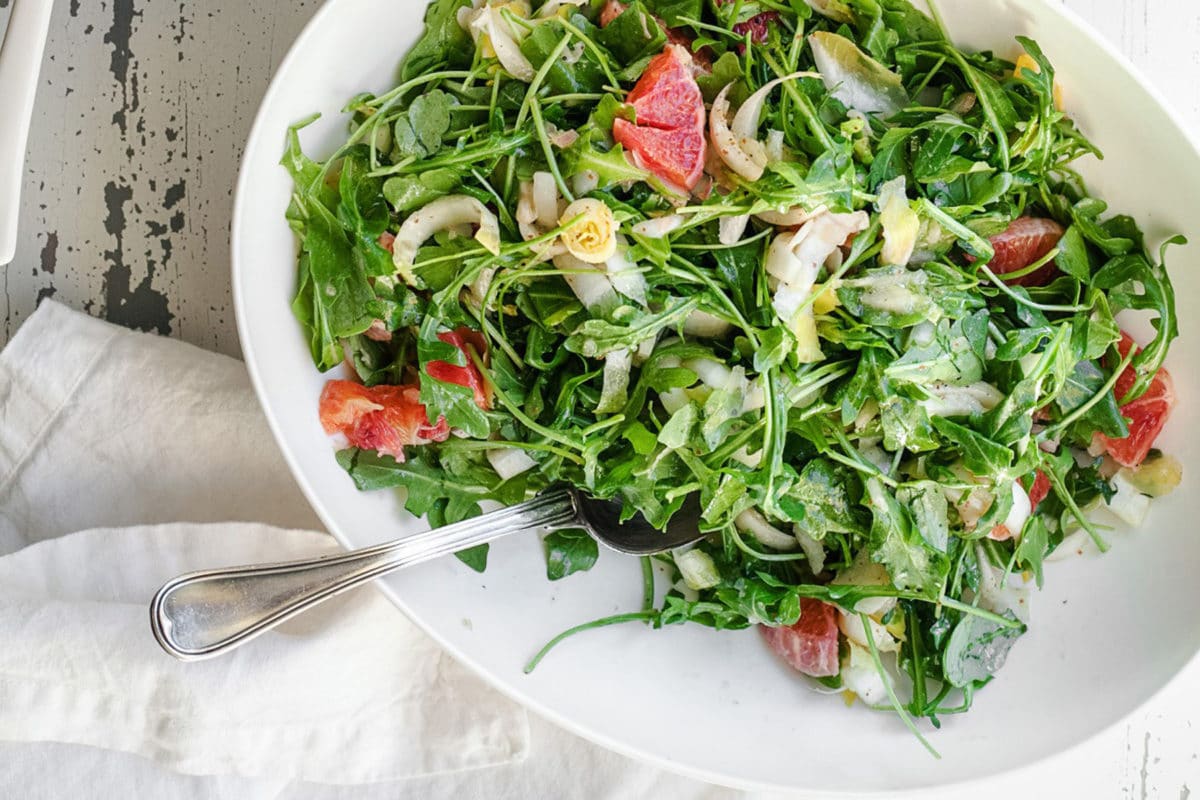 Peppery, slightly bitter greens make great partners for sweet oranges and a simple, slightly delicate vinaigrette.
---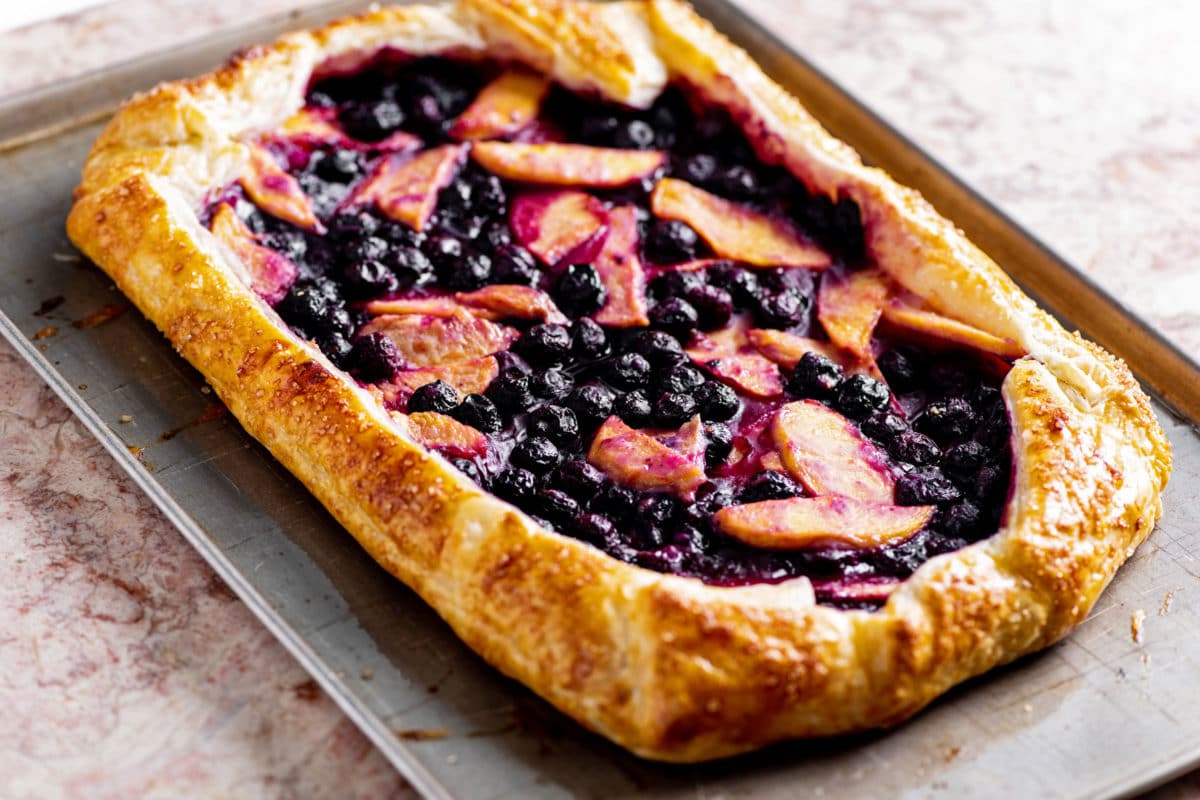 You could use any berry and any stone fruit (peaches, plums, nectarines, apricots) combo in the crostada/galette.  This is terrific and easy way to make use of seasonal fruit.  It relies on refrigerated pie crust, or puff pastry, which is a great way to turn summer fruit into dessert.
---
Other Saturday Suppers: