This post may contain affiliate links. Please read our privacy policy.
Hello, friends, and welcome to June. A crazy time for sure, but I'm feeling optimistic that this marks the beginning of better, more equitable times for our country.
Do you consider Memorial Day to be the start of summer? Or are you a person who needs the calendar to hit June 21, the solstice, the technical beginning of the summer season? Either way, we are pretty much there, and oh what a strange summer it's shaping up to be.
We are sticking to our plans for true Saturday night suppers, complete with actual cloth napkins, a dining table cleared of daily debris (can someone explain to me why there are socks on the table?), and absolutely including that bottle of wine. As the weather warms up the dishes are changing.
This week is a rather joyful salad featuring chunks of cooked salmon, a fluffy jumble of arugula, and bites of silky, creamy avocado. Sounds pretty good, right? It's also one of my favorite leftovers to find in the fridge, so I'm not sorry to pack away any extra.
Now let's get to the wine. This week's menu is paired with Santa Rita Hills Chardonnay and Santa Rita Hills Pinot Noir. First of all, how badly do you want to be in a place called Santa Rita Hills right now? Picture rolling fields with rows of grapes, a perfect climate for growing Pinot Noir and Chardonnay in California's Central Coast in Santa Barbara County. Sanford, the winemaker, was actually the very first vineyard planted in the now famous and world-renowned Sta. Rita Hills appellation, so these vines have roots, and when it comes to grape growing, age matters!
Some people think they don't like Chardonnay. Too heavy, too buttery. Too oaky. This wine is not that! The Sanford Chardonnay offers up aromas of grilled peach, Meyer lemon, and toasted hazelnuts, and you'll taste fruit and honey framed up with a crisp acidity and rich texture which makes it so great with food. Also think of this wine to pair with all kinds of seafood, poultry and pasta with lighter sauces.
The Pinot Noir balances freshness and roundness; close your eyes and see if you can roll around in the hints of cherries, flowers, and spices. This delicious Santa Barbara Pinot Noir is very singular due to the fact that the grapes from this wine come from the oldest vineyard in the county (as vines age they deliver better and better fruit each year).This would also be an amazing companion to roasted meats (spring lamb!) grilled root vegetables, roast chicken, and pasta dishes.
Friends, cheers. Cheers to moving forward, cheers to doing what we can to feel normal and sane and perhaps even happy. Cheers to Saturday night suppers.
---
Saturday Supper #4: The Menu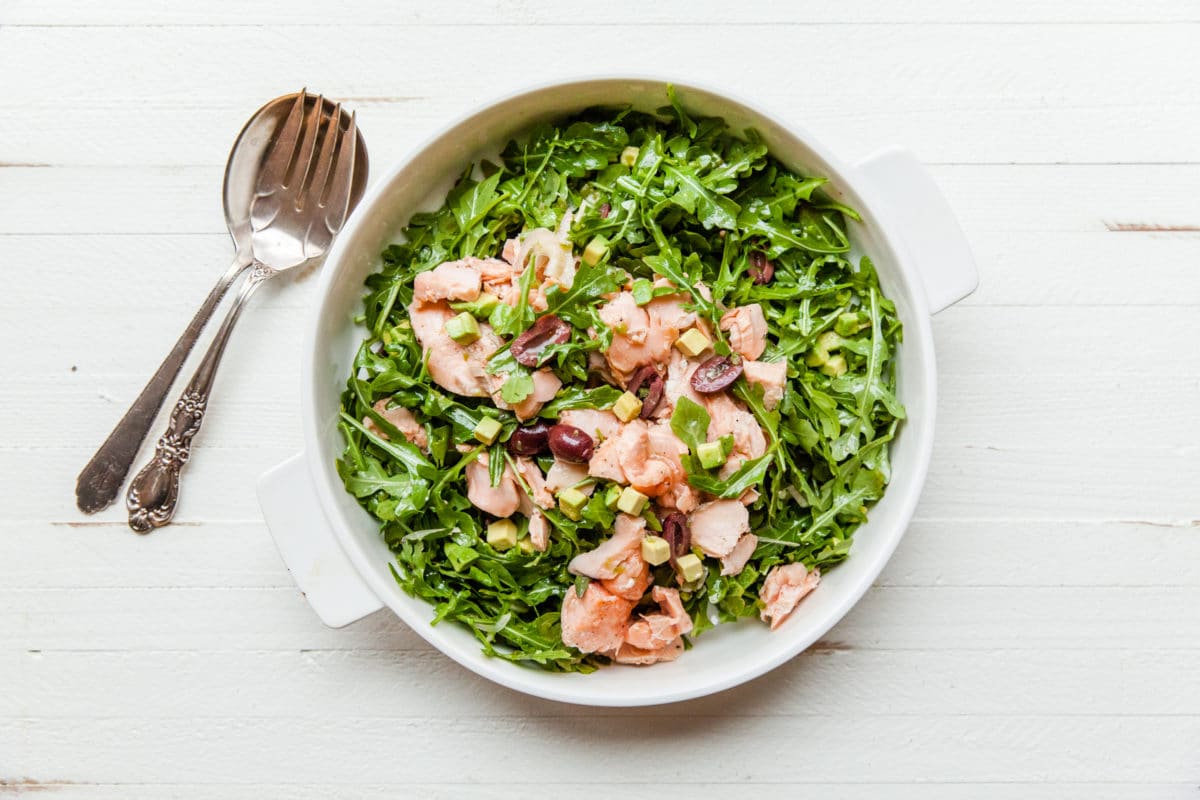 Proof that salads can be sexy.  The lush richness of the salmon and avocado, the brininess of the olives, the bite of the arugula, and the brightness of the lemon – so summery, and so easy to pull together (I basically just listed all of the ingredients in this description!).  A perfect partner to either wine.
---
With cheese! These figs are my latest cheese platter pal crush.  You just slice some figs in half, place them sliced side up on a baking sheet, put a bit of butter on top of each, drizzle over a teeny bit of honey, sprinkle on a few flakes of salt, and roast them until they soften and caramelize a bit. 
Distribute them on a plate, with a cheese or two nestled amongst them.  Goat cheese, double or triple creme cheeses, sheep's milk cheeses, there are lots of good choices to explore.
---
When butter meets crystallized ginger, wonderful things happen.  How are these so dense and flaky all at once?  The texture is amazing, the flavor a little bit haunting.
---
Other Saturday Suppers: