This post may contain affiliate links. Please read our privacy policy.
Folks, it's June. But you knew that. But really…it's June? I'm watching the weeks fly by. I don't know how or why time is going so fast but it is. Just like that, it's time for our Thursday morning Teams meeting, just like that it's time for my Monday web scheduling call with my colleague, just like that it's time to pay the electric bill.
And just like that, it's Saturday, and time to pause (pause from the pausing, I guess), and think more consciously about what dinner should be, and what wine to buy. And this is a very nice point of the flying-by week.
This week Saturday Supper is a total family favorite: Shrimp Scampi. Frozen shrimp are still readily available where I am, and you can decide what size shrimp fit your budget. All you have to do is dial the cooking time up or down depending on how big they are; just don't overcook them. I'm pairing it with roasted asparagus with Parmesan and another hit of garlic, because it feels very spring-ey and we like garlic.
And the wine is also a house favorite: Terlato Vineyards Pinot Grigio. It's a Pinot Grigio with wonderful presence (which, if you are a Pinot Grigio drinker, as I am, you probably know is not always the case). There is peach and pear and citrus going on, and then that crisp mineral finish that I'm always attracted to in a white wine.
This Pinot Grigio comes from Friuli, which is widely recognized as one of the best regions for fabulous Pinot Grigio in the world, period, the end. It goes extremely well with shellfish and light pasta dishes, both of which are on deck for this Saturday night. Also think of it when you are making a creamy dish, something with chicken perhaps.
Did you know that the Terlato family brought Pinot Grigio to the U.S.? Isn't that one of those fun facts? So I'd say it makes a whole lot of sense that they are dang good at making their wines. Buy a bottle. Or if you are not one to just save the wine-with-dinner notion for Saturday nights, buy a few. It's just one of those perfect warm weather wines.
---
Saturday Supper #3: The Menu
This is one of the best and easiest and most popular shrimp recipes out there, for very good reason.  Did you know that scampi is actually the Italian word for prawn, or shrimp?  So the name Shrimp Scampi is actually a redundancy.  But when you serve this up, no one will be challenging the nomenclature.
---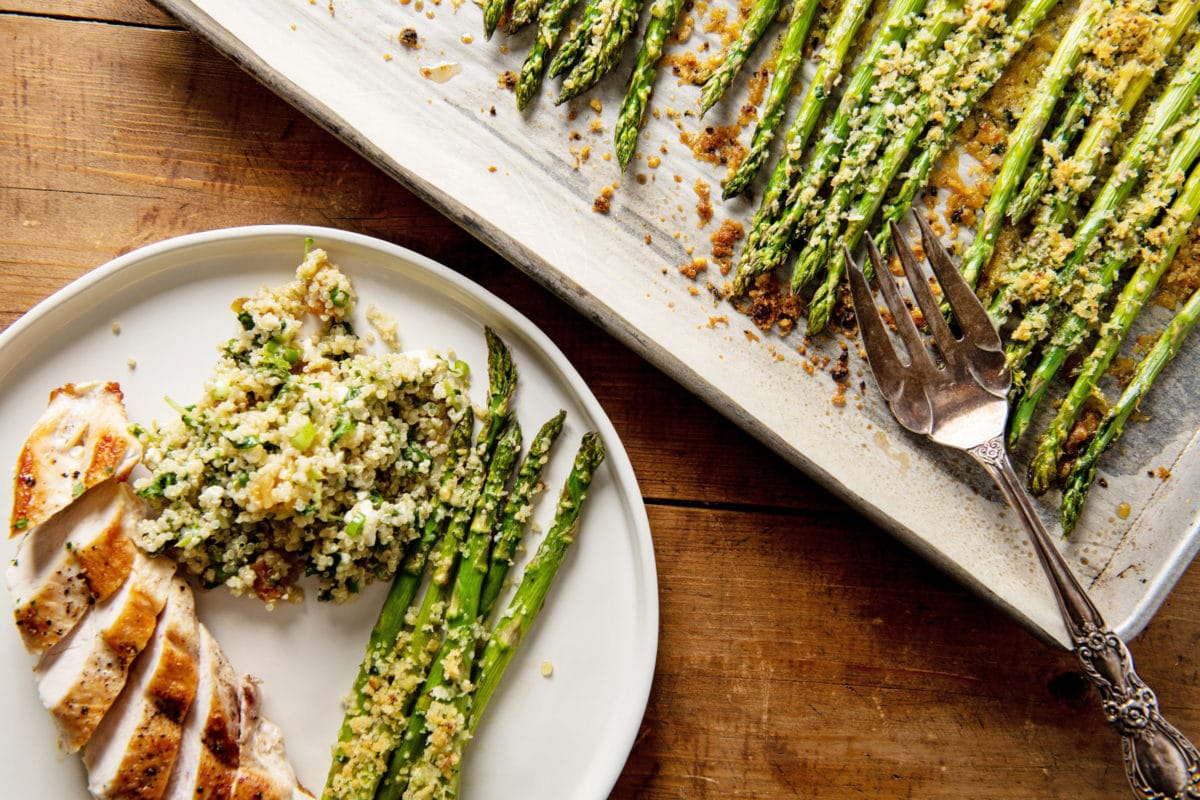 A notch above plain roasted asparagus, but not a whole lot more effort.  The sheet of asparagus are blanketed with a layer of bread crumbs, garlic and Parmesan cheese and then roasted to perfection.  You want to use fairly thick asparagus for this since you need to roast them until the panko mixture has a chance to brown in the oven.
---
One of the best things about classic cookies is that there are so many versions to love.  These are big uns, as only when you make cookies that are at least 3-inches wide can you approach the nirvana that comes with a cookie that has different texture throughout, a ring of crispness around the very edge, firm but with some give as you head in for the next bite, and finally soft but chewy in the middle. I've now convinced myself it's time to make a double batch, and spread some love to the neighbors.
---
Other Saturday Suppers: