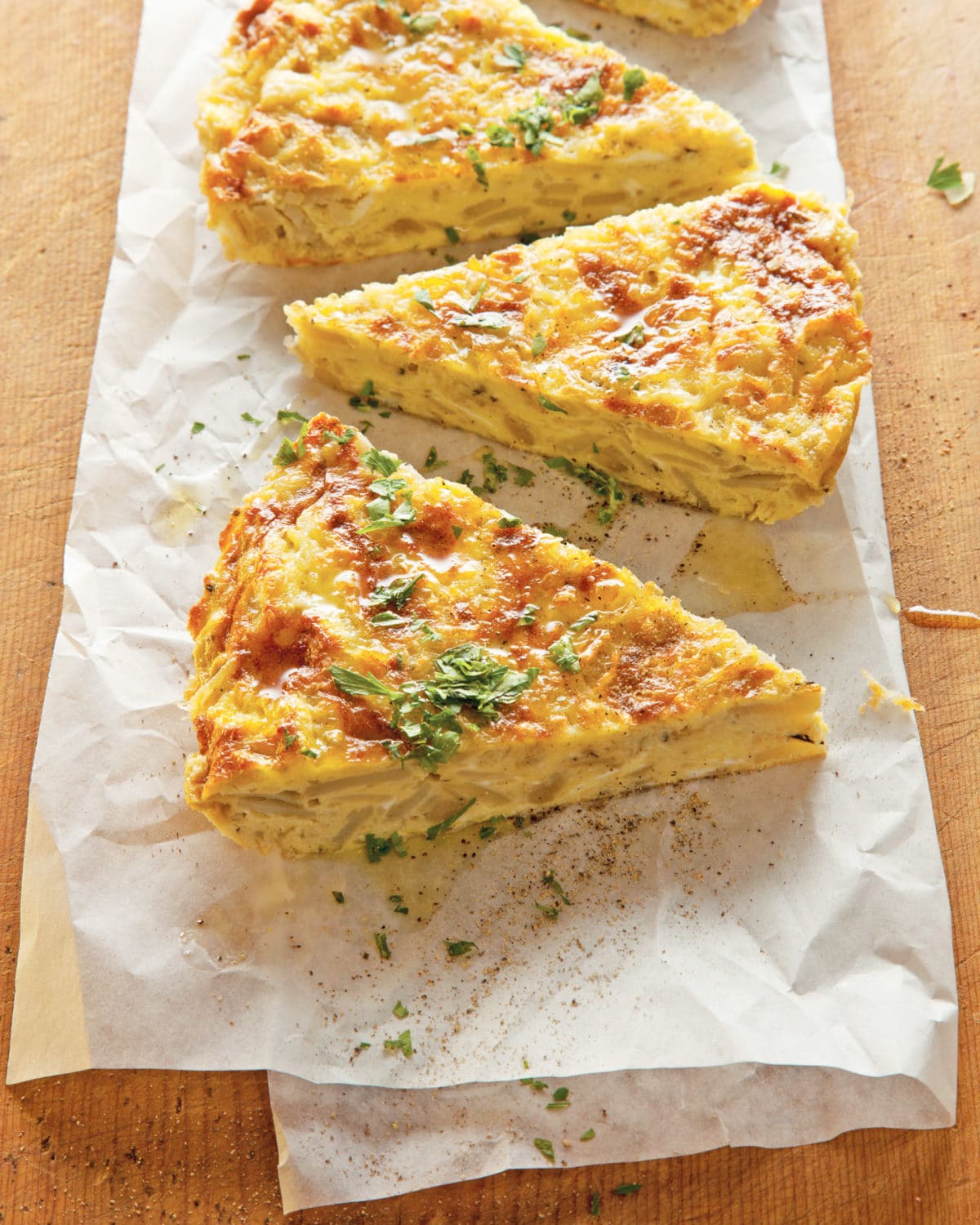 A frittata is an Italian omelet to which the add-ins (potatoes, ham, veggies, rice, what have you) are beaten directly into the eggs, instead of folded into the middle as a filling. Generally it's cooked first on the stovetop, then finished under the broiler. Some people cook a frittata entirely on the stovetop, flipping it during the cooking process instead of transferring the pan under the broiler. Some people are also circus acrobats or professional skydivers.
Frittatas are great warm, or at room temperature, happily hanging out for a couple of hours before being cut up and served. Ideal for brunch, they are a subtle way of saying "I'm not making individual omelets for all of you." A good potluck notion and, when cut into small squares, a lovely hors d'oeuvre. And because it's so easy to make a vegetarian frittata, it solves the need for a vegetarian appetizer which should always be part of your offerings.,
Leftovers Frittata
They are one of the most genius ways to use up leftovers that I know of. Save just about anything you might toss for a future veggie frittata – 1/2 cup roasted broccoli, some extra rice, a few basil leaves, ANYTHING.
You will need a skillet that can go from stovetop to oven and stand up to the heat of the broiler, and that means one without a plastic handle. If you have one that is oven safe and nonstick, you are golden.
Now, notice that the cheese choices in this vegetable frittata recipe are quite varied. Each will give you a distinctly different frittata, and of course for the most part frittatas are the way you are using up that last chunk of Manchego, or what have you. Start with a milder cheese, or one you know your family will like. The next frittata, maybe switch to a new cheese. 
This vegetable frittata features onions and potatoes, and in that way is much like a Spanish tortilla, possibly more like a tortilla than a frittata, but let's not mind that right now.  Use new or waxy potatoes with white or red skins, not all-purpose potatoes, which won't hold their shape as well when they are sliced and cooked.  Yukon gold potatoes are another good option.
Vegetable Frittata Recipe: Ideal for brunch, vegetable frittatas are a great satisfying, simple egg recipe that you can make ahead.

Tweet This
My kids picked at frittatas the first few times I served them. The first time they fully embraced frittatas was when I pulled out a plastic container of the little eggy wedges at the park one day (these are quite portable) and within minutes a group of four kids had demolished them. 
Maybe it was the fresh air, maybe it was the unusual setting for such a snack, maybe it was that they were extremely hungry (reminder of critical mom tip: Try new foods when your kids are starving!), but whichever, it worked.
Other Vegetable Frittata Recipes: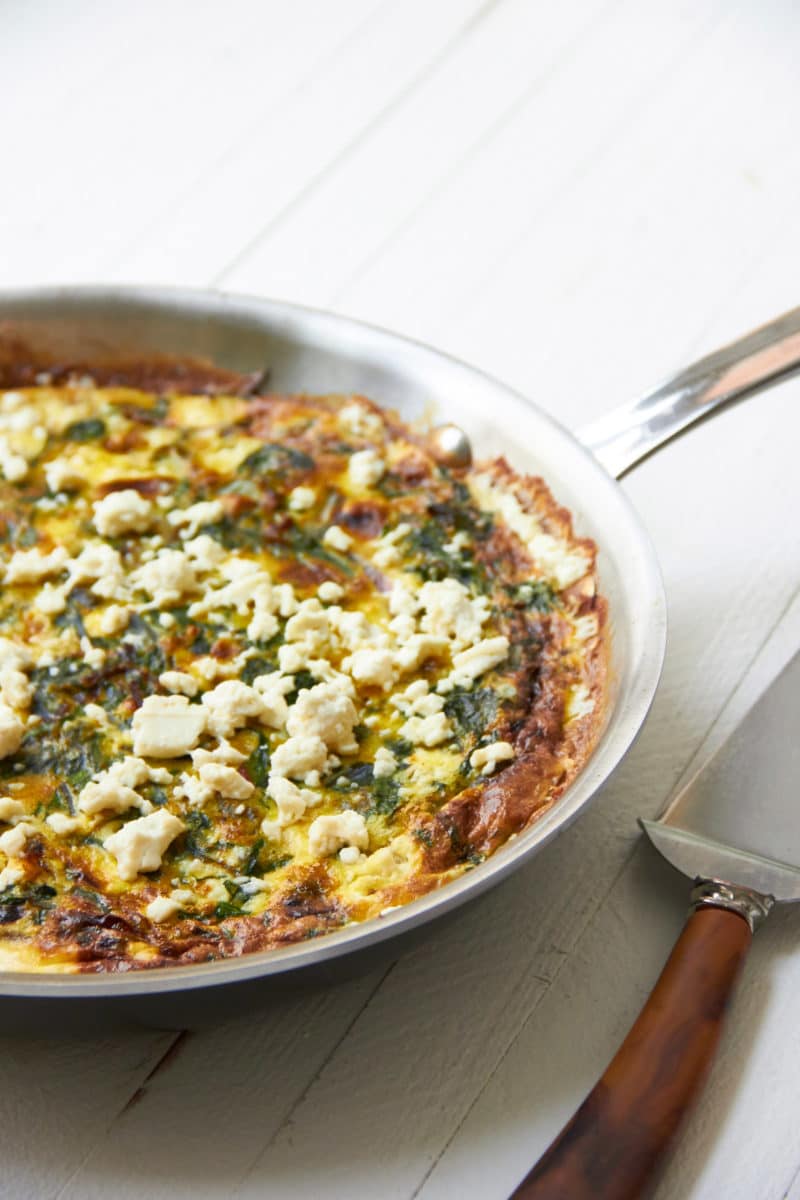 Like this recipe? Pin it to your favorite board on Pinterest.

Pin This
Vegetable Frittata
Ideal for brunch, vegetable frittatas are a subtle way of saying "I'm not making individual omelets for all of you.
Ingredients
2

tablespoons

(¼ stick) unsalted butter

1

large waxy potato

such as white, red, or Yukon Gold, peeled, quartered, and thinly sliced

1

onion

quartered and very thinly sliced

½

teaspoon

dried thyme

oregano, or basil, or 1 teaspoon chopped fresh thyme, oregano, or basil

Kosher or coarse salt and freshly ground black pepper

to taste

10

large eggs

¼

cup

coarsely chopped fresh Italian flat-leaf parsley

or basil (optional)

½

cup

shredded or crumbled cheese

such as cheddar, provolone, Monterey Jack, mozzarella, feta, Parmesan, or goat cheese
Directions
Preheat the broiler with the rack set about 4 inches away from the heat source.

Melt the butter over medium heat in a medium-size (10-inch) broiler-proof skillet. Add the potato, onion, and the 1⁄2 teaspoon of dried thyme, oregano, or basil, if using, and season with salt and pepper to taste. Cover the skillet and cook the potato and onion until they are beginning to become tender, about 10 minutes, stirring occasionally. Reduce the heat if it seems like the vegetables are starting to burn. Uncover the skillet and cook the vegetables until they are tender and turning golden, about 4 minutes longer.

Meanwhile, place the eggs, parsley, and 1 teaspoon of fresh thyme, oregano, or basil, if using, in a medium-size bowl and whisk to combine well. Season the egg mixture with salt and pepper to taste. When the vegetables are ready, pour the eggs into the skillet and stir to combine everything. Let the frittata cook until the eggs start to set on the bottom. Reduce the heat to medium-low and, using a spatula, gently lift the edge of the frittata so that the uncooked eggs run underneath those that are set on the bottom. Do this every couple of minutes until the frittata is pretty much set on the bottom but the top and middle are still a bit runny.

Sprinkle the cheese over the top of the frittata and place the skillet under the broiler. Broil the frittata until it is set, the cheese is melted, and the whole top is lightly golden, 2 to 4 minutes. Remove the skillet from the broiler and let the frittata sit for a minute or two on a heatproof surface. Leave a dishtowel draped over the handle of the skillet to remind yourself that the handle is hot!

Run a spatula or knife around the edge of the skillet to loosen the frittata. You can cut it into wedges and serve it directly from the skillet. Or carefully slide the whole thing onto a serving plate, using a spatula to help guide the frittata out, then cut it into wedges.
Nutrition Information
Calories:
151
kcal
|
Carbohydrates:
5
g
|
Protein:
10
g
|
Fat:
10
g
|
Saturated Fat:
5
g
|
Cholesterol:
218
mg
|
Sodium:
155
mg
|
Potassium:
206
mg
|
Fiber:
1
g
|
Sugar:
1
g
|
Vitamin A:
615
IU
|
Vitamin C:
6
mg
|
Calcium:
105
mg
|
Iron:
2
mg
The nutrition values are provided as an estimate. It is not intended as a substitute for the advice of a qualified healthcare professional.
Made this recipe? Post a photo of your delicious creation on Instagram with our hashtag #dinnersolved