Spring Greens Salad with Kohlrabi and Golden Beets
A simple, clean salad for the beet lovers in your world.
Serving Size: 4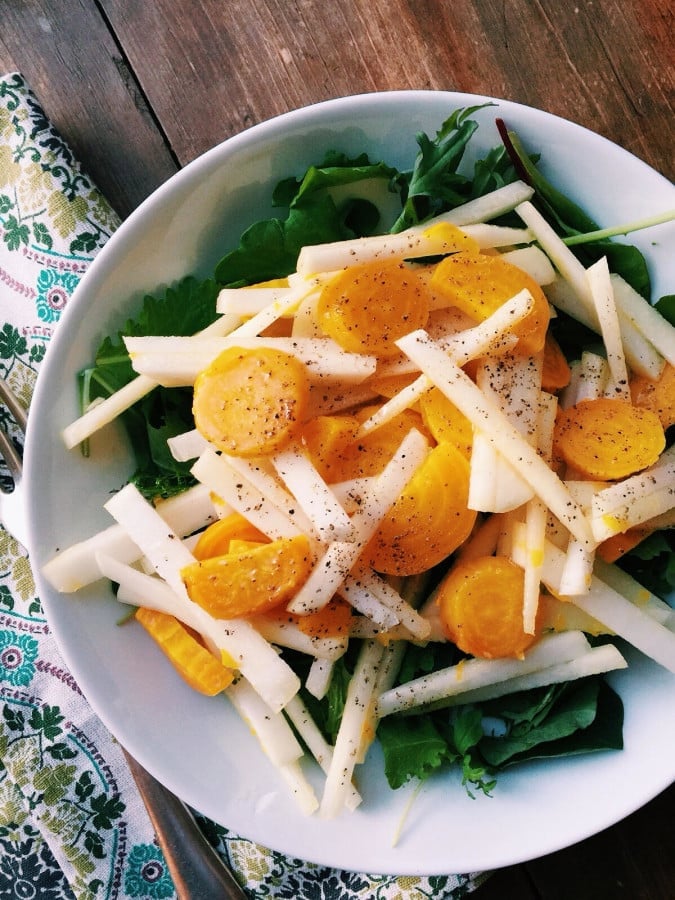 Beets seem like a bit of a pain the butt to prepare, but they are actually pretty easy, though you may have pink fingertips for a bit (or use golden beets and avoid that problem).  My mom loves beets, lots, so this salad is for her.
Kohlrabi is an awesome vegetable, crunchy or cooked, and every time I eat it raw – fresh and amazing, making me feel like I'm the healthiest person on earth – I think to myself, "Why don't I eat this every day?"
For more fresh salads similar to this Spring Greens Salad with Kohlrabi and Golden Beets try: Light Green Crunchy Salad, Chopped Salad with Chicken, Tomatoes and Lemon Thyme Dressing, or Baby Romaine, Chickpea, and Root Vegetable Salad with Slightly Spicy Dressing.
Spring Greens Salad with Kohlrabi and Golden Beets
Print
10 baby golden beets

1 kohlrabi

4 cups spring greens

3 tablespoons rice vinegar

3 tablespoons olive oil

2 teaspoons Dijon mustard

Kosher salt and freshly ground pepper to taste
1. Place the beets in a saucepan and add cold water to cover. Cover the pot and bring to a simmer over medium high heat. Reduce the heat to medium and simmer the beets, covered, for about 20 minutes until a sharp knife slides easily into the beets. Drain the beets and cool. When they are cool enough to handle, trim the roots off the beets, and peel off the skin.
2. Meanwhile, peel the kohlrabi and cut into matchsticks (see Note). Pile the greens into a shallow serving platter.
3. In a small bowl, make the dressing: combine the rice vinegar, olive oil, Dijon mustard, and salt and pepper. Slice the beets into thin circles. Top the greens with the kohlrabi and the beets (if you're feeling classy, do this in individual plates – I rarely feel this classy). Drizzle over the dressing and serve.
Note:
Cut off the stems and leaves from the kohlrabi if they are still attached. Use a vegetable peeler to remove the entire outer skin. Cut off the top and the bottom of the kohlrabi and slice the bulb into ¼-thick slices. Stack the slices and cut again into 1/4 -inch strips to create matchsticks.