Spiralized Cheesy Butternut Squash and Carrot Casserole with Chicken
Pretty, cheesy and orange. That's a lot for one entree to offer.
Serving Size: 4 to 6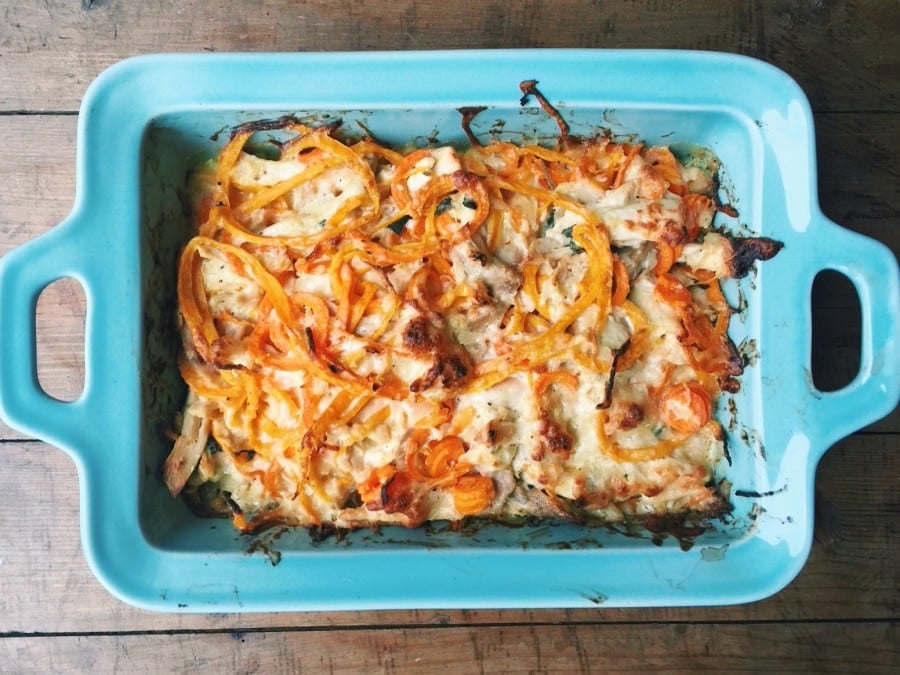 This started with me being obsessed with my new spiralizer (fair warning, the obsession is going to continue for a while; I'm a little late to the craze, but that will never stop me) SpiralizerS, to be accurate. I am testing a bunch of them for an about.com article. Making curlicues out of vegetables, and as a plus having them stand in or complement noodles in a dish is just a lot of fun, awesome color-wise, and the healthy element is but a bonus. Use the blade the made the vegetables into a thick swirly julienne cut. If you don't have a spiralizer, just dice them into ¼-inch dice, or even chop them.
You can also use Jarlsberg instead of the Gruyere.   You might try a squirt of Sriracha, or a few teaspoons of Gochujang instead of the red pepper flakes. And finally, sweet potatoes would add the same pretty orange color, if you wanted to substitute them for one or the other of the vegetables I used here.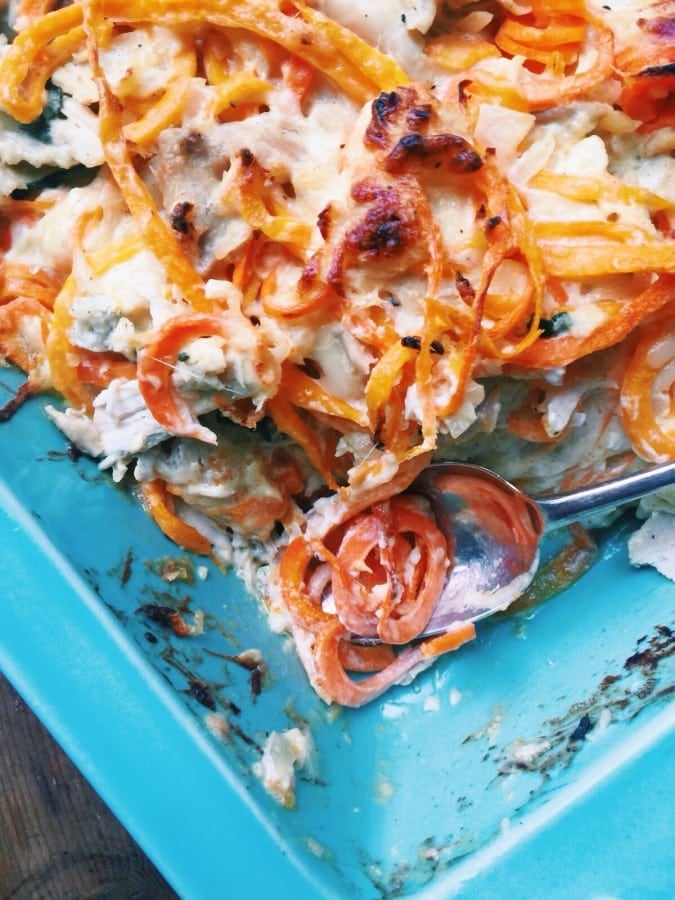 Spiralized Cheesy Butternut Squash and Carrot Casserole with Chicken
Print
1 tablespoon butter

1 cup chopped onion

Kosher or salt and pepper

4 ounces cream cheese

2/3 cup heavy cream

1 cup shredded Gruyere cheese

½ cup grated Parmesan cheese

¼ teaspoon red pepper flakes

2 cups spiralized butternut squash

1 cup spiralized carrots

2 cups shredded cooked chicken

2 tablespoons minced fresh sage leaves
1. Preheat the oven to 425°F. In a large skillet, heat the butter over medium heat. When it is melted, add the onion, season with salt and pepper and sauté for 5 minutes until the onion is tender. Add the cream cheese and heavy cream and heat until the cream cheese is melted and blended into the mixture. Stir in the Gruyere, Parmesan and red pepper flakes, if desired.
2. Place the squash, carrots and chicken in a bowl, pour over the cheesy sauce, add the sage and toss to combine. Turn it into a 2 quart shallow casserole dish and bake for 30 to 35 minutes, until the vegetables are tender, but still nicely al dente. Serve in big scoops.