Spanish Lamb Burgers
There are burgers and there are burgers. When Charlie ate one of these Spanish lamb burgers for the first time he said, "I think this is one of the best things you have ever made." Well, all right, all right, all right! I'll be laying in a supply of ground lamb this summer for sure.
A burger made with ground lamb is a burger with personality. Big on flavor, juiciness, and tenderness. This is part of my recipe series with The American Lamb Board, and while I've been enjoying every minute of it, it's safe to say that Charlie and my other guys are absolutely thrilled with this partnership.
I had burgers on the brain, and then a chunk of beautiful Manchego cheese left over from a party. It didn't take long to jump from Lamb Burger to Spanish Lamb Burger. Ground lamb is just as easy to work with as ground beef—and it's very affordable as well. No artificial or synthetic growth hormones are used in lamb production in the U.S., so no worries there.
And the whole lamb industry in this country has a huge focus on sustainability, plus much American Lamb is grass-fed exclusively, while some finish off with grains. It is definitely a red meat choice you can feel good about.
I wanted to complement the flavor of the lamb, but not overpower it. A little garlic, and little smoked paprika (or regular of you don't have smoked), and some minced green manzanilla or other Spanish olives. That all these burgers need to take on a bit of Mediterranean flair, but not get too fussy with add-ins.
Lamb Burger Toppings:
And caramelized onions do double duty. You sauté up a batch of sliced onions, and then chop up a small amount of them to be blended into the meat mixture. The rest are saved for heaping on top of the burgers, along with a generous slather of romesco sauce. (If it's summer, think about Grilled Onions).
And the burgers themselves can be served up with no cheese, or turned into cheeseburgers with a handful of Manchego cheese sprinkled over the top until melty.
This Spanish Lamb Burger recipe takes burgers to a whole new level; with loads of flavor and a Romesco sauce you will want to use on absolutely everything.

Tweet This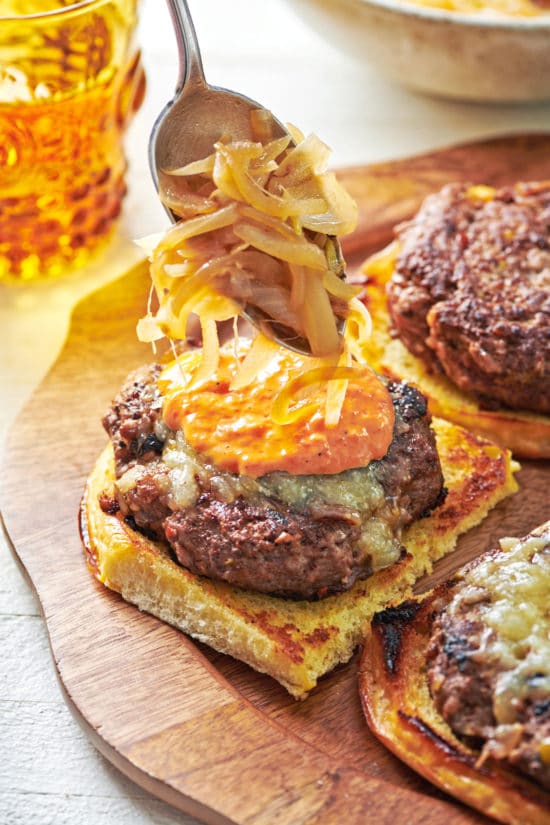 Romesco sauce typically has nuts in it, but in this romesco-ish recipe there are no nuts because I'm allergic. I used this sauce on quite a number of things post-burger: a crostini slathered with some sauce and topped with caramelized onions was one of the winning uses.
I've made a few of these on the stovetop, and now I'm taking this burger al fresco to the grill. A pile of chips on the side of a burger is just never a bad thing, and I'm also thinking to pair this with Tomato, Red Onion, Watercress, Feta and Olive Salad and Tomato, Zucchini and Bulgur Salad for a mid-summer gathering. And big fat glasses of Orange White Wine Campari Sangria.
Other Burger Recipes:
Like this recipe? Pin it to your favorite board on Pinterest.

Pin This
Spanish Lamb Burgers with Romesco Sauce and Caramelized Onions
Burgers on a whole new level, with loads of flavor and a Romesco sauce you will want to use on absolutely everything.
Ingredients
Lamb Burgers
1

tablespoon

olive oil

2

large onions

halved and sliced

1

teaspoon

minced garlic

2

pounds

ground lamb

2

tablespoons

minced Spanish green olives

such as manzanilla (pimentos inside are a-ok!)

½

teaspoon

smoked paprika

or regular

1

cup

grated Manchego cheese

optional
For the Romesco-ish Sauce
½

cup

mayonnaise

¼

cup

chopped roasted red pepper

jarred or homemade

¼

teaspoon

smoked paprika

or regular

¼

teaspoon

cayenne pepper

1

tablespoon

sherry vinegar or lemon juice

Kosher salt and freshly ground pepper

to taste
6

buns

regular hamburger or brioche buns
Directions
Heat the olive oil in a medium skillet over medium heat, and add the onion. Sauté for about 7 minutes until the onion is softened and golden brown. Remove about 2/3 of the sautéed onion and set aside. Chop the rest of the onion, then return to the pan over medium heat. Add the garlic to the pan and sauté for one more minute until you can smell the garlic. Remove to a large bowl and cool.

When the onion and garlic mixture is cool add the lamb, olives, ½ teaspoon smoked paprika and salt and pepper. Use your hand to mix gently but thoroughly. Form the mixture into 6 even patties, and use your thumb to make an indent in the middle of the burger so that as it cooks and puffs in the middle it ends up flat and not rounded.

Make the sauce. Combine the mayo, roasted peppers, paprika, cayenne, sherry vinegar or lemon juice, and salt and pepper in a small food processor or blender. Process until smooth.

Either preheat the grill to medium high, or very lightly oil a nonstick skillet and heat over medium high heat. Cook the burgers wither in the pan or on the grill for about 4 minutes per side, until they have reached the desired doneness. The USDAS recommends an internal temperature of 160°F . Top with Manchego at the end if desired and either close the grill lid or place a lid over the pan until the cheese starts to melt.

Toast the buns if desired, again either on the grill or in a pan on the stovetop. Place a burger on the bottom of each bun, top with the romesco-ish sauce, and then top with the reserved sautéed onions. Serve hot.
Nutrition Information
Calories:
796
kcal
|
Carbohydrates:
26
g
|
Protein:
35
g
|
Fat:
61
g
|
Saturated Fat:
23
g
|
Cholesterol:
138
mg
|
Sodium:
660
mg
|
Potassium:
452
mg
|
Fiber:
2
g
|
Sugar:
5
g
|
Vitamin A:
314
IU
|
Vitamin C:
6
mg
|
Calcium:
311
mg
|
Iron:
4
mg
The nutrition values are provided as an estimate. It is not intended as a substitute for the advice of a qualified healthcare professional.
Made this recipe? Post a photo of your delicious creation on Instagram with our hashtag #dinnersolved