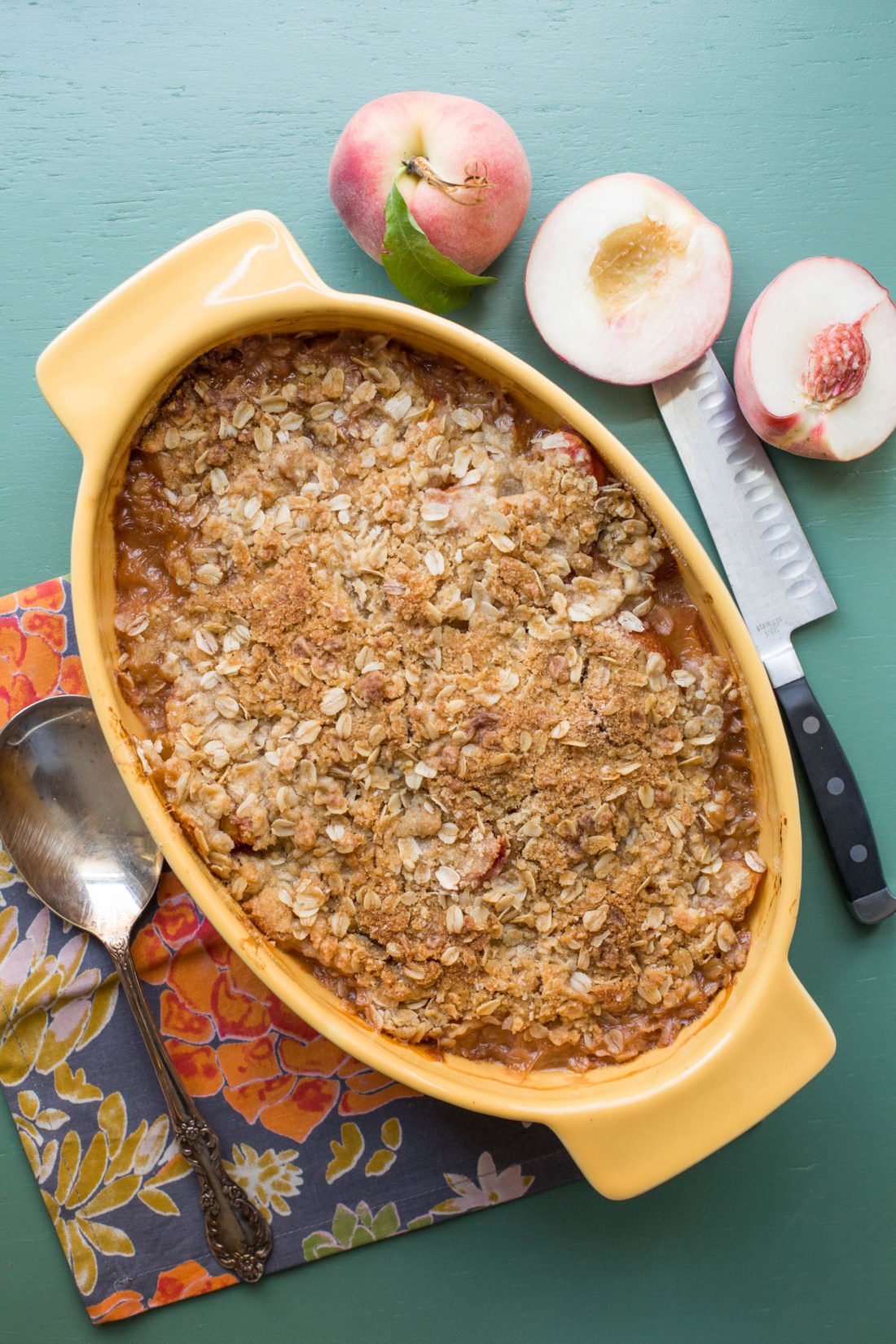 It's all about the fruit. Any stone fruit will be great here, as long as it's perfectly ripe and sweet (but not too soft). Besides peaches and nectarines, plums and any kind of berries are perfect, though the cooking time for berries might be a little shorter. Even better, mix and match the fruit. Plums with blackberries, peaches with raspberries, nectarines with blueberries. Yum, yum, and yum.
The fruit I used was quite sweet, and if you really want to taste the essence of the fruit itself, and don't need an overly sweet dessert, I would leave out any additional sugar. If your fruit is not super sweet, once it's peeled and sliced toss it with a few tablespoons granulated sugar.
It's also worth mentioning that with nicely ripe fruit, this makes for a pretty juicy crisp once baked. There are a couple of things you can do, if you want your fruit filling to be a bit more bonded together.
Or you don't like it quite that juicy, toss in a tablespoon or two of flour, cornstarch or tapioca flour with the sliced peaches to thicken up the juices as they release during cooking. Another tip I've read is to make sure the you leave a slight border around the edge of the crisp topping, so that the fruit peeks out around the edges, and there is some room for excess liquid to evaporate. I would need to do some serious side by side testing to know if that is for real.
Mechanics taken care of, can we talk for just a moment about what joy a peach crisp brings to a later summer day? And how if you can time it so that you are serving it warm, and the ice cream or sweetened whipped cream starts to melt into the crust and the filling, it's teary making?
And once again, I must thank my amazing friends the Heffernans who have the most beautiful orchard, and who keep me in fresh fruit from June to October every year. If you ever wonder why there is so much fruit happening on The Mom 100, it's directly correlated to my friendship with the Heffernans, who give me more supply than even my slightly voracious demand.
While I'm at it, I would also like to thank my friend Sarah Crowder for this photo, one of many beautiful photos she has provided for this blog. Even after I made this crisp, styled it, and handed it over, I still wanted to jump into the photo and eat it.
More Summer Dessert Recipes: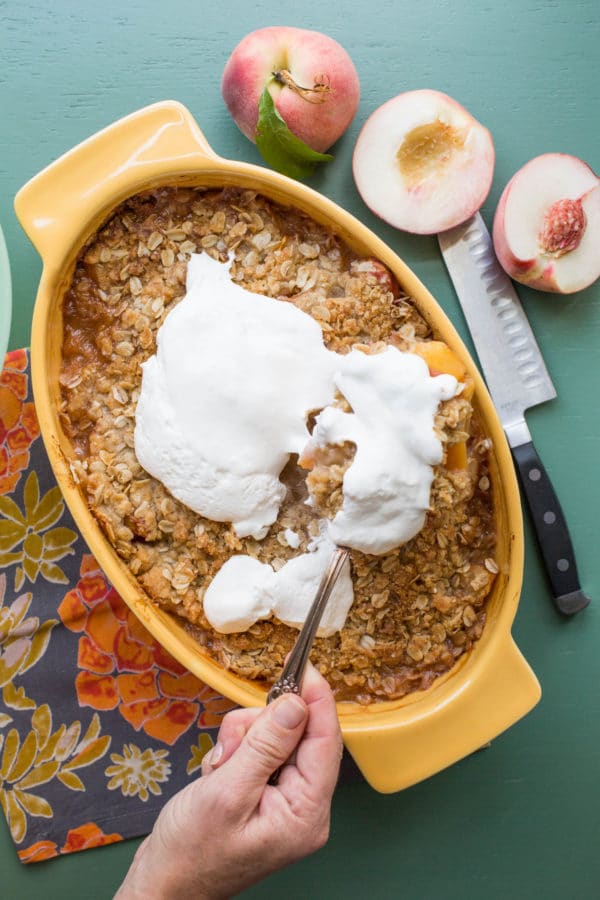 Simplest Peach or Nectarine Crisp
This summery fruit crisp makes the most of peaches or nectarines, b ut you can also sub in other stone fruits like plums or apricots if you like. It's a fruit crisp 101.
Ingredients
6

large ripe peaches or nectarines

about 2 pounds

¾

cup

all-purpose flour

¾

cup

brown sugar

¼

teaspoon

salt

10

tablespoons

(1 stick plus 2 tablespoons) chilled butter

cut into small pieces

½

cup

old-fashioned or quick cooking oatmeal

Ice cream or whipped cream

to serve, highly recommended
Directions
Preheat the oven to 375°F.

Bring a large pot of water to a boil. Drop in the peaches two or three at a time and let simmer for 30 seconds. Remove with a slotted spoon and let cool slightly. Peel off the skins. Repeat with the rest of the fruit. Slice the peaches into thick slices and place them in a 2-quart shallow baking dish.

Place the flour, brown sugar and salt in the bowl of a food processor (see Note) and process to combine. Add the butter and pulse until the mixture resembles coarse crumbs. Remove the blade and stir in the oatmeal by hand.

Spread the crisp topping evenly over the peaches, and bake for 40 to 45 minutes until the top is lightly browned and the juices from the peaches are bubbling up around the edges. Let cool on a wire rack until just warm, or to room temperature.
Notes
Note:
If you don't have a food processor, you can do all of this by hand. Instead of pulsing in the butter, just use a pastry cutter, or your fingers to quickly chop or blend the chilled butter into the dry mixture, making sure it remains nubby and doesn't form a paste. Then stir in the oatmeal.
Nutrition Information
Calories:
401
kcal
|
Carbohydrates:
56
g
|
Protein:
4
g
|
Fat:
20
g
|
Saturated Fat:
12
g
|
Cholesterol:
50
mg
|
Sodium:
272
mg
|
Potassium:
352
mg
|
Fiber:
3
g
|
Sugar:
39
g
|
Vitamin A:
1072
IU
|
Vitamin C:
10
mg
|
Calcium:
42
mg
|
Iron:
1
mg
The nutrition values are provided as an estimate. It is not intended as a substitute for the advice of a qualified healthcare professional.
Made this recipe? Post a photo of your delicious creation on Instagram with our hashtag #dinnersolved