I was really sorry to hear that there is no known etymology behind the term "fool" as its used in this dessert. Seriously wouldn't you assume that there is a very good story behind the fact that someone decided this blend of whipped cream and fruit would be called a fool? And with two boys in the house, wouldn't you also be excited to share that story with them, along with their dessert?
But no, according to the erratic web research I did, there's really no good story. The general belief is that the name comes from the French verb fouler, which means to crush or press. One other thought is that that because the two desserts fool and trifle are somewhat similar, the meanings of their names are also related.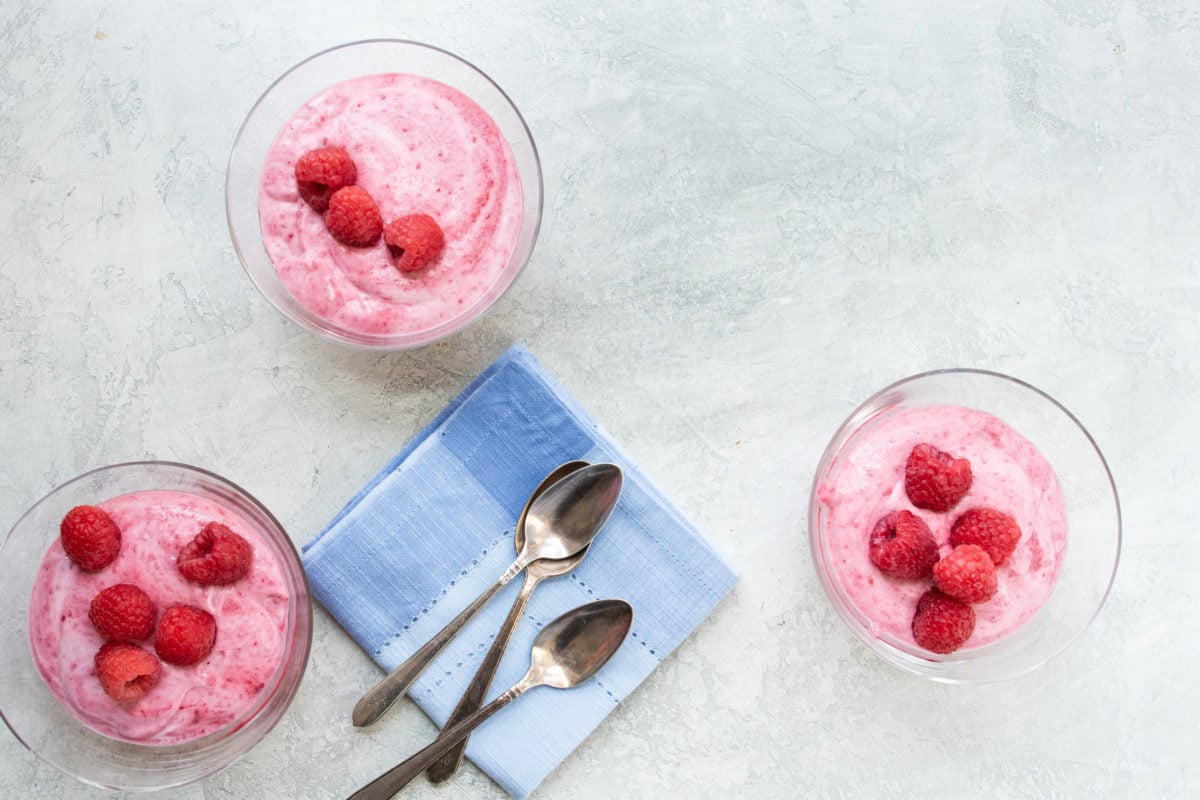 And finally according to Joy of Cooking, apparently long, long ago the word "fool" was "a term of endearment," and the dessert dates back at least to the 16th century….and I don't know exactly how the dots get connected there. In the end, it's not clear, but we'll have to live with that.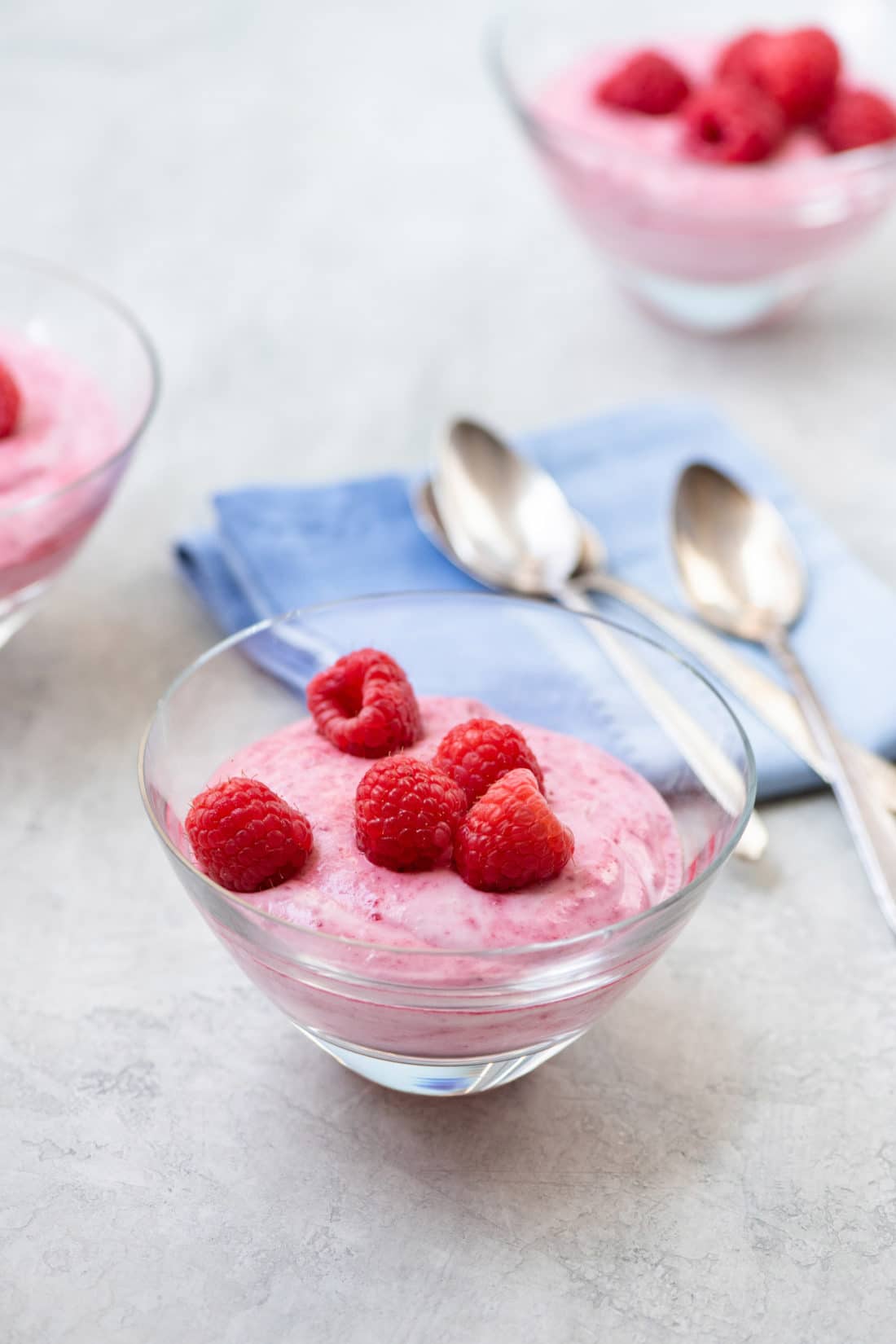 But it's SO easy! And only four ingredients! And a summertime dessert that doesn't require turning on the oven, especially this week, is just a marvel.
Using Frozen Berries for Raspberry Fool
Sure, you could use fresh berries here. But here's why I used frozen:
They puree up really easily because they are already kind of macerating in their own juices when you thaw them.
They were in fact less expensive than fresh berries.
They are perfect in this recipe, because you want the fruit puree very cold when you fold it into with the whipped cream, and so moving the berries from the freezer to the fridge the night before makes this happen beautifully.
I had them in the freezer.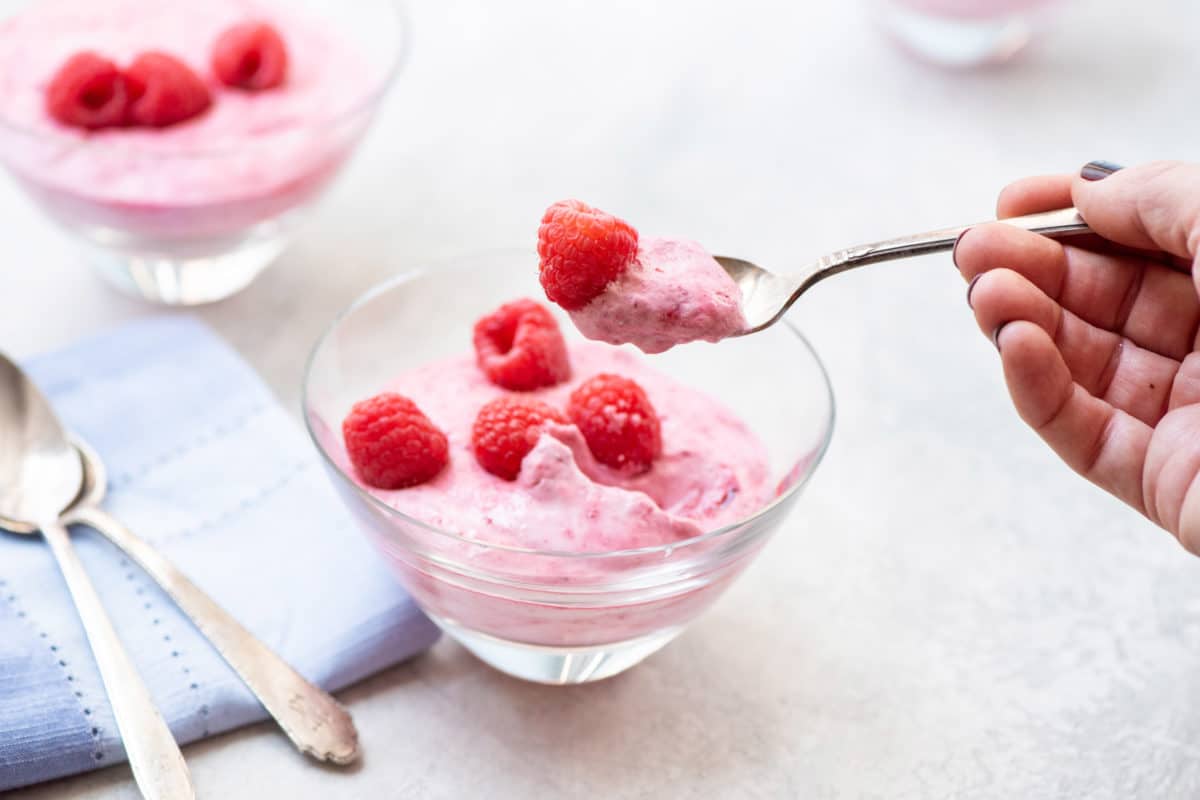 Don't over-beat the whipped cream or it will turn into butter; stop just when you reach the stage where the peaks of the cream stand up when you pull away the whisk from the bowl and barely curl over at the tips.
A simple, pretty, 4-ingredient summer dessert that doesn't require turning on the oven – now that's beautiful.

Tweet This
Don't feel like you have to blend the berries and the cream fully—a raspberry fool partially folded together with streaks of white and pink is very pretty, and it allow the whipped cram to remain very fluffy.
Finally, I had one left that wasn't going to get eaten within the handful of hours that a fool should be consumed (it can last a day, but longer than that and it starts to turn soupy. I froze it, and boy was that an absolutely amazing new frozen dessert in my life. Highly recommended.
Other Great Berry Desserts:
Like this recipe? Pin it to your favorite board on Pinterest.

Pin This
Simple Raspberry Fool
A simple, pretty, 4-ingredient summer dessert that doesn't require turning on the oven – now that's beautiful.
Ingredients
1

12-ounce package frozen raspberries

thawed but cold

2

teaspoons

fresh lemon juice

⅔

cup

sugar

divided

1 ½

cups

heavy cream

Fresh berries to serve

optional
Directions
Puree the raspberries with the lemon juice and 1/3 cup of the sugar in a blender or food processor.

In a medium bowl whip the cream with the remaining 1/3 cup sugar just until it holds stiff peaks. Gently fold in the raspberry mixture.

Scoop the mixture into 6 6-ounce cups, filling each partway full. Serve immediately or refrigerate for up to 4 hours. Top each serving with berries, if desired.
Nutrition Information
Calories:
321.13
kcal
|
Carbohydrates:
30.76
g
|
Protein:
1.91
g
|
Fat:
22.39
g
|
Saturated Fat:
13.71
g
|
Cholesterol:
81.52
mg
|
Sodium:
23.42
mg
|
Potassium:
130.24
mg
|
Fiber:
3.69
g
|
Sugar:
24.79
g
|
Vitamin A:
893.36
IU
|
Vitamin C:
15.86
mg
|
Calcium:
52.85
mg
|
Iron:
0.39
mg
The nutrition values are provided as an estimate. It is not intended as a substitute for the advice of a qualified healthcare professional.
Made this recipe? Post a photo of your delicious creation on Instagram with our hashtag #dinnersolved