Sesame Oil Hummus

I ran out of tahini recently.   How I'm not sure, but it happened.  At the moment I realized I was out of tahini, I was making hummus, and everything else was in the food processor all ready to blend.  My friend Chris, a seriously skilled cook, was over and said, "Don't you have sesame oil?  I use that all the time."
Really?  REALLY?  There were, and almost always are, 4 little open bottles of sesame oil in the fridge (it's a total staple ingredient in our house, for all kinds of Asian dishes), so that was easy.  And now, while I've always thought Chris was smart, I think he's a genius. Sesame Oil Hummus was fantastic, different and similar at the same time.
Next time I'm going to try a combo of tahini and sesame oil, as he also suggests, and I think there is going to be a lot more hummus going down in our house.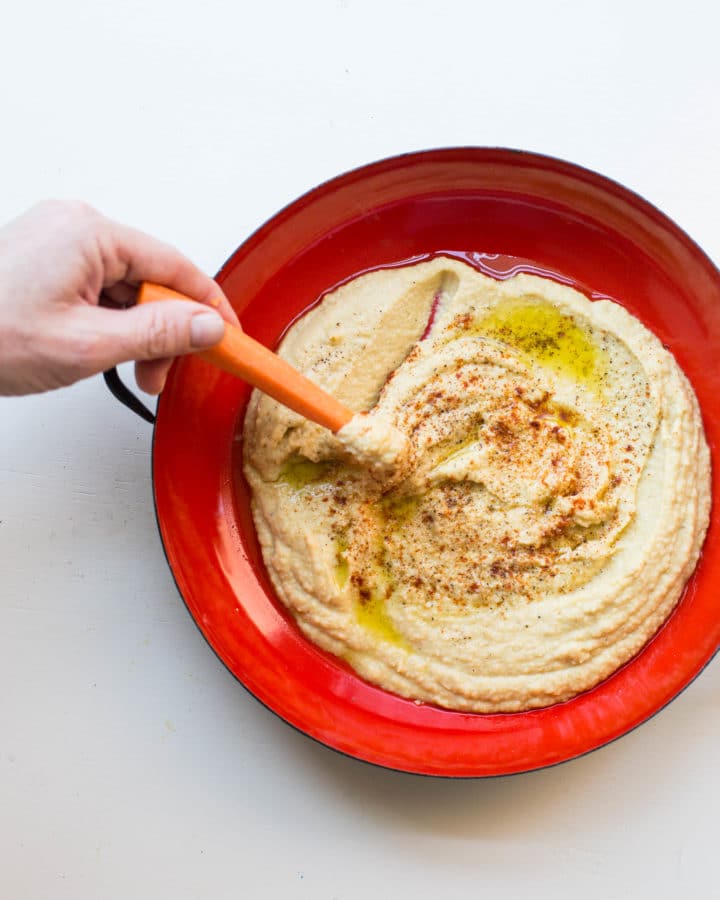 Sesame Oil Hummus
Print
3 cloves garlic, minced

2 cans (19-ounce) chick peas, drained and rinsed

2 to 3 teaspoons toasted sesame oil

3 tablespoons fresh lemon juice

1/4 cup extra virgin olive oil, plus extra for drizzling if desired

1 teaspoon ground cumin

Kosher salt and freshly ground pepper to taste

½ cup water, approximately
1. Place the garlic and chickpeas in the food processor and pulse a few times.  Add 2 teaspoons of the sesame oil, lemon juice, olive oil, cumin, and salt and pepper.  Puree and with the motor running add about 1/3 cup of the water.  Allow the mixture to process for about two minutes (see Cooking Tip), adding more water if you'd like a thinner consistency.  Taste and add additional sesame oil if desired.
2. Transfer to a serving bowl, drizzle with a bit of olive oil if you like,  and sprinkle with the paprika or cayenne.