This post may contain affiliate links. Please read our privacy policy.
I think I'm going to have to start a new section of the blog called Full Disclosure.
Which, as I write this, annoys me as it must you, because why would you assume at any point I am bullshitting in any way? If you and I can't trust each other by now, what is this relationship built on anyway?
I come to this thought simply because sometimes (not often, but definitely sometimes) I include recipes on this blog that one kid, or both kids, or my husband, or any assortment of the aforementioned won't eat. Even, on rare occasion, possibly hate.
But here are some thoughts on that:
1) I rarely knowingly make things they won't like, much less hate, unless I know they won't be home or there are plenty of other things to choose from.
2) I sometimes really like things other people in my family don't.
3) They are totally free to write their own cookbooks and columns and blogs. And I mean that in the least snarky way possible. I would read them all.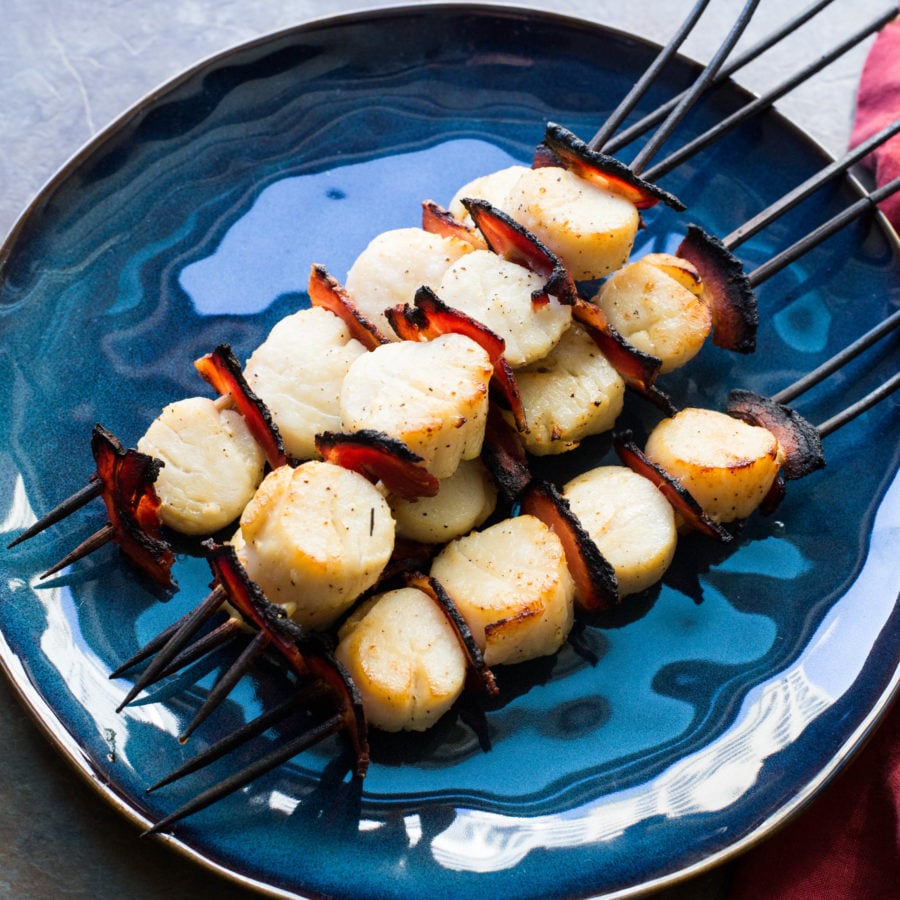 And then there's the fact that my husband really loves scallops, while Charlie…how to put this delicately….has requested that I only make scallops when he will be away for at least 24 hours because the smell makes him feel gaggy.
This is the only food that I know of that he has such strong negative feelings about. Sure, he doesn't like other foods, but he doesn't request a leave of absence from the house when I prepare them.
Is your mouth watering yet?
[jetpack-related-posts]
So I cut out a scallop in the shape of Mickey Mouse and he gobbled it right up!
Oh my god, really, can you imagine? Can you imagine if I actually did that? And can you imagine if he were dopey enough to fall for it?
Anyway, now the really good and compelling part about these skewers. They are pretty fabulous. You know if you like scallops. And I do. And Gary loves them, a lot.
Scallops are pretty rich, as seafood go. Maybe richer than any other seafood I can think of, and that includes lobster, which packs a lot of richness per bite. So these are a real treat, smallish portions suffice, and they are lovely paired with generous amounts of some vegetable side or salad.
The marinade plays well against the deep flavor of the scallops. The syrupy tanginess of the balsamic vinegar plays middleman to the sharpness of the mustard and the sweetness of the brown sugar. Little slivers of pancetta interspersed between the scallops add such a sly little salty hit. Those cunning little pancetta pieces. We see you, and we love you.
Future Charlie, someday you might read this. This is what we ate when you were at camp. Maybe now that time has passed you're on board with scallops. And then you will say, "Ma, can you please make Scallop and Pancetta Kebabs with Balsamic Glaze?" If not, believe me, your father will continue to eat your share.
Other Seafood Recipes:
Scallop and Pancetta Kebabs with Balsamic Glaze
Sumptuous and rich – and easy as all get out.
Ingredients
1

tablespoon

extra virgin olive oil

1

tablespoon

balsamic vinegar

preferably white balsamic

1

teaspoon

Dijon mustard

1

clove

garlic

finely minced

2

teaspoons

brown sugar

light or dark

Kosher salt and finely ground pepper

to taste

1

pound

sea scallops

2

ounces

pancetta

thickly sliced
Instructions
Soak about 12 8 to 12-inch wooden skewers in water to cover for at least 30 minutes.

In a large bowl or plastic container, mix together the olive oil, balsamic vinegar, Dijon mustard, garlic, brown sugar, and salt and pepper until well blended. Add scallops and gently toss in the mixture to coat. Let sit at room temperature for 15 minutes, or refrigerate for 1 to 2 hours.

Preheat the broiler or grill. Heat a large skillet over medium heat. Place the pancetta slices in the pan and cook for about 3 minutes on each side until almost cooked through, but still very pliable and not crisp. Remove to a plate lined with paper towels and let cool. Cut into 1-inch pieces.

Skewer the scallops, and pancetta pieces, using two skewers (using two skewers keeps the scallops skewered more securely), and dividing them evenly between the skewers. Discard any remaining marinade. Broil or grill for about 3 minutes on each side, until they are just cooked throughout.
Notes
Scallops are a great fancy meal because small portions suffice since they are so rich.
Nutrition
Calories:
181
kcal
,
Carbohydrates:
7
g
,
Protein:
16
g
,
Fat:
10
g
,
Saturated Fat:
3
g
,
Cholesterol:
37
mg
,
Sodium:
554
mg
,
Potassium:
261
mg
,
Sugar:
3
g
,
Vitamin C:
1
mg
,
Calcium:
7
mg
,
Iron:
1
mg
Nutrition information is automatically calculated, so should only be used as an approximation.
Like this? Leave a comment below!