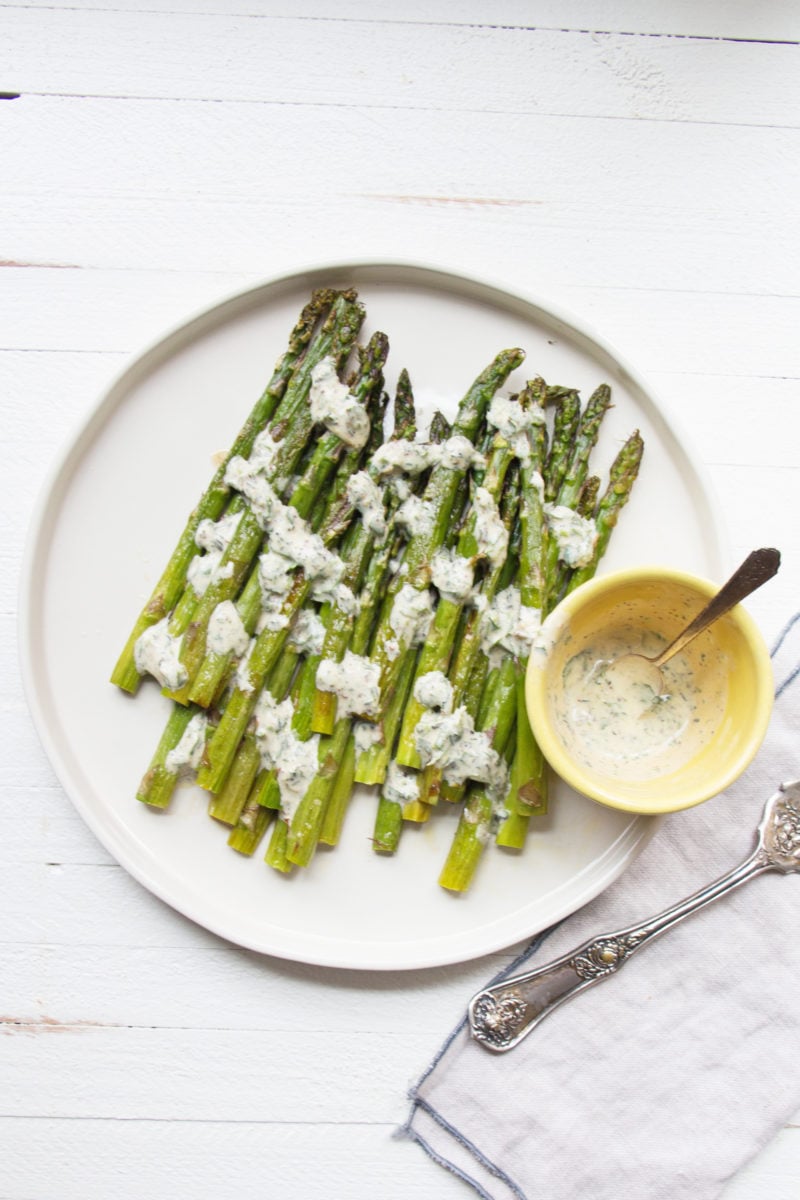 During it's not-too-brief season, we eat asparagus a couple of times a week, and far and away the preferred method is roasting. Roasting brings out all of the natural sugars in vegetables (and any thing with natural sugar), and makes everything taste richer and fuller and more delcious. In this writer's opinion. And in the opinion of her kids, who have been raised with a significant number of their vegetables coming out of the oven.
And we do eat plain roasted asparagus most of these nights, but lately, I've been a-fixin' to add an extra (yet easy, simple, not hard, fast, quick, and easy) element to my roasted vegetables, to turn them into a more interesting side. As my kids have been getting older, this is possibly more welcome than it was when they were littler. And it's certainly a good trick for entertaining. Also see these little potatoes with their harissa dipping sauce, about to become a Workman Household Classic.
If you happen to grow your own herbs, you will likely have all of these sauce ingredients on hand. If you don't, but you have some leftover herbs from other recipes (and most of the time, this is me), then this lovely sauce for asparagus (or other roasted vegetable) is one of the most satisfying ways to put them to good use.
A simple and very quick sauce to make plain roasted asparagus into something special.

Tweet This
Random fact: When my kids were little Jack liked only the tips of the asparagus, while Charlie liked only the stalks. When your kids are young, any little at-the-table bonus like this takes on almost epic-pleasure status.
Random tip: It's annoying to have extra fresh herbs and not have any plans for them, isn't it? Just put in the name of the herb into the search bar of one of your favorite food sites, or even just the word "herbs", and it's an easy way to get that nice combo of new inspiration and a way to use up leftovers. Which is my favorite combo in the world.
Other Asparagus Recipes:
If you like asparagus, try these asparagus recipes.
Like this recipe? Pin it to your favorite board on Pinterest.

Pin This
Roasted Asparagus with Creamy Mustard-Oregano Sauce
While the asparagus are in the oven, you're whipping up this simple sauce.
Directions
Preheat the oven to 450°F.

Place the asparagus in a baking pan. Don't worry about finding a pan large enough to hold the asparagus in one layer – the stalks can overlap a bit. Drizzle the olive oil over them and toss gently to coat the asparagus evenly. Sprinkle on the salt, and toss again.

Roast the asparagus for 7 to 10 minutes for thin stalks, 10 to 14 for thick ones. Remember that they will continue to cook a bit after you remove them from the oven, so take them out while they're still a little firmer than you would like. Transfer to a plate and let cool to room temperature.

Meanwhile stir together the mayonnaise, olive oil, rice vinegar, parsley, oregano and mustard. Season with salt and pepper.

Drizzle the sauce over the asparagus and serve at room temperature.
Nutrition Information
Calories:
139.08
kcal
|
Carbohydrates:
4.75
g
|
Protein:
2.63
g
|
Fat:
13.02
g
|
Saturated Fat:
1.89
g
|
Cholesterol:
1.96
mg
|
Sodium:
429.64
mg
|
Potassium:
229.07
mg
|
Fiber:
2.52
g
|
Sugar:
2.24
g
|
Vitamin A:
913.45
IU
|
Vitamin C:
7.24
mg
|
Calcium:
32.54
mg
|
Iron:
2.59
mg
The nutrition values are provided as an estimate. It is not intended as a substitute for the advice of a qualified healthcare professional.
Made this recipe? Post a photo of your delicious creation on Instagram with our hashtag #dinnersolved