This post may contain affiliate links. Please read our privacy policy.
Pork Chops and Apples
You know those moments where you experience a really amazing dish at a restaurant and say to yourself, "Oh, I could never make that at home." But then you pause for a moment, and think, "Or could I?" This happened to me a few years back in Dallas, Texas.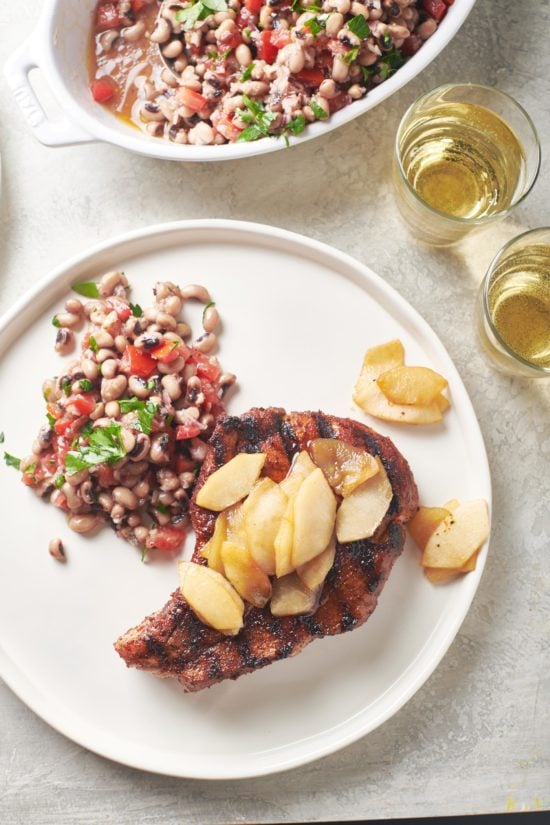 Restaurant-Inspired Pork Chops
I went to Stephan Pyles' amazing destination restaurant Stampede 66, which sadly closed several years back. Even for Texas, this place did everything seriously big and bold. Think Dallas meets This Is Spinal Tap, and the dial goes up to 11. There was a pork chop on the menu, aptly named the Stampede 66 Pork Chop, and I couldn't stop thinking about it. I knew I had to try and recreate it in my kitchen.
In my home version, a super simple and immensely flavorful blend of seasonings is rubbed all over the chops which are pan seared. Don't over cook the chops: you are looking for an internal temperature of 140 to 145 F with a meat thermometer and make sure you give them resting time.
While you do not need to brine your pork chops before cooking them, if you have time you will ensure that the results are tender and juicy.
Black-Eyed Pea Salad
While the chops are cooking you make a colorful and easy black-eyed pea salad. This salad with red onion, tomatoes, and a dead-easy vinaigrette is shockingly quick to pull together and it should be paired with all kinds of things besides these pork chops.
Pork Chops with Apples and Black Eyed Pea Salad Recipe: A juicy restaurant-quality pork chop with apples dinner comes together in 30 minutes.

Tweet This
Pork Chops with Sauteed Apples
The finishing touch is a couple of Granny Smith apples sautéed up with a bit of butter, brown sugar and brandy, which you can ever sauté while the chops rest after cooking. Apples and pork chops is an evergreen and brilliant pairing. Everything comes together on one beautiful plate, and the result is pretty wow.
Does it look complicated? I promise it's not. In fact this whole meal comes together in less than 30 minutes (Really! Truly!) Don't skip the apples. They provide that little burst of sweetness that elevates this meal to something special. In a pinch, a bit of apple chutney could be a good substitute.
Storing and Reheating Leftover Pork Chops and Apples
Leftover pork chops can be warmed on a grill or in a 300°F oven just until warm. Apples can be rewarmed in a skillet or also in the 300°F oven – place the chops and apples in separate baking pans to heat. Bring the pork chops and apples to room temperature before reheating so that they don't have to heat again for too long – that way the pork chops should stay juicy, and the apples should hold their texture. The bean salad should be served at room temperature.
I am a fan of these cool multi-compartment BPA-free Snap Pak containers for storing dishes like this. Each part of the meal goes into its own discrete compartment, so it's all together, but separate. The containers can be used over and over, and then when you are ready to move on, they are fully recyclable.
Chef Pyles, when you come to New York, I will make this for you, and while I don't think your day job will feel threatened, I think you might be impressed.
What to Serve with Pork and Apples:
This meal, with the bean salad is definitely an all-in one meal. But if you wanted to add on for a bigger feast or a special occasion, try:
Other Savory Recipes with Apples:
Like this recipe? Pin it to your favorite board on Pinterest.

Pin This
Pork Chops with Apples
One of the best things that could happen to a pork chop. This simple black eyed pea salad is just terrific, and you may want to make it even when you aren't cooking these pork chops.
Ingredients
For the Pork Chops
1

tablespoon

chili powder

1

teaspoon

paprika

½

teaspoon

cayenne pepper

1

teaspoon

brown sugar

1

teaspoon

kosher salt

1

tablespoon

olive oil

4

1-inch thick pork chops

(about 3 pounds total)
For the Caramelized Apples
2

tablespoons

unsalted butter

2

Granny Smith apples

(peeled, if desired; cored and sliced)

2

tablespoons

brown sugar

2

tablespoons

brandy

1

recipe

Black-Eyed Pea Salad

(see Note)
Instructions
In a small bowl combine the chili powder, paprika, cayenne, 1 teaspoon brown sugar and 1 teaspoon salt. Rub the mixture on both sides of the pork chops.

Heat a grill pan, or a heavy skillet over medium-high heat. Add the tablespoon of olive oil. Sear the pork chops on both sides until nicely browned and cooked through, about 4 to 5 minutes per side. The middle should still be very slightly pink, with an internal temperature of 145 F on a meat thermometer. Tent the pork chops with foil to keep warm.

Add the butter to the pan you cooked the pork chops in and melt over medium heat. Add the apples and cook for 2 minutes, until they just start to soften. Sprinkle over the brown sugar and cook, stirring often, for another minute or two until you can smell the sugar caramelizing. Add the brandy and bring to a simmer using a spoon or tongs to scrape the bits off the bottom of the pan.

Serve each chop on a plate with a generous restaurant-sized scoop of the black-eyed pea salad and heap some of the apples on top of the chops.
Notes
Make the Black-Eyed Pea Salad before starting to cook the pork chops, and hold it at room temperature.
Nutrition
Calories:
388
kcal
,
Carbohydrates:
21
g
,
Protein:
30
g
,
Fat:
19
g
,
Saturated Fat:
7
g
,
Polyunsaturated Fat:
2
g
,
Monounsaturated Fat:
8
g
,
Trans Fat:
1
g
,
Cholesterol:
105
mg
,
Sodium:
683
mg
,
Potassium:
664
mg
,
Fiber:
3
g
,
Sugar:
16
g
,
Vitamin A:
1173
IU
,
Vitamin C:
4
mg
,
Calcium:
31
mg
,
Iron:
1
mg
Nutrition information is automatically calculated, so should only be used as an approximation.
Like this? Leave a comment below!