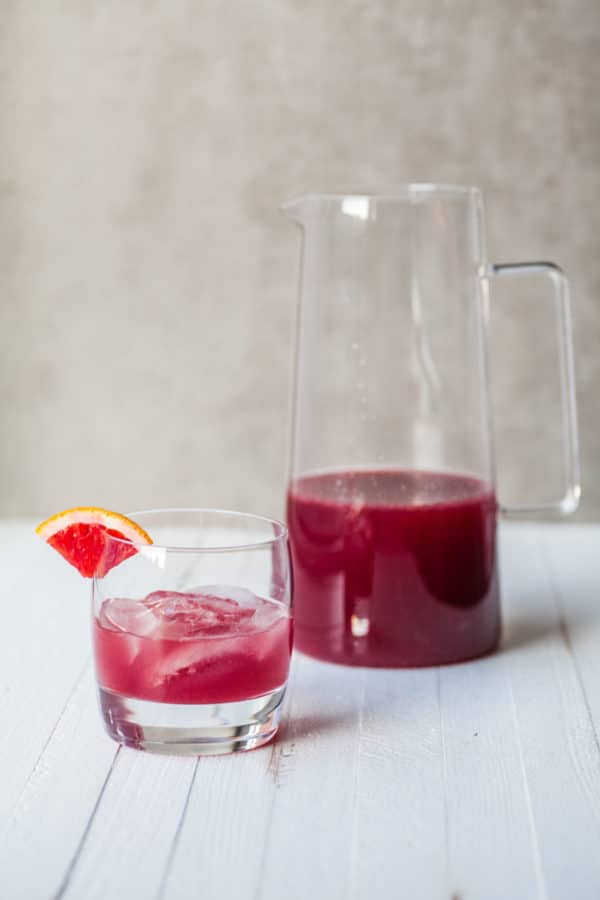 Isn't it amazing how a small gathering can so quickly mushroom into a "do we have to get some folding chairs?" kind of gathering? I usually like when this happens, though only if I have adjusted my grocery shopping in time. I need to have copious amounts of foods, and no chance of running out of anything. If that potential exists, I do feel kind of unsettled.
So this happened for us last New Year's Eve. To be clear, each guest was actually asked over by us, but thanks to my tendency to continue to invite people up until the actual day of, the number swelled a bit. (Cough).
Jack asked several times, "You do know how big our apartment is, right?"
It really wasn't that crowded. Everyone got to sit down for at least part of the evening, even if it was on the floor.
I made a buttload of appetizers (mmmmm, Katie you sure do make things sound yummy), including a couple of batches of this hot dip and this crudite assortment, and pigs in a blanket (from the freezer aisle) with spicy brown mustard to dip in because I want people to love me. Gorgeous cheese brought by Jean and David.
This Pitcher Red Cocktail for the Holidays is nicely citrusy (for obvious reasons) and the tiniest bit tart.

Tweet This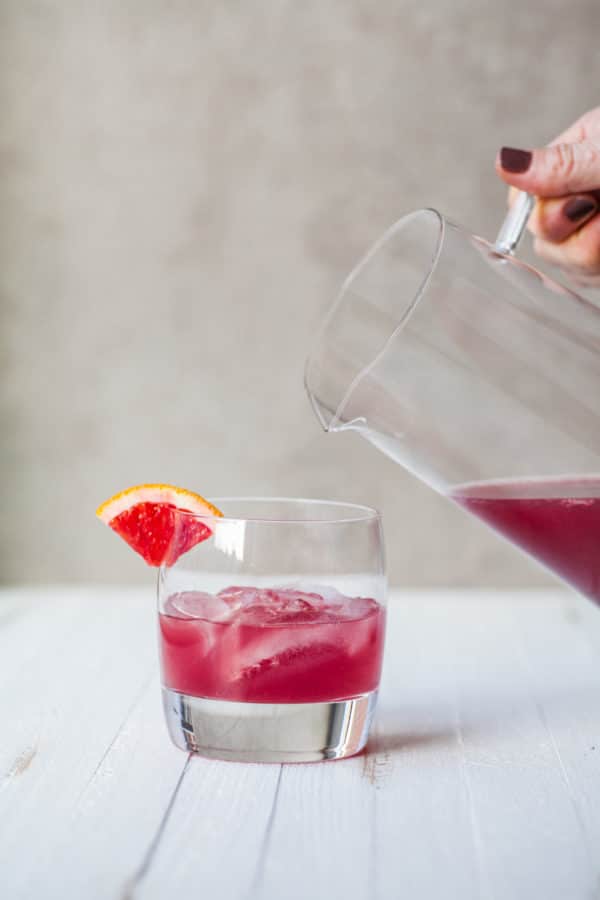 For dinner there was sliced filet, Dijon and Honey Crusted Pork Tenderloins, a glazed ham (my first one!), a dilled green bean salad, my favorite Brussels Sprouts dish of the year, a big green salad with balsamic vinaigrette, little roasted potatoes, and the cutest rolls to make sandwiches for those who wanted to go that route.
Then there were three dipping sauces to go with all of the meats, as well as the potatoes (and my friend Abby rightly pointed out that we needed some more brown mustard for the ham. An arugula basil sauce, a harissa sauce, and a blue cheese sauce, for people to mix and match.
And then I made everyone else bring wine and champagne and desserts (which were gorgeous – people did not hold back).
But I did want to make a new cocktail to celebrate the arrival of the new, and the exiting of the old (DLTDHYOYWO**). And it had to be red, which in the Chinese culture symbolizes happiness and good luck. I'm as Chinese as Ming-Na Wen is Jewish, but babe, I'll take all the happiness and good luck I have coming to me, and I'll make her some latkes if she wants to swing on by.
This is nicely citrusy (for obvious reasons) and the tiniest bit tart.
**Don't Let The Door Hit You On Your Way Out.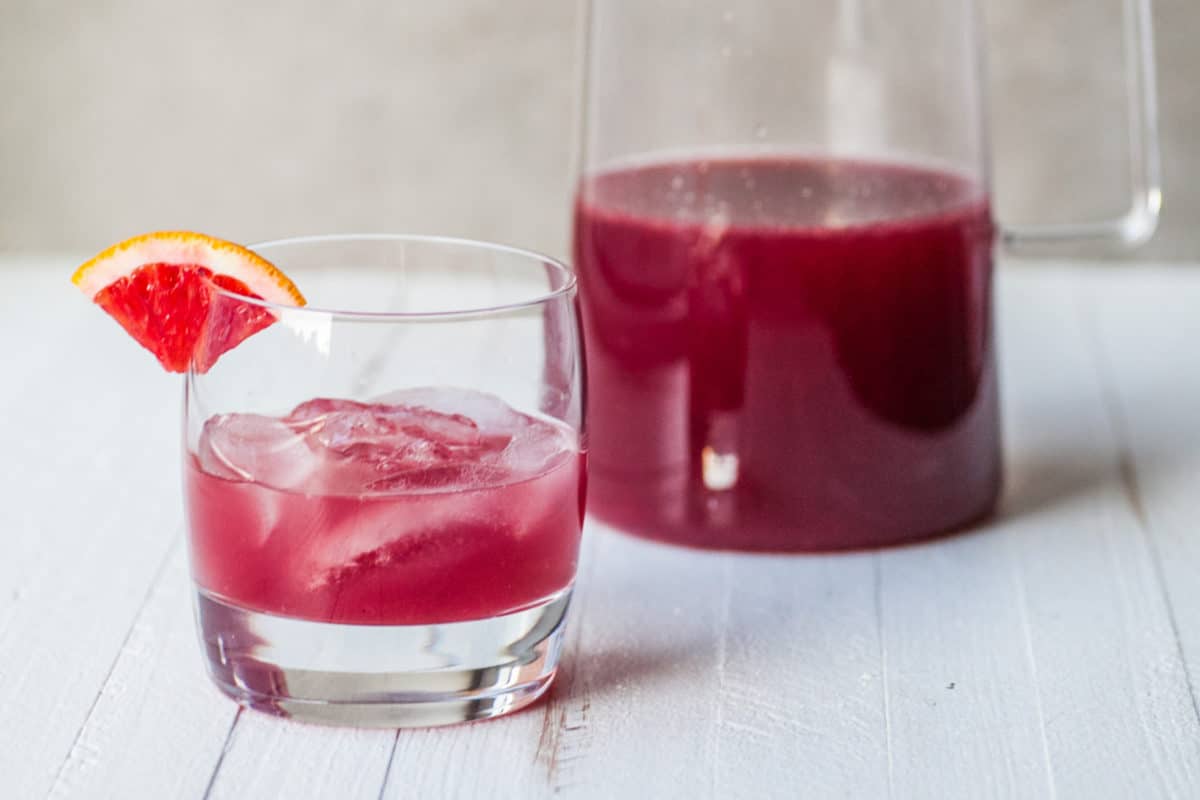 More Holiday Cocktail Recipes:
Like this recipe? Pin it to your favorite board on Pinterest.

Pin This
Pitcher Red Cocktail for the Holidays
This is nicely citrusy (for obvious reasons) and the tiniest bit tart.
Ingredients
1

cup

pomegranate juice

½

cup

fresh grapefruit juice

½

cup

fresh orange juice

¼

cup

fresh lime juice

2 to 3

tablespoons

simple syrup

see Note or Ginger Basil simple syrup

1 ½

cups

vodka

quarter slice orange

to garnish, optional
Directions
In a large pitcher, combine the pomegranate juice, grapefruit juice, orange juice, lime juice, simple syrup, and vodka. Chill for at least 1 hour, or until very cold.

Fill glasses with ice, and pour the cocktail over the ice. Garnish the glasses with the little citrus wedges if desired (cutting a little slit into the wedge makes it easier to perch it on the glass)
Notes
How to Make Simple Syrup
To make simple syrup, simple combine equal parts water and sugar in a small pot and bring to a boil, stirring frequently until the sugar has dissolved. Transfer to a clean container, and cool. Cover and chill. You can refrigerate simple syrup for up to 3 months.
Nutrition Information
Calories:
119.89
kcal
|
Carbohydrates:
9.3
g
|
Protein:
0.22
g
|
Fat:
0.11
g
|
Saturated Fat:
0.02
g
|
Sodium:
5.4
mg
|
Potassium:
104.28
mg
|
Sugar:
8.52
g
|
Vitamin A:
24.8
IU
|
Vitamin C:
11.19
mg
|
Calcium:
4.1
mg
|
Iron:
0.24
mg
The nutrition values are provided as an estimate. It is not intended as a substitute for the advice of a qualified healthcare professional.
Made this recipe? Post a photo of your delicious creation on Instagram with our hashtag #dinnersolved