I cannot remember a time when it seemed inappropriate to ask a friend, "What can I bring?" when she invited me to dinner. And I know that this is the first thing my friends will ask me when I invite them.  And guess what?   I'm going to answer!  And when I am the guest, I expect to be given an assignment.  And in my experience, the two most common "you-can-bring" categories are appetizers and desserts.
(Although recently I was invited to a party and I texted the host, asking if I could bring an appetizer and she immediately texted back: "For 300?"  Uh, no, I didn't know you were having that many people.)
I was quite pleased when Way Better Chips asked me to write about them on this blog, since they make pretty fantastic chips. And I was even more pleased when a carton of them arrived just in time for me to fulfill my appetizer-duty for dinner at a friend's house.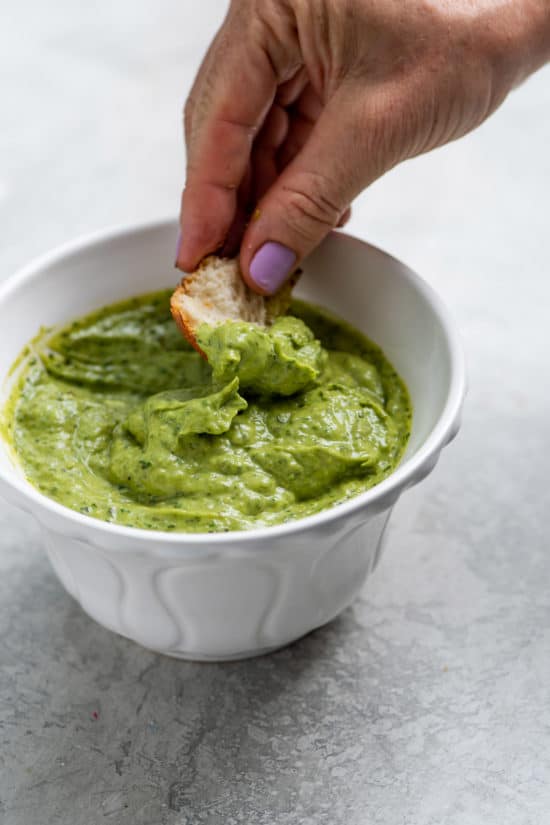 I've brought many different appetizers to various places, but I often fall back on a time-honored mantra: When In Doubt, Make A Dip.  It's portable, it's crown-pleasing, you don't have to worry about heating up anything (unless it's a hot dip, and that's also a lovely thing, but not necessarily in July), and if there are kids and you've brought chips, you've won just by whipping out the bag.
Way Better Chips has lots of varieties, all of them with very cool sprouted ingredients (did you know that sprouting makes it easier for your body to absorb all of the good nutrients in various grains and seeds?  I did not, but now I do.)
For this creamy avocado and basil dip, with a deep green the color of late summer, I picked a combo Multi-Grain (I think my favorite….I think) and Black Bean. Great texture, great crunch, and it's one of those rare and delightful moments where something that is in fact way better for you tastes way better.
These are the the before shots.  I have no doubt that the after shot will be an empty bowl and a few crumbs.
Pesto Guacamole
The perfect appetizer to bring to parties and potlucks, portable and crowd-pleasing. When in doubt, make a dip.
Directions
Cut the avocados in half, remove the pit, and peel off the skin. Cut the avocados into chunks.

In a food processor, place the basil, parsley, garlic and lemon juice and pulse several times to chop. With the motor on, pour the olive oil in through the top of the machine. Remove the lid, add the avocado and process until the dip is smooth.

Serve the dip in a bowl, garnished with the slivered basil, with the chips arranged attractively around on a platter.
Nutrition Information
Serving:
6
g
|
Calories:
141
kcal
|
Carbohydrates:
4
g
|
Protein:
1
g
|
Fat:
14
g
|
Saturated Fat:
2
g
|
Sodium:
4
mg
|
Potassium:
254
mg
|
Fiber:
3
g
|
Sugar:
1
g
|
Vitamin A:
237
IU
|
Vitamin C:
7
mg
|
Calcium:
10
mg
|
Iron:
1
mg
The nutrition values are provided as an estimate. It is not intended as a substitute for the advice of a qualified healthcare professional.
Made this recipe? Post a photo of your delicious creation on Instagram with our hashtag #dinnersolved