This post may contain affiliate links. Please read our privacy policy.
Puerto Rican Pernil Recipe
My pernil journey began as I was wrestling a huge shoulder of pork out of its packaging, about to start some rendition of slow roasted pork. Guillermo, a super nice guy who helps me out with kitchen prep when I need some powerhouse chopping, asked me if I was making pernil. I said, I wish, I've never made that, and asked him if he would give me some tips.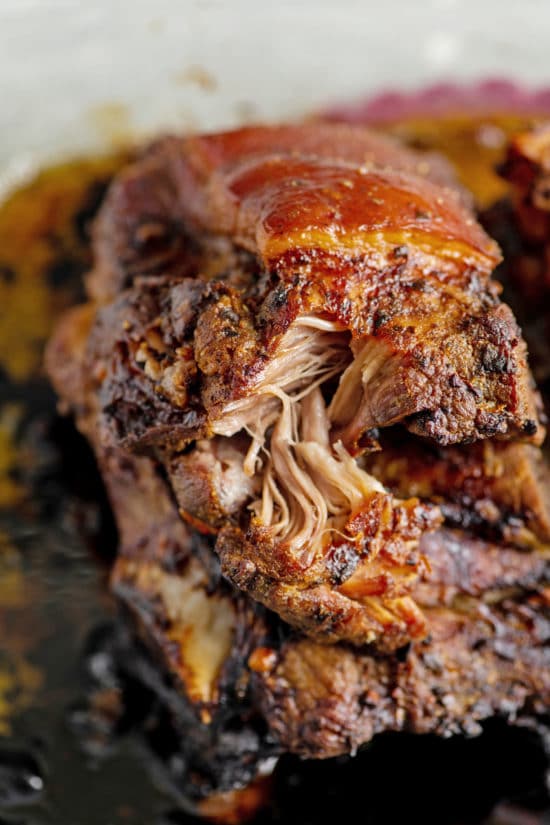 Guillermo has been eating pernil for his whole life, growing up with Puerto Rican parents, and he called his dad for the family recipe right away. This is just the type of thing that gets my blood pumping, so I grabbed a pen and started scribbling down the things Guillermo's father was dictating.
What is Pernil?
Pernil is a slow cooked pork roast, usually a shoulder, butt or leg, that is very typically enjoyed during the holidays. It is a classic Puerto Rican dish, and also a classic dish in the Dominican Republic, though unsurprisingly there are small differences that mean a lot. There are Cuban versions, too. Typical seasonings include salt pepper, sofrito, Adobo, oregano, and sometimes a Sazon packet.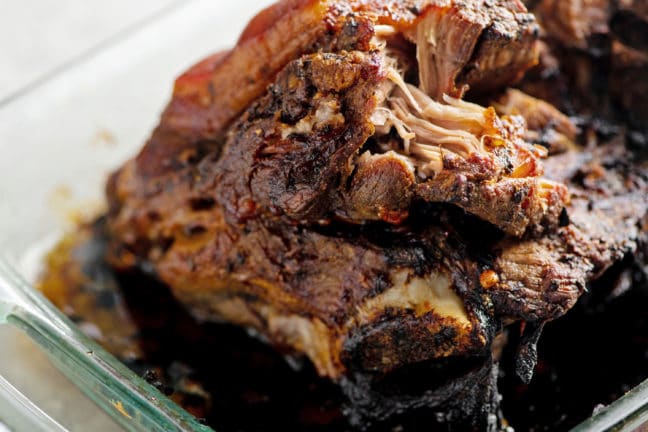 I made one following Guillermo's dad's advice, and it was dee-licious. But the next time I combined both fresh and dried oregano, and (thanks to a tip from another PR friend, Fredo) hit the whole thing up with some citrus at the end. Fredo squeezes lemon juices over the meat before it cooks, and I've seen other versions with orange juice in the marinade. I decided to sprinkle both lemon and orange over at the end for a fresh little pop of sweet acidity.
The latest version got a "hey, pretty good" from Fredo, which this Jewish girl from Manhattan will take. He said that the sprinkle of oj and lemon at the end reminded him of the mojito sauce often served with pernil. I acted like that what I intended all along (no I didn't; I said "OH" in a loud surprised voice).
A succulent slow cooked piece of pork is beautifully seasoned and becomes fall-apart tender in this traditional Puerto Rican dish.

Tweet This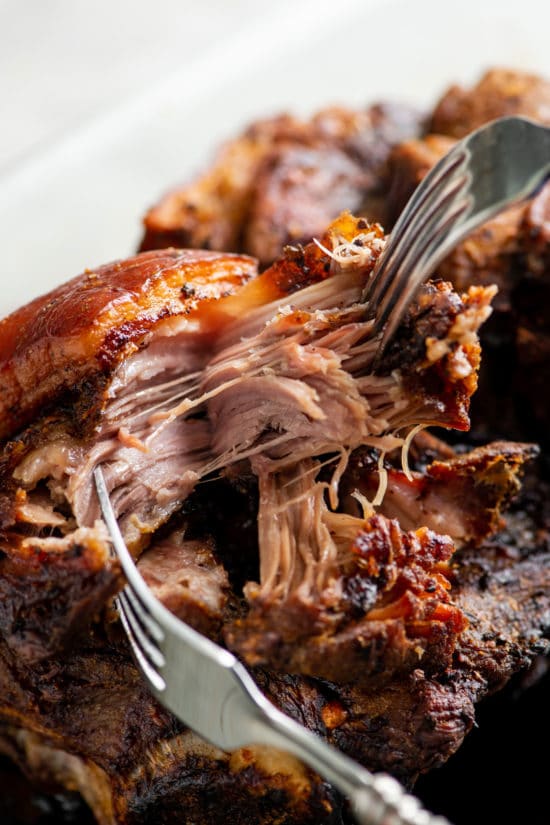 How Long to Cook Pernil?
This pernil recipe calls for about 6 hours at 300°F, a bit longer and lower than Guillermo's dad does it. Fredo cooks his pernil for even longer, 10 or so hours at 200°F., and then gives it a 45 minute hit at 350°F for a more intense final crust. As with all slow roasted dishes, you can play around with the temp and time, as long as the temperature never gets too high….350°F is the absolute highest I would roast a tough cut of meat to get it to be tender, and I prefer longer at lower temperatures.
Cuero
As the pernil cooks the outside skin and fat layer gets crunchy and forms a crust, called the Cuero. It's completely delicious, and you should make sure to chop up the crackling crust and let everyone have a bit with their portion. It's some people's favorite part of the pernil!
Christmas Pernil
In many Puerto Rican homes it's not Christmas without pernil, and all of the traditional sides. If you're going all in for this holiday meal, you have to whip up a batch of Coquito to go with it, the classic Puerto Rican coconut-based eggnog that is also a mainstay of Christmas celebrations.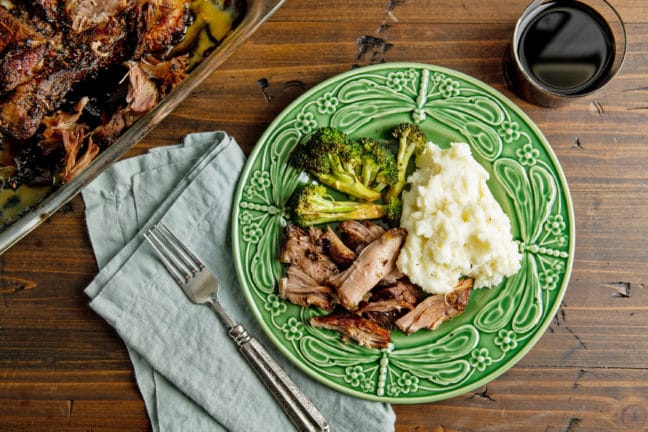 What to Serve with Pernil
Guillermo's family usually serves their pernil with rice and pigeon peas (Arroz con Gandules) and tostones, (smashed and fried plantains), which is a common way to enjoy pernil in Puerto Rico. I totally bastardized the plate with roasted broccoli with parmesan and mashed potatoes. There was no one complaining (and no one who knew that the more traditional accompaniments were missing. I will get to them next time.).
Some folks add a packet of Sazon seasoning to the marinade—if you do that, hold back a bit on the salt. Between the Adobo and the Sazon there's a lot of saltiness going on.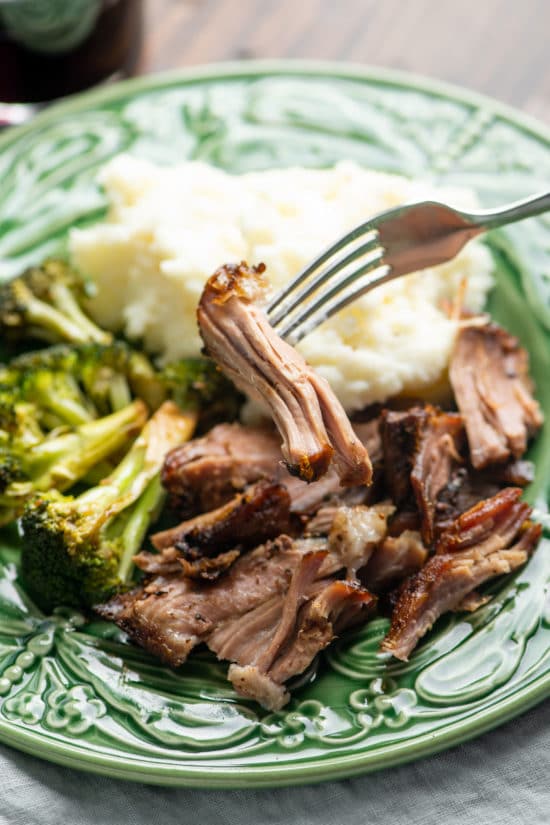 Other Pork Recipes:
I'm going to keep playing around with this delicious pork shoulder dish for a long while to come. It's high on the big hunk of pork list, along with pulled pork and carnitas (recipe for that in Dinner Solved).  At some point I'll dig into the Dominican Republic version, made with different spices.
Like this recipe? Pin it to your favorite board on Pinterest.

Pin This
Pernil
This Puerto Rican pork shoulder recipe is an amazing party dish.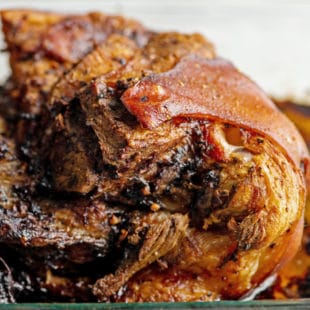 Ingredients
1

(7-pound) bone in or boneless pork shoulder

¼

cup

vegetable or canola oil

12

cloves

garlic

minced

¼

cup

fresh oregano leaves

1

tablespoon

dried oregano

2

tablespoons

Adobo seasoning

the powdered canned kind

1

tablespoon

paprika

1

teaspoon

kosher salt

plus more for seasoning at the end

½

teaspoon

freshly ground black pepper

plus more for seasoning at the end

Juice of 2 lemons and 1 orange
Instructions
Score the fat on the pork shoulder in a criss-cross hatch fashion. Then, cut deeply once in each direction across the pork, like you are going to cut it into four quarters, but then leave them attached at the bottom. Use a sharp knife to make about 20 slits, about 1 inch deep, all over the meat. Place the meat in a 13 x 9 baking pan, or another shallow baking pan large enough to comfortably hold the meat with some space around it.

Combine the oil, garlic, fresh and dried oregano, Adobo, paprika, salt and pepper. Rub the mixture all over the meat, working it all over the surface and into the slits. Cover the pork with foil and refrigerate overnight.

Bring the pork to room temperature, about 1 hour. Meanwhile, preheat the oven to 300F°. Bake the pork, covered for 3 hours, then remove the foil and bake for another 3 to 4 hours at the same temperature, until the pork is fall-apart tender. The internal temperature should be at least 165°, but it may be higher, which is fine – it's most important that the meat is super tender. If you would like a crustier exterior, turn the heat to 375°F and bake for another 20 to 30 minutes, until the outside of the pork has a nice browned crust.

Let the pernil sit for at least 20 minutes, then use your fingers (if it's not too hot; some people like to wear kitchen gloves to protect their fingers from the heat), or two forks to pull the meat into chunks. Sprinkle the meat with the lemon and orange juice, season with additional salt and pepper, and serve hot or warm.
Notes
What is Pernil?
Pernil is a slow cooked pork roast, usually a shoulder, butt or leg, that is very typically enjoyed during the holidays.  It is a classic Puerto Rican dish, and also a classic dish in the Dominican Republic, though unsurprisingly there are small differences that mean a lot.  There are Cuban versions, too. 
Nutrition
Calories:
143
kcal
,
Carbohydrates:
2
g
,
Protein:
14
g
,
Fat:
8
g
,
Saturated Fat:
5
g
,
Cholesterol:
46
mg
,
Sodium:
199
mg
,
Potassium:
280
mg
,
Fiber:
1
g
,
Sugar:
1
g
,
Vitamin A:
238
IU
,
Vitamin C:
1
mg
,
Calcium:
33
mg
,
Iron:
1
mg
Nutrition information is automatically calculated, so should only be used as an approximation.
Like this? Leave a comment below!