Pan Sauce 101: The Key to Non-Boring Chicken
Once you know how to make a pan sauce, chicken breasts will never seem boring again.
Serves 4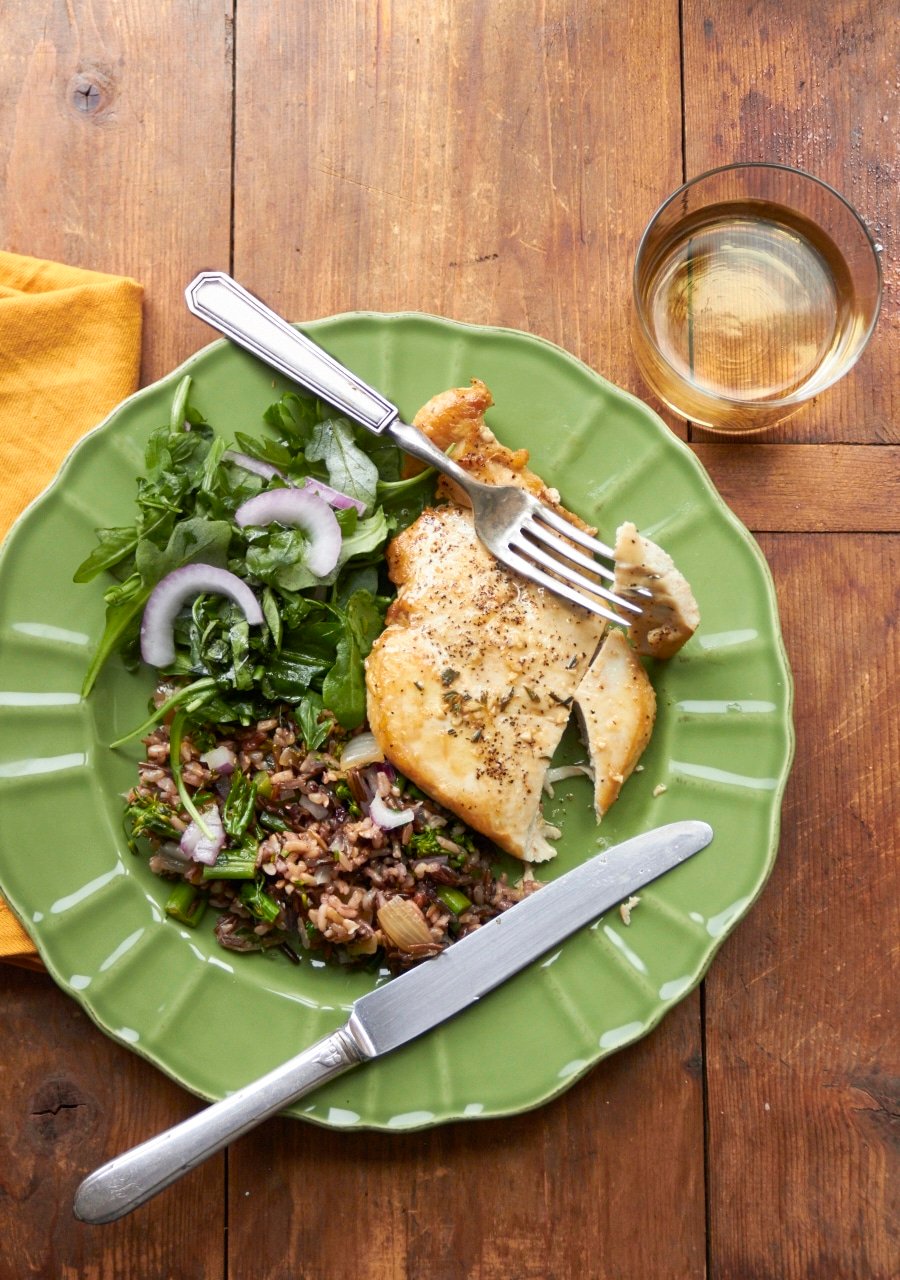 In the left corner, you!  In the right corner, a package of those ubiquitous damn chicken breasts.  It's enough to make you want to drop to the ground and concede defeat – you just can't face another boring chicken dinner.
But wait, what is that up your sleeve?  A pan sauce recipe?  You're brilliant, you're inspired, you're going to make the magic happen.
This is really a blueprint recipe for a key, adaptable pan sauce.  Once you internalize the general technique, you've grabbed onto one of those indispensable "what else can I try?" dinnertime areas of expertise.  This is definitely a 30-minute or less cooking process, and during that half hour you should also be able to get a salad made and some rice or pasta cooked up to take advantage of all the luscious sauce you are making.
Here are the key steps.  They look more complicated then they are.  In short, you are searing a piece of protein, then adding some seasonings and some liquid and creating a sauce right in the pan.  That's it.  The rest is just details:
1) In a large skillet, in a bit of oil or butter, sear the boneless, skinless chicken breasts until they are browned on the outside and just barely cooked through, about 5 minutes on each side (or sear bone in-breasts, or thighs, or steak, or tofu, or piece of fish, or scallops, or whatever protein you are featuring that evening).  If you plan to finish the cooking in the sauce itself, you can take the food out of the pan before it is fully cooked through.  If you want a more elegant presentation, or if your chicken breasts are more than 3/4 inch thick, you may want to place the chicken breasts between two pieces of plastic wrap and pound them with a rolling pin or a wine bottle until they are flattened and of uniform thickness.  These will cook faster as well.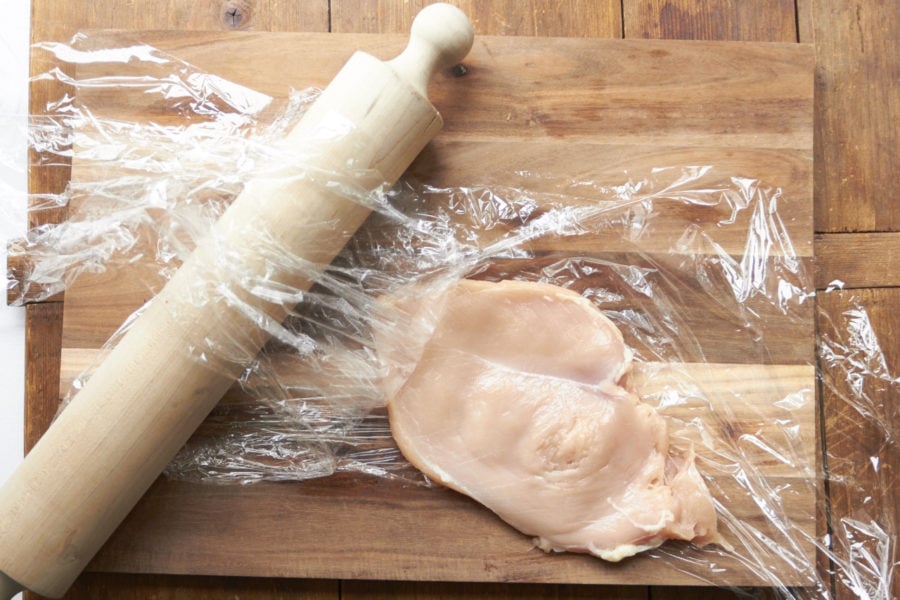 2) Remove the chicken to a plate – DO NOT WASH OUT THE PAN!
3) Sauté some onions, garlic, shallots, or other aromatics (usually some member of the onion family) until tender.  Add some herbs or seasonings if desired.
4) Deglaze the pan with some wine or broth, scraping up the browned bits on the bottom.  Deglazing basically means adding liquid to a pan and scraping the bottom to loosen any flavorful bits of other ingredients that have caramelized (aka browned) on the bottom of the pan, which lend their flavor to the sauce.
5) Add more liquid, often broth, to create a sauce.  Season with salt and pepper.
6) Simmer to blend the flavors, and concentrate the sauce, adding other seasonings if desired (see tip) and maybe a little bit of fat or dairy for richness (such as butter, cream, olive oil, or sour cream).
Either pour the sauce over the chicken, or return the chicken to the sauce to finish cooking through.  And that, that is a pan sauce.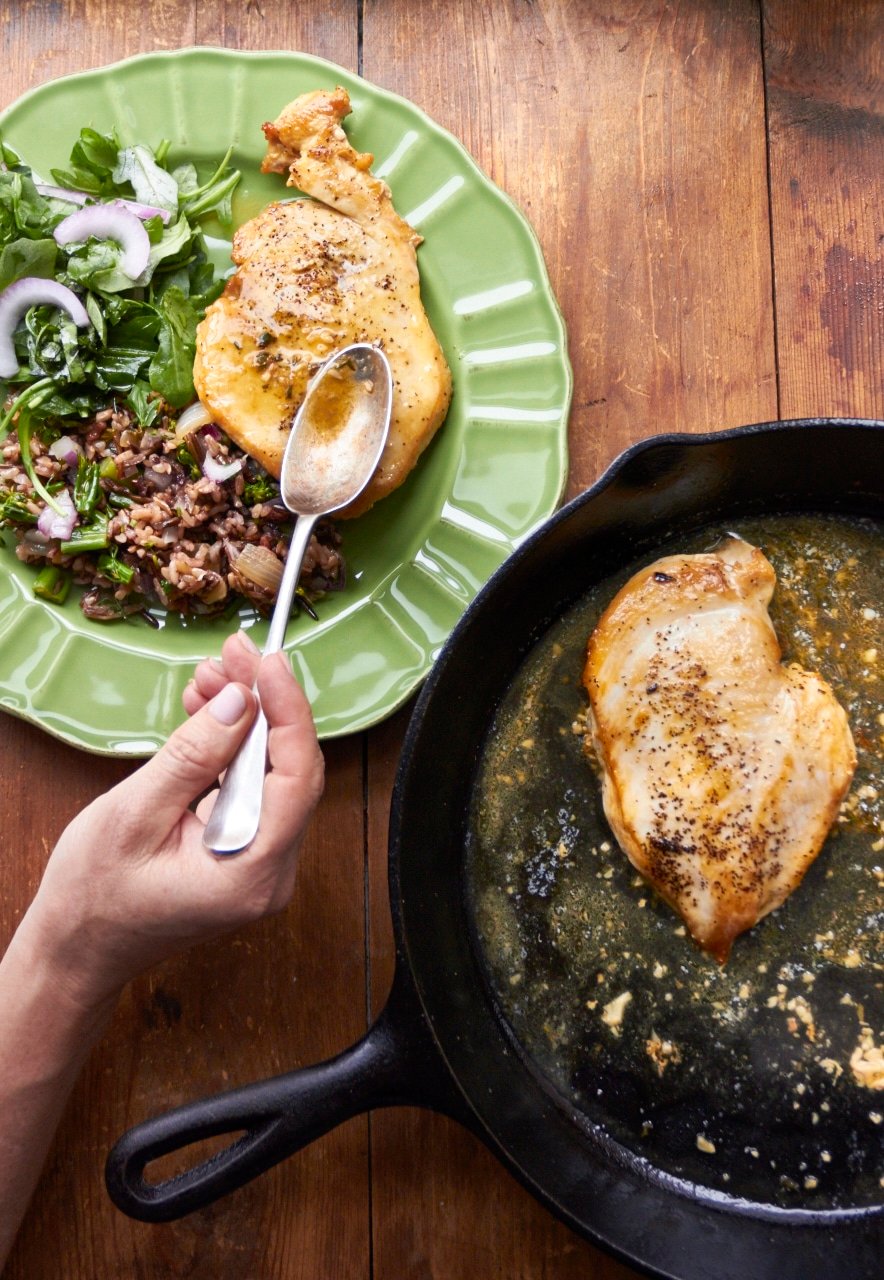 Serve it up with a salad, some sautéed greens, or roasted vegetables.
Now that you have the gist, here are two recipes to get you started:
Chicken with Arugula and Mustard Pan Sauce
Chicken with Tomato and Leek Pan Sauce with Jasmine Rice
Pan Sauce 101: The Key to Non-Boring Chicken
Print
What's a fork-in-the-road dish?
This is. If you have a picky eater, this is also a perfect Fork-in-the-Road recipe, just leave one of the sauteed breasts plain, and slice it up - it's still a lot better than reaching for the frozen chicken nuggets.
Ideas for Add-Ins
Hot peppers, citrus juice, citrus zest, Worcestershire sauce, hot sauce, vinegar, capers, Dijon mustard, chopped tomatoes, soy sauce, fresh herbs, minced anchovies, hoisin sauce, whatever you have, whatever you like.
What the Kids Can Do:
Measure the chicken broth, garlic, and any other ingredients, and help choose the herbs. Letting them create their own combination of herbs gives a kid nice pride of ownership, and helps them become familiar with the different herbs in the spice drawer.