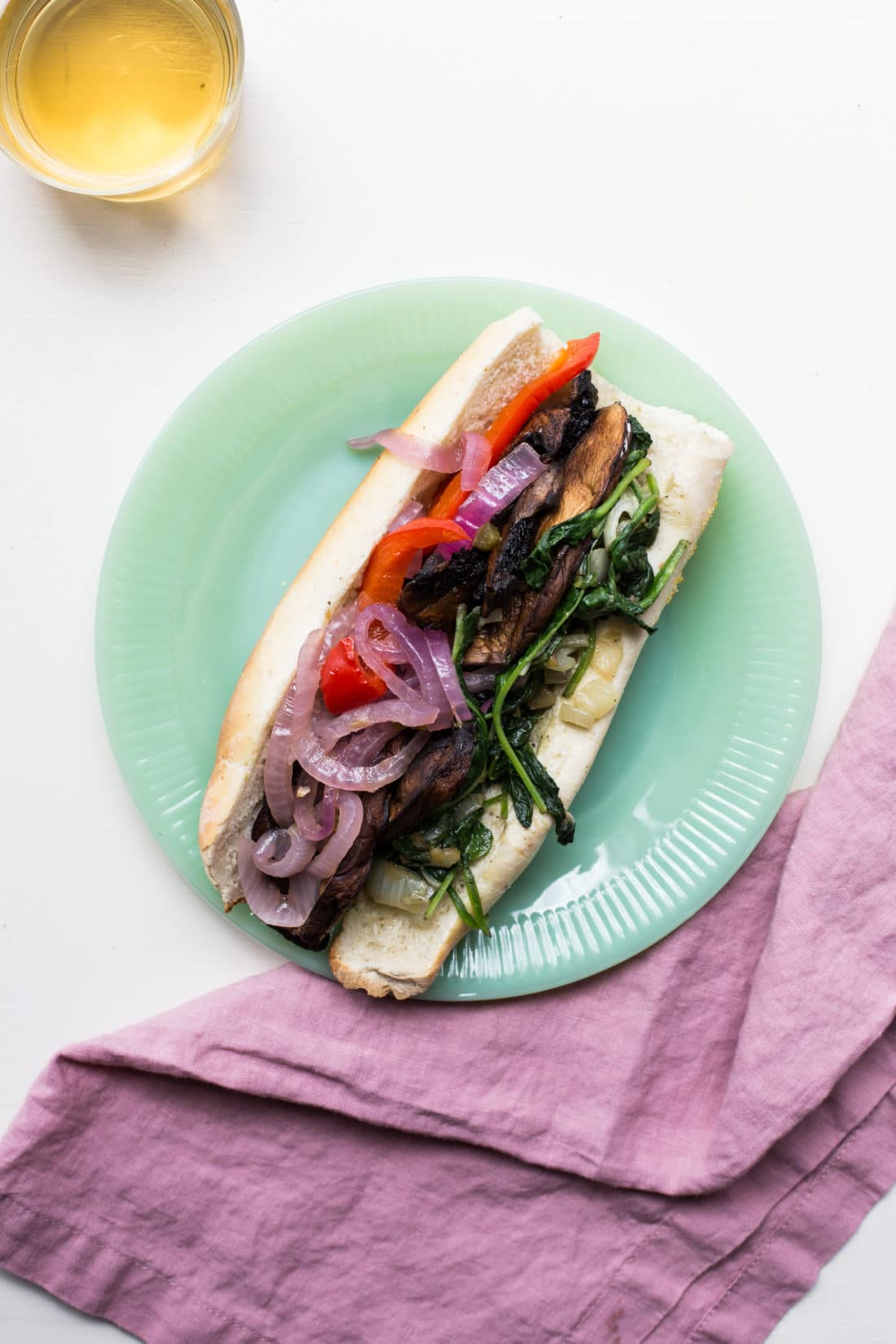 This sub came about because I had leftover mushrooms from this pork schnitzel, leftover peppers and onions from these steak fajitas, and leftover sautéed greens from this sub. But it was so good that I had to put all of the components together into a recipe of its very own.
If you are ever throwing a party and want to make something easy and filling and utensil free, you could do worse than to create an assortment of subs.
Chicken Sausage and Sautéed Greens Sub, Sausage, Onions and Pepper Sub Sandwich, and these guys for the vegetarians. It could also make a fun assemble it yourself buffet—put out the rolls, put out an assortment of sausages, and then offer up an array of vegetables to either top the sausages, or for the non-meat-eaters to fill their hoagie with (by the way, what do you say? Sub? Hoagie? Hero, grinder, wedge, po'boy?). Much depends on where you hail from.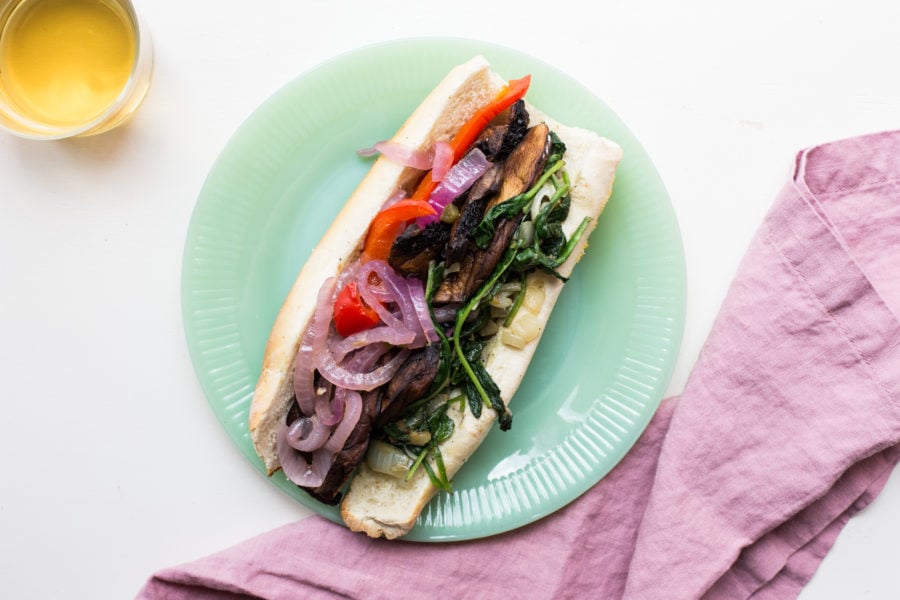 What I forgot to do is drape this sucker with a couple of slices of cheese and warming the whole thing in the oven before taking the photo. What's wrong with me? That was a terrible mistake, for which I apologize.
I would use provolone or Muenster or Monterey Jack, tuck the slices around the filling, and warm the whole thing on a baking sheet in a preheated 375° oven for about 4 minutes, until the cheese got melty.
If you decide to do this buffet-ish hoagie/sub fest (a good game day tv watching idea which I must do shorrtly….or a nice way to feed the school football team after a real game), OUT OUT CHEESE! Have the oven preheated, and have some foil-lined trays ready for people to put their sandwiches on to warm and melt. Don't be a me.
More Vegetarian Main Course Recipes:
Monster Vegetable Sub Sandwich
A terrific hoagie for those are aren't into the meat—plus ideas for creating your own sub/hoagie buffet for game day!
Ingredients
Peppers and Onions:
Sautéed Mushrooms:
1

tablespoon

olive oil

1

pound

small or sliced mushrooms

any assortment

½

teaspoon

minced garlic

Kosher salt and freshly ground pepper to taste

1

teaspoon

finely minced fresh thyme
Sautéed Greens:
1

tablespoon

olive oil

1

large onion

diced

5

ounces

roughly chopped mixed sturdy greens

Kosher salt and freshly ground pepper to taste

4

sub rolls

sliced open

8

slices

Provolone

Monterey Jack or Muenster
Directions
In a large skillet, heat 1 tablespoon olive oil over medium heat. Add the sliced onions, peppers, and jalapeno, sprinkle over the sugar, season with salt and pepper, and sauté for about 8 to 10 minutes until fairly tender. Transfer to a plate, and scrape out the skillet.

Return the skillet over medium high heat. Add the tablespoon of oil, then the mushrooms and garlic. Season with salt and pepper, and sauté for 10 minutes until the liquid has evaporated and the mushrooms have turned nicely browned. Stir in the thyme for the last minute of cooking. Turn onto another plate, scraping out the pan.

Return the skillet to medium heat, and when it's hot add the last tablespoon of olive oil and the diced onion. Sauté for about 8 minutes until tender, but don't let it get more than golden brown. Add the greens and sauté for another 4 or 5 minutes until they are wilted and tender. Turn the greens onto a third plate.

Stuff the vegetables into the buns. See the recipe intro for advice about adding cheese, which I wish I had done.
Nutrition Information
Calories:
539.66
kcal
|
Carbohydrates:
48.3
g
|
Protein:
25.71
g
|
Fat:
28.48
g
|
Saturated Fat:
11.14
g
|
Cholesterol:
38.64
mg
|
Sodium:
805.98
mg
|
Potassium:
754.95
mg
|
Fiber:
3.83
g
|
Sugar:
11.04
g
|
Vitamin A:
5007.05
IU
|
Vitamin C:
89.84
mg
|
Calcium:
498.96
mg
|
Iron:
12.36
mg
Made this recipe? Post a photo of your delicious creation on Instagram with our hashtag #dinnersolved