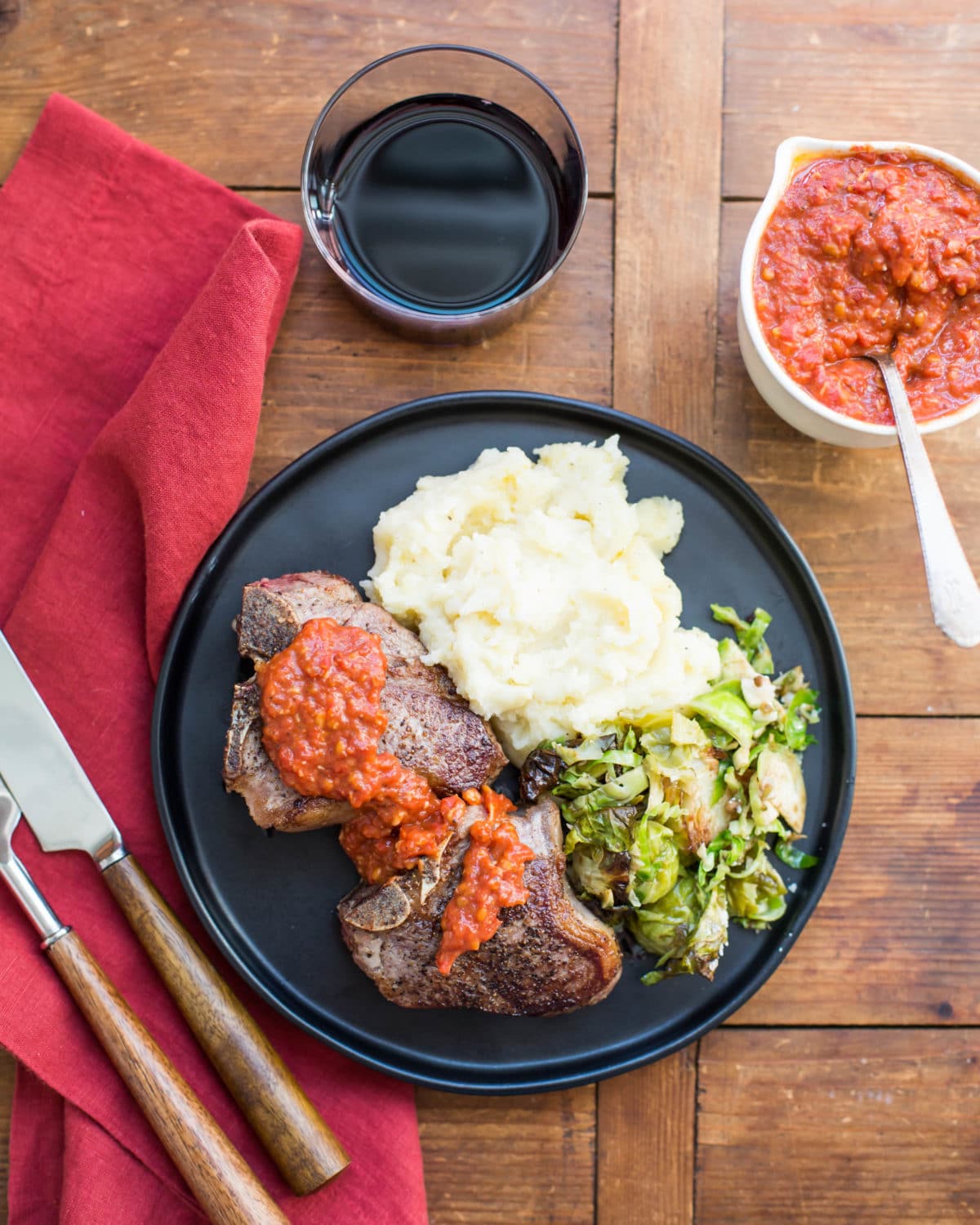 These were definitely a Charlie-hit. Maybe Charlie likes lamb so much because he was a shepherd in a previous life. Or a wolf. Whatever the reason, he loves lamb.
The lamb chops themselves are very simply cooked. The sauce is what defines the dish, and it's one of those sauces that comes together lightening fast if you're dealing with leftover roasted garlic.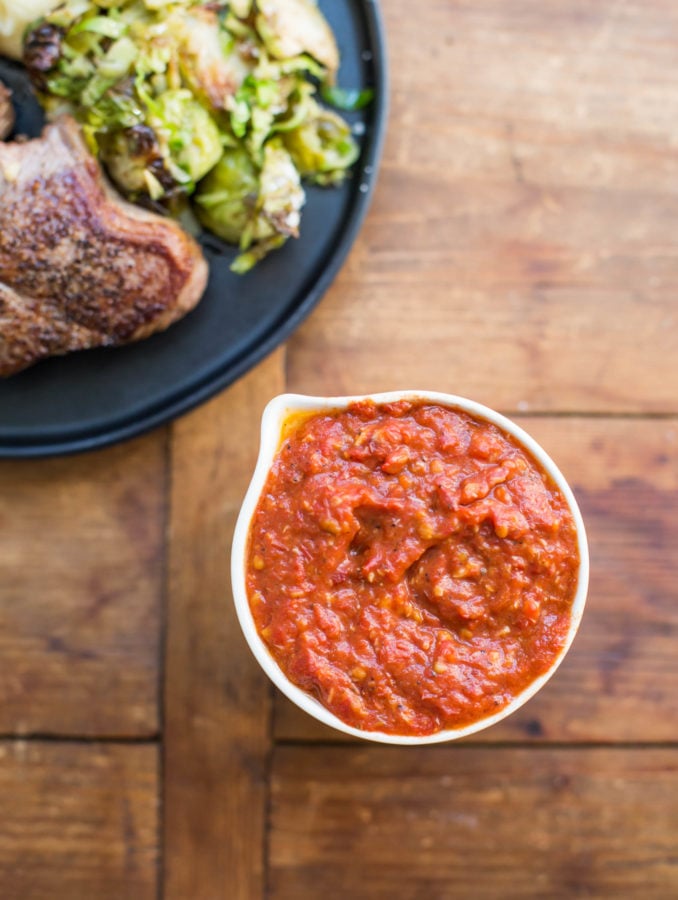 But since you can roast the tomatoes and garlic the oven at the same time, and both are extremely hands-off, even if you don't have one or the other or either on hand, you can make them very easily. And if you make either of these great fridge staples, make extra since they will come in handy in all sorts of ways later in the week. (Examples: Couscous Salad with shrimp, Roasted Tomatoes and Pesto Dressing, Roasted Cherry Tomatoes with Burrata and Basil Oil, Roasted Garlic and Tomato Bread,Mashed Potatoes with Roasted Garlic.
Lots of people have a special level of nervousness about overcooking or undercooking lamb in particular. Use that meat thermometer, don't by shy (by the way this is a seriously worthwhile purchase, if you don't already have one. Not expensive, and indispensable. If you have ever overcooked a pricy roast, then you'll know how worthwhile this purchase really is.)
The lamb chops themselves are very simply cooked but the sauce is what defines this dish.

Tweet This
Remember that meat (and many other foods) continue to cook when they come off of the heat, so take them off a hair before they are done to your liking. Here's what you need to know temperature and doneness-wise.
• Rare: 115 to 120°F
• Medium-Rare: 120 to 125°F
• Medium: 130 to 135°F
• Medium-Well: 140 to 145°F
• Well-Done: 150 to 155°F
Make sure you insert the thermometer into the thickest part of the meat, and that it is not touching the bone. According to the letter of the food safety law, 145°F is the temperature lamb should be cooked to avoid the possibility of food-borne illness. I have to say that, as a responsible food writer, but I will also say that 125° to 130°F is where it's at in our house.
I served these up with some Brussels sprouts and mashed potatoes, and the result was a very classy blue plate special dinner.
Other Lamb Recipes:
Loin Lamb Chops with Roasted Tomato and Garlic Sauce
A good looking plate of lamb, with a memorable sauce.
Ingredients
For the Roasted Tomato and Garlic Sauce
1

head

(12 cloves) roasted garlic

5

plum or 20 large cherry tomatoes

halved and roasted

½

teaspoon

cumin

pinch ground cloves

pinch cayenne pepper

2

tablespoons

olive oil

divided

Kosher salt and freshly ground pepper

to taste
For the Lamb
8

1 ½-inch thick loin lamb chops

about 3 ounces each

2

tablespoons

capers

rinsed and drained (optional)
Directions
Place the roasted garlic, roasted tomatoes, cumin, cloves, and cayenne in a blender or food processor with 1 tablespoon olive oil, and puree until it is the desired consistency. Season with salt and pepper. Pour into a small serving bowl or pitcher.

In a heavy skillet heat the remaining tablespoon of olive oil over medium high heat. Season the lamb chops well with salt and pepper. Sear the lamb chops for about 3 to 5 minutes on each side, until both sides have caramelized and the lamb is cooked to your liking. Sprinkle the capers into the pan for the last minute of cooking, if desired.

Serve the lamb chops hot, with the sauce on the side.
Nutrition Information
Calories:
610
kcal
|
Carbohydrates:
4
g
|
Protein:
29
g
|
Fat:
53
g
|
Saturated Fat:
21
g
|
Cholesterol:
126
mg
|
Sodium:
212
mg
|
Potassium:
645
mg
|
Fiber:
2
g
|
Sugar:
2
g
|
Vitamin A:
1995
IU
|
Vitamin C:
12
mg
|
Calcium:
48
mg
|
Iron:
4
mg
The nutrition values are provided as an estimate. It is not intended as a substitute for the advice of a qualified healthcare professional.
Made this recipe? Post a photo of your delicious creation on Instagram with our hashtag #dinnersolved