There are a few food phrases that pulse out at me from a page or a restaurant menu. I feel a little like John Nash in A Beautiful Mind, only a lot less intelligent and a wee bit less crazy. Frizzle leeks or crispy shallots are two such phrases, and I'll need to have a compelling reason NOT to order a dish topped with either one.
And they are quite easy to make at home. Josh Cohen, the Test Kitchen Chef at Food 52 (a terrific website that I happily write for often) has a method that allow you to get the shallots nice and crispy without dredging them in flour first. But at the end they look like you floured and deep fried them, and they are crispy as all get out.
Crispy shallots are so simple to make, and add amazing flavor and crunch to all kinds of dishes from steaks to burgers to stews to salads.

Tweet This
How to Make Crispy Shallots
You simply slice them very thin, either using a mandolin or this mini vegetable slicer.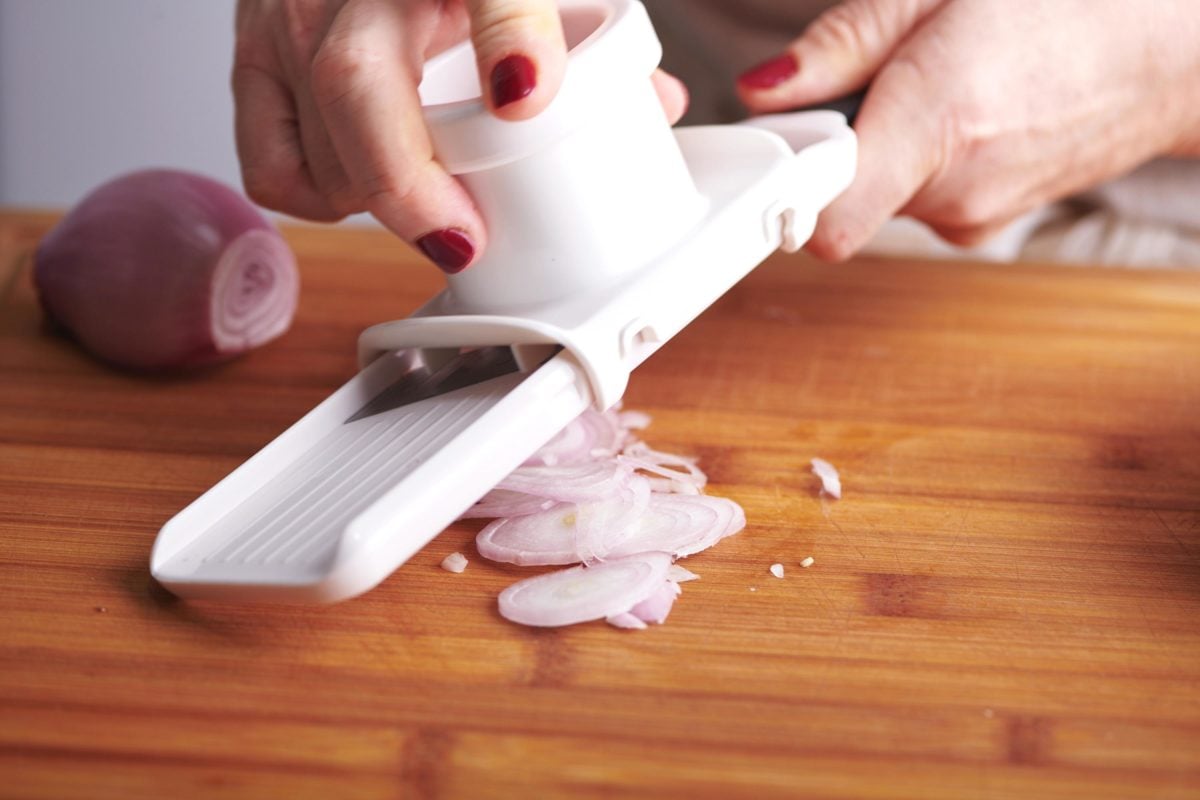 Or a sharp knife and a steady hand.
Then add them to a pan and add a neutral oil, like vegetable or canola, to cover.
Let the oil heat up until bubbles appear. Adjust the heat and allow the oil to bubbles until the shallots are nicely browned and crispy.
Transfer them to a paper-towel lined tray or plate or surface to cool.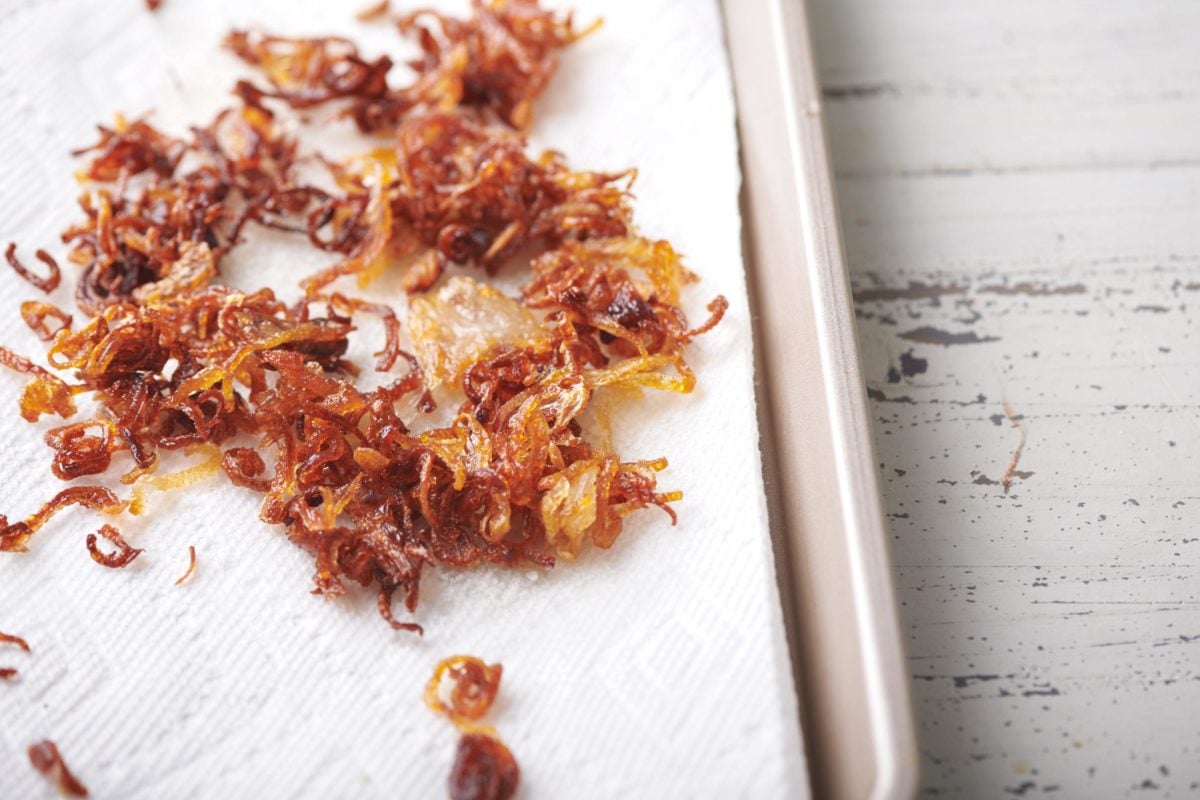 You need to remove them from the oil just as they get to the level of crispy doneness that you desire, or they will continue to keep cooking in the hot oil. As you might be able to tell, I didn't get them out quite as quickly as I had planned, so mine are a little overbrowned in this photo, but I actually like fried things on the more well-done side. I think I get this from a grandpa that was fairly insistent on having his fries well done.
Enjoy crispy fried shallots on soups, salads, meats, vegetables, mashed potatoes or other pureed vegetables, and wherever a pop of oniony flavor and crunch would be welcome.
Try Crispy Fried Shallots on:
Like this recipe? Pin it to your favorite board on Pinterest.

Pin This
How to Make Crispy Shallots
Crispy shallots are so simple to make, and add amazing flavor and crunch to all kinds of dishes from steaks to burgers to stews to salads.
Ingredients
Vegetable, canola or grapeseed oil

for frying
Directions
Slice the shallots so that they're super thin (use a

mandolin

if you have one, a very sharp knife if not).

Place them in a pan and add oil to cover.

Turn the heat up to high and watch the shallots bubble (first you'll see small bubbles, then more rapid ones will appear): That's the water evaporating off.

Lower the heat to medium, and allow it to continue to bubble. When the bubbles subside, it means that the moisture has cooked off the shallots, and by this time they should be golden brown. This should take around 8 minutes.

Transfer the shallots with a slotted spoon to a paper-towel lined surface or plate and allow to cool completely.
Nutrition Information
Calories:
18
kcal
|
Carbohydrates:
4
g
|
Protein:
1
g
|
Fat:
1
g
|
Saturated Fat:
1
g
|
Sodium:
3
mg
|
Potassium:
84
mg
|
Fiber:
1
g
|
Sugar:
2
g
|
Vitamin C:
2
mg
|
Calcium:
9
mg
|
Iron:
1
mg
The nutrition values are provided as an estimate. It is not intended as a substitute for the advice of a qualified healthcare professional.
Made this recipe? Post a photo of your delicious creation on Instagram with our hashtag #dinnersolved