Holy Guacamole
The best thing that can happen to a ripe avocado (though I am open to debating).
Serving Size: 4 to 6; Makes about 2 cups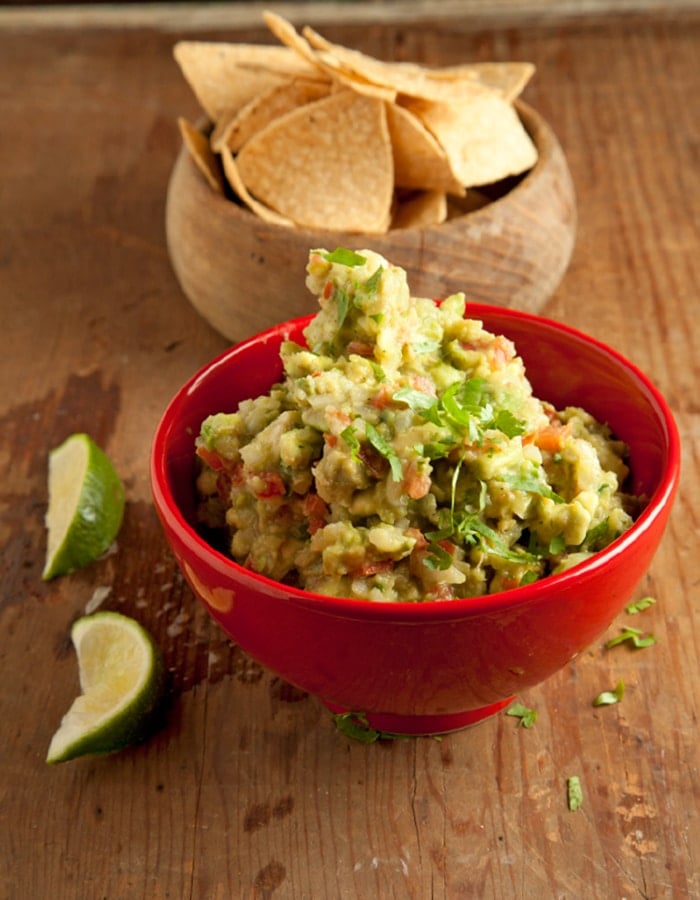 My kids started out not liking guacamole but were still ecstatic to see it come out of the kitchen because that meant the basket of tortilla chips wasn't far behind. Eventually they tentatively dipped a chip—just a corner—into the green creaminess. It was deemed "not bad." (Stop, stop you're embarrassing me.) A bolder dip, a dunk, a scoop followed. It's not like the chips aren't still a big draw, but guacamole is now a most-requested appetizer.
Save
Holy Guacamole
Print
2 ripe avocados, preferably Hass

1⁄3 cup minced onion

1 medium-size ripe tomato, cored, seeded, and chopped (about 2⁄3 cup)

Kosher or coarse salt and freshly ground black pepper

2 teaspoons fresh lime juice

½ to 1 teaspoon chopped seeded jalapeño pepper (optional)

½ to 1 teaspoon chopped fresh cilantro (optional)

Lots of tortilla chips, for serving
1. Cut the avocados in half, remove the pits, and use a knife to cut the avocado flesh into chunks right in the skin, cutting one direction and then crosswise in a gridlike fashion. Use a spoon to scoop out all of the flesh into a medium-size bowl.
2. Add the onion, tomato, 1⁄2 teaspoon of salt, and a few grinds of black pepper. Use a fork or a potato masher to combine the ingredients and mush up the avocado, leaving it as chunky or as blended as you like. Stir in the lime juice, then adjust the seasonings.
3. You can serve the guacamole as is with tortilla chips or see the Fork in the Road suggestions for adding other seasonings on this page.
Fork in the Road
Jalapeños are hot, and cilantro is a serious love-hate herb (for more on this, see Nobody's Neutral on Cilantro on page 185). As with many of the recipes in this book, you can make the guacamole without those seasonings, then divide the mixture into two bowls. Leave one batch plain and spike the other with the more strongly flavored ingredients. Make sure to label the bowls if you do this.
Make Ahead
You want to make the guacamole only an hour or two ahead of time, if possible. Press plastic wrap directly onto the surface of the guacamole, store it in the refrigerator, and stir before serving.
What the Kids Can Do
They can cut the crosshatches in the avocados, which does not have to be done neatly, nor does it require a sharp knife. You could let littler kids scoop out chunks of the avocado with a spoon instead. And mash away.
Don't Be Lured in By Those Oversize Avocados
Hass avocados are smaller, darker green, and bumpier than other varieties of avocados, and in general have a deeper, richer flavor, with denser flesh. They are nutrient rich and have a nice amount of various essential vitamins and minerals. The fat they contain is understood by health experts to be the "good" fat, monounsaturated fat, which, when consumed in moderation and eaten in place of saturated or trans fat, can help reduce blood cholesterol levels and decrease risk of heart disease.
You really need perfectly ripe avocados to make good guacamole; don't bother if your avocados aren't nicely soft to the touch. Make edamame (see page 35) or something else.
Find this recipe and more:
The MOM 100 is the lifesaving cookbook that every mom needs, filled with delicious, no-fuss, easily adaptable recipes, plus tips, attitude and wisdom for surviving and staying happy in the kitchen while proudly keeping it homemade. Because homemade not only tastes best, it is best for you. The Mom 100 dazzles with main-dish meats, Monday …
Read More about The Mom 100 Cookbook »