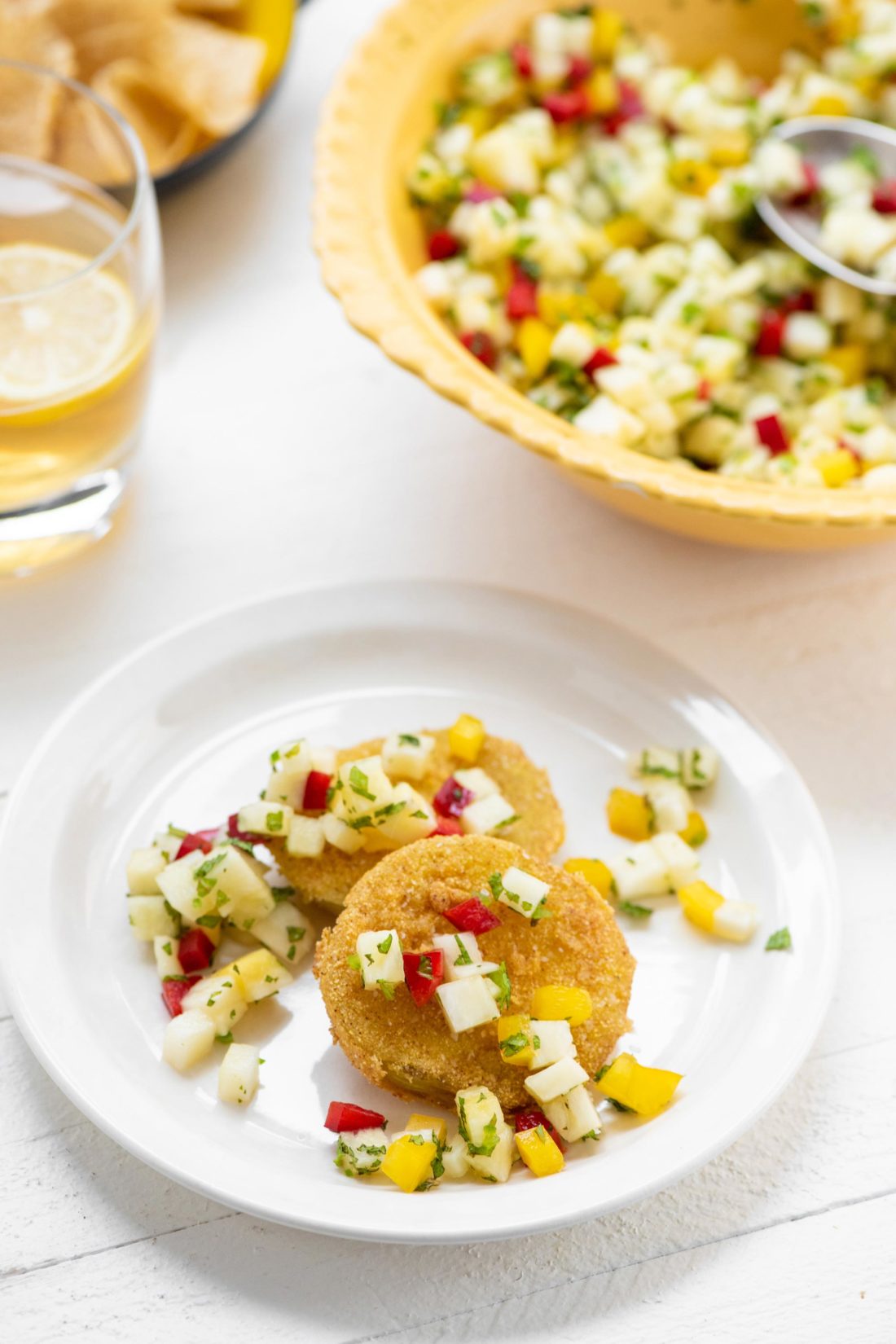 What Are Fried Green Tomatoes?
Fried green tomatoes are a treat less know in parts of the country outside of the South, where they have been loved for years. They are unripe green tomatoes, sliced, dipped in eggs, usually, or something else wet, and then dredged in cornmeal or flour. Then they are, as the name suggests, pan fried in oil until crisp.
Classic fried green tomatoes get a modern twist with a few spoonfuls of a vibrant and sweet-tangy fruit salsa.

Tweet This
Unripe Tomatoes
You have to use unripe firm tomatoes, or they will fall apart. This is actually a good thing, since if you are growing tomatoes you will usually have more than you need, and this is almost like having two different vegetables to play with, since you use ripe tomatoes in very different ways. (And yes, tomatoes are botanically a fruit). You also want the tangy tartness of the green tomatoes, which contrasts so nicely with the richness of the crispy breaded crust.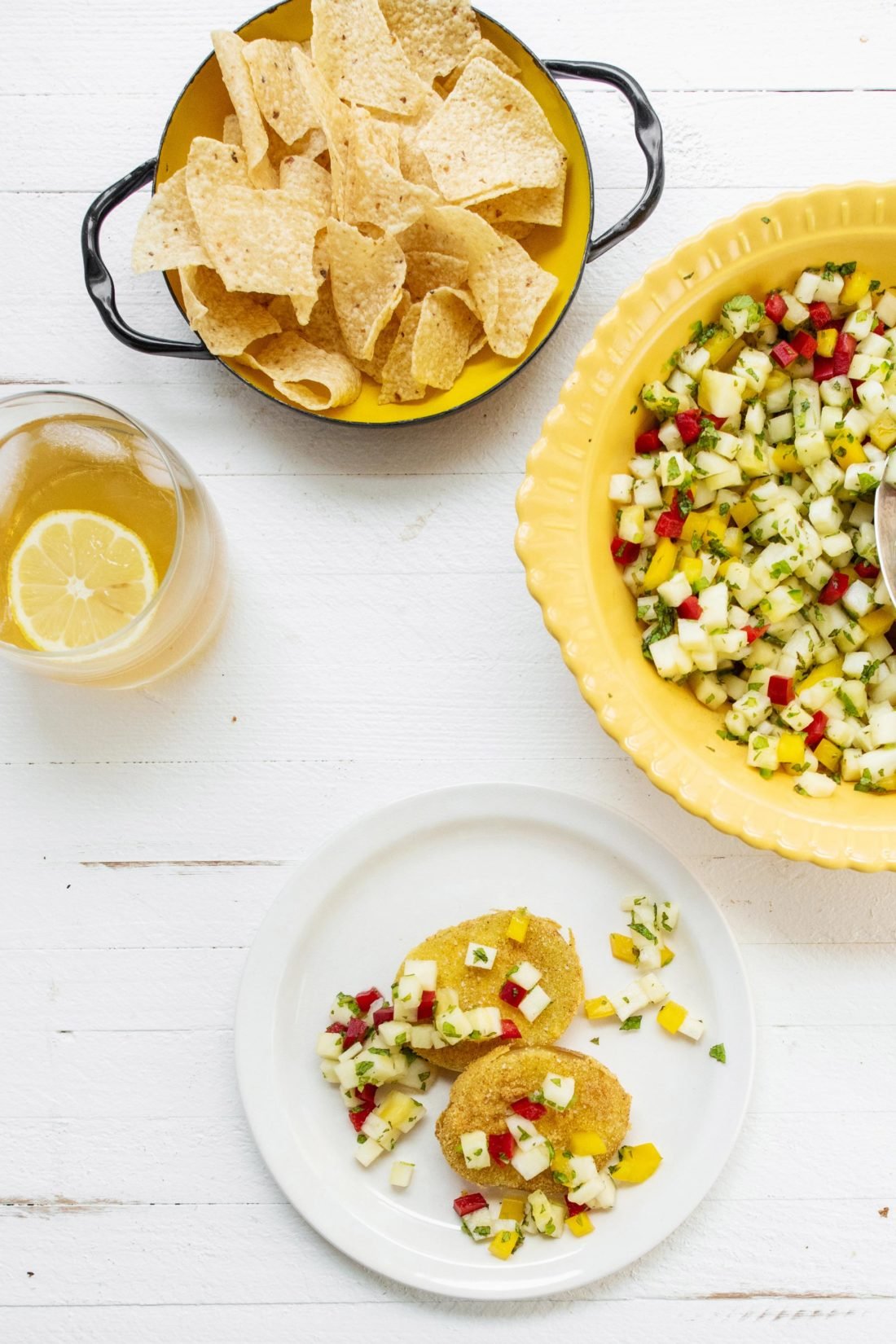 The Eponymous Book and Movie
Many people first learned about this amazing Southern treat from an absolutely terrific novel written by Fannie Flagg, Fried Green Tomatoes at the Whistle Stop Cafe, or the movie based on the book. While the food is somewhat peripheral to the book/movie, the book/movie is completely worth reading/watching. Particularly if you are clever enough to make up a batch of fried green tomatoes to go with.
Jewish Fried Green Tomatoes?
However, I was totally shocked to find out that fried green tomatoes probably have Jewish origins! Who knew? Apparently they really were only popularized in the South thanks to the movie which came out in 1991, and were part of Jewish cuisine for at least 100 years prior. Are you finding this as surprisingly as me?
You can absolutely eat them as is, and in the South that's usually how they are eaten. They are usually a side dish to something rich, like pulled pork, or fried chicken. I served them up with this pork dish, and we loved them topped with sweet-tart, bright and slightly spicy pineapple mint salsa.
What to Serve with Fried Green Tomatoes
Last summer I served a platter of with Green Goddess Dressing on the side, to be drizzled on top. I felt very very smart. And then I started to think about other things that might be good on fried green tomatoes. The list is long: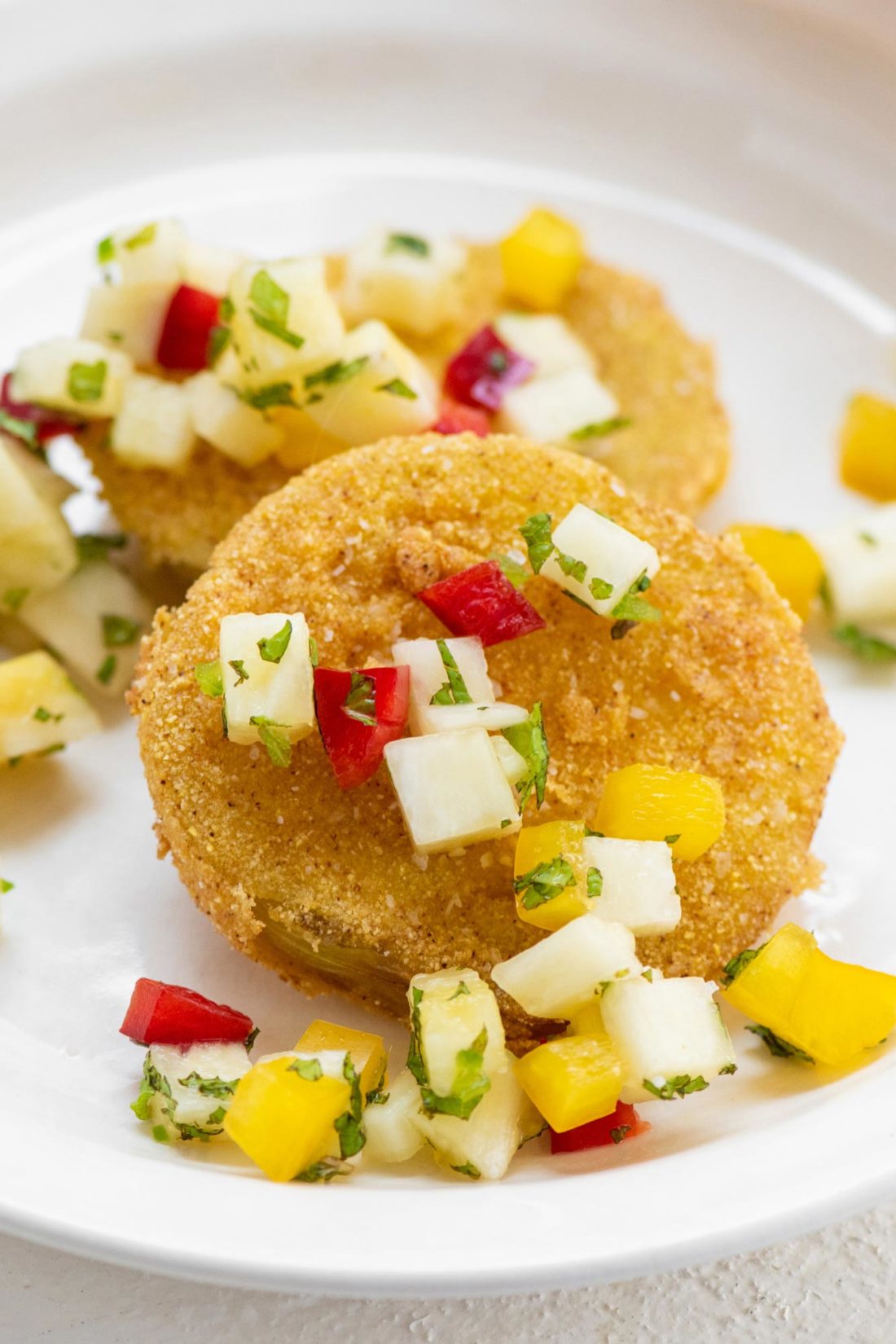 As for main courses to serve with Fried Green Tomatoes:
Like this recipe? Pin it to your favorite board on Pinterest.

Pin This
Fried Green Tomatoes with Pineapple Mint Salsa
Classic fried green tomatoes get a modern twist with a few spoonfuls of a vibrant and sweet-tangy fruit salsa.
Ingredients
4

firm green tomatoes

1

cup

finely ground cornmeal

1

teaspoon

kosher salt

½

teaspoon

cayenne pepper

2

large eggs

Vegetable or canola oil

for frying

1

cup

Pineapple Mint Salsa
Directions
Slice the tomatoes crosswise into 1/2-inch slices.

In a shallow bowl, combine the cornmeal, salt and cayenne pepper. In another shallow bowl beat the eggs. Line a surface or large plate with paper towels.

Dip each tomato slices into the eggs, lift to allow excess egg to drip off, then place them in the cornmeal mixture, and turn to so that they are coated with the crumbs. Place on a wire rack as they are finished.

Fill a large skillet with oil to a depth of about 1/4-inch. Heat over medium high heat until barely shimmering. Add the tomatoes in a single layer, without crowding them (you will probably need to do this in batches).  Fry them for about two minutes until they are golden on the bottom, then flip them and fry for another 2 minutes, until the other side is golden. Transfer the tomatoes to the paper towel lined plate or surface. Repeat until all of the tomatoes are cooked.

Serve the tomatoes hot or warm, with the salsa on the side.
Nutrition Information
Calories:
232
kcal
|
Carbohydrates:
40
g
|
Protein:
9
g
|
Fat:
5
g
|
Saturated Fat:
1
g
|
Cholesterol:
82
mg
|
Sodium:
1089
mg
|
Potassium:
595
mg
|
Fiber:
6
g
|
Sugar:
8
g
|
Vitamin A:
1324
IU
|
Vitamin C:
30
mg
|
Calcium:
48
mg
|
Iron:
2
mg
The nutrition values are provided as an estimate. It is not intended as a substitute for the advice of a qualified healthcare professional.
Made this recipe? Post a photo of your delicious creation on Instagram with our hashtag #dinnersolved