Barbecue Turkey Burgers
I always get a little mad when I ask guests at a barbecue, "Who wants beef burgers?" and tons of hands shoot up and then I ask, "Who wants turkey burgers?" and everyone yanks their hands down and only a couple go up. Really, even now, people still have so much hesitation about turkey burgers?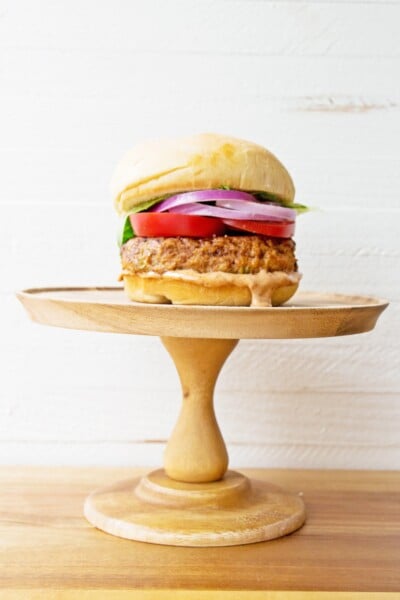 Yes, yes, I understand that people are nervous about turkey burgers being dry. But that's just a matter of not overcooking them, and using a mix of dark and light ground turkey, often available prepackaged in your grocer's (look for a label that says 93/7% which indicates that there is 7% dark meat mixed in – the 99% ground turkey is quite lean and will yield a less juicy and moist burger).
This Chipotle Barbecue Turkey Burger recipe results in burgers that are so juicy and flavorful, you might just make converts out of the turkey-burger-skittish.

Tweet This
How to Season Turkey Burgers:
Turkey meat is — I'll say it — fairly bland, as ground meats go. You will probably want to add in an ingredient or two to help keep them juicy, plus give the mild meat a boost of flavor. Play around with all kinds of ingredients, from ketchup to mayonnaise to shredded apple to sautéed or Grilled Onions.
A touch of olive oil doesn't hurt either, both as a juiciness enhancer and a flavor booster. Here it is used along with barbecue sauce and a bit of heat, which comes from chipotles in adobo.
Chipotles in adobo is one of my favorite ways to add both heat and smokiness, and all you have to do is simply dump a can of chilis in adobo sauce into the food processor and puree the whole shebang.
Use what you need, and keep the rest in a sealed container in the fridge for weeks, adding a spoonful to any recipe where you want a little heat and smokiness. The puree makes a second appearance in the easy sauce recipe for these burgers. And here – and really everywhere – don't forget the salt.
How to Cook Turkey Burgers:
Grill turkey burgers over medium high heat for about 5 minutes per side. If you don't wish to grill them, the this turkey burger recipe can be made on the stovetop using a lightly oiled skillet over medium high heat, or under the broiler. Cook the patties for roughly the same amount of time, 5 minutes per side.
Internal Temperature for Turkey Burgers:
Finally, take the burgers off of the heat the second they are cooked through, as they will continue to cook a bit after being removed from the direct heat.  You want to cook turkey burgers to an internal temperature of 165 F – that's when they are just safely cooked through (get that meat thermometer!).   Turkey burgers should not be served rare.
Sauce for Turkey Burgers:
There is a ridiculous easy 3-minute chipotle sauce that goes along with these burgers, but you are welcome to use plain old mustard or ketchup if you prefer. If you do make the sauce, any leftovers are a brilliant addition to any kind of sandwich from a BLT to a vegetable sub.
What to Serve with Turkey Burgers:
Slaw Recipes:
Potato Salad Recipes:
Fries Recipes:
Pasta Salad Recipes:
Like this recipe? Pin it to your favorite board on Pinterest.

Pin This
Chipotle Barbecue Turkey Burgers
The turkey burger recipe that just might convert the turkey burger skittish.
Ingredients
To Serve
4

hamburger buns

sliced onions

sliced tomatoes

Romaine lettuce leaves
Directions
Preheat the grill to medium high. In a small skillet heat the olive oil over medium heat. Add the scallions and sauté for about 4 minutes, until the scallions are softened.

Turn the scallion mixture into a large bowl and add the barbecue sauce, bread crumbs, and pureed chipotles and stir to combine. Add the turkey and salt and pepper and mix well, using your hands or a spoon, but trying to handle the meat lightly. Form the mixture into 4 evenly-sized patties, and once the patties are well shaped use your fingers to press an indent into the middle of each patty – this will help them remain flat when they cook, as they will naturally swell in the center.

Grill the burgers for about 5 minutes on each side until they are cooked through and have reached an internal temperature of 165 F on an instant-read thermometer. While the burgers are cooking, in a small bowl combine the mayonnaise and the chipotles in adobo.

Place the cooked burger on the bottoms of the buns, top with the sauce, and layer in any toppings you like. Serve immediately.
Nutrition Information
Calories:
404
kcal
|
Carbohydrates:
34
g
|
Protein:
32
g
|
Fat:
16
g
|
Saturated Fat:
3
g
|
Cholesterol:
67
mg
|
Sodium:
608
mg
|
Potassium:
458
mg
|
Fiber:
2
g
|
Sugar:
10
g
|
Vitamin A:
318
IU
|
Vitamin C:
2
mg
|
Calcium:
97
mg
|
Iron:
3
mg
The nutrition values are provided as an estimate. It is not intended as a substitute for the advice of a qualified healthcare professional.
Made this recipe? Post a photo of your delicious creation on Instagram with our hashtag #dinnersolved