It All Starts with Ground Beef
Gary's fondest childhood memories began with a pound of ground beef. There was usually tomato sauce and pasta in the mix, and some sort of cheese, but it's hard to overstate the importance of ground beef as a staple meat in the Freilich family dinners. And to that end, it's hard to overstate the importance of ground beef as a dinnertime staple in the kitchens of Americans from coast to coast.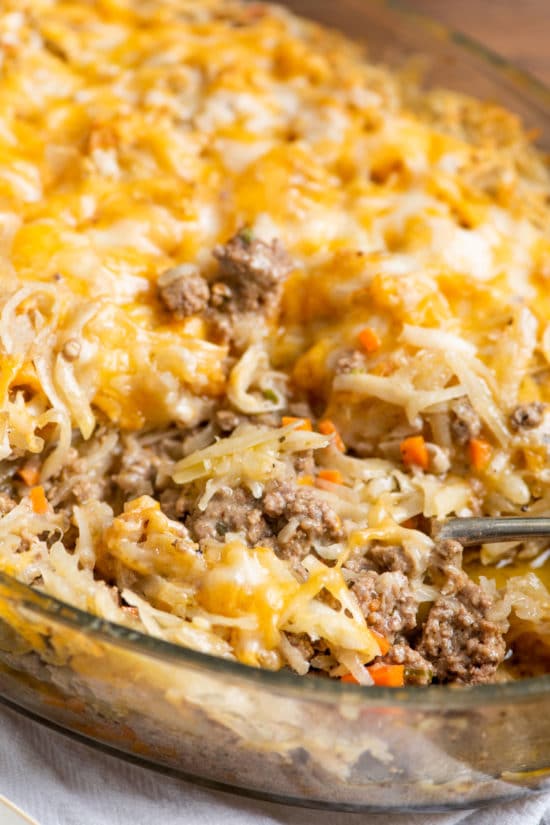 A while back for a website I was editing, I tweaked a very popular cheese, beef and potato casserole recipe. It included ground beef, a couple of canned items including canned mushroom soup, frozen hashbrowns and a few other sundry ingredients. I never want to judge, and believe you me my freezer is full of frozen vegetables, and my pantry is filled with cans. But I wanted to step back and tackle the idea of this somewhat classic recipe with fresh eyes.
Hello, comfort food. Hello, casserole. Leftovers of this Cheesy Beef and Hash Brown Casserole will be fought over the next day.

Tweet This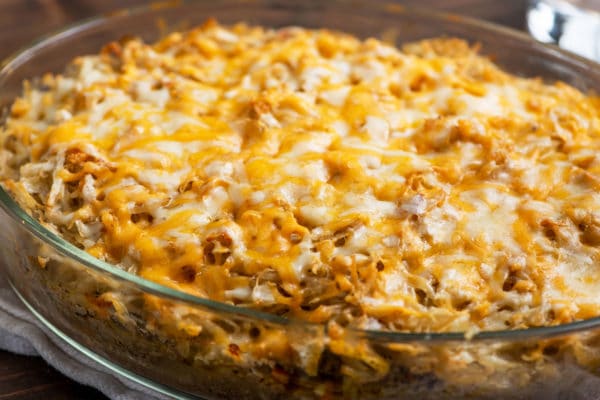 And this is what I came up with, and while I resist the notion of boy food (or boy anything), sometimes it's hard to fight a buttload of empirical evidence. The boyfolk in my family have long felt as though the One Skillet Cheesy Beefy Macaroni recipe in The Mom 100 is one of the reigning cool weather comfort foods in the house, and this was greeted with similar enthusiasm.
Ground Beef Hash Brown Casserole
So, what do we have here: Crispy but tender shredded potatoes top a casserole of juicy ground beef bound together with a creamy cheesy sauce. A final sprinkle of cheddar cheese melts over all at the end, like a dusting of snow. It's the casserole version of a terrific cheeseburger. Hello, comfort food. Hello, Cheesy Beef and Hash Brown Casserole. Leftovers will be fought over the next day.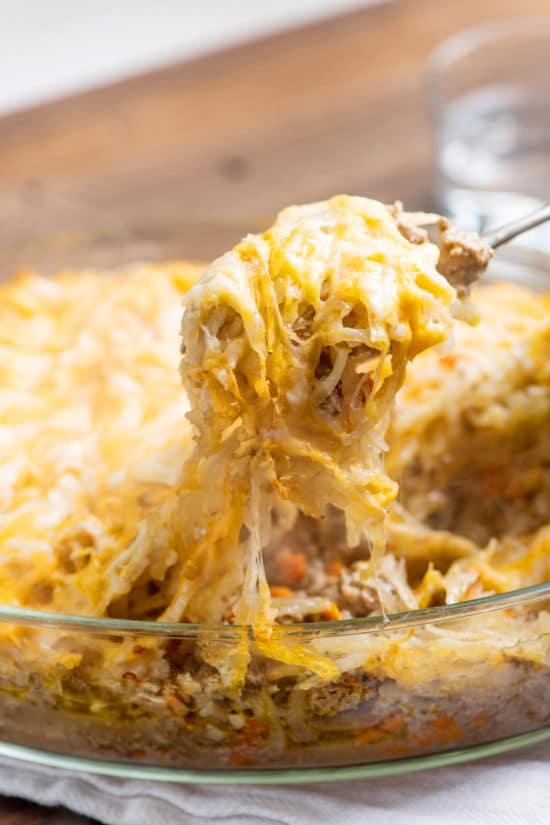 You can make the filling ahead of time, up to a day, then just dump it into the casserole, and finish with the cheesy hash browns potato topping (don't grate the potatoes until shortly before using or they will discolor, which really isn't that big a deal).
The kids can absolute lend a hand in making this dish. Let them measure the various ingredients. You can also suggest your kids pick an herb or spice other than oregano to change things up (think about thyme, marjoram, basil, or chili powder), maybe add other vegetables that you like, like chopped red peppers (which add nice color, too), spread the potatoes over the casserole, sprinkle on the cheese at the end.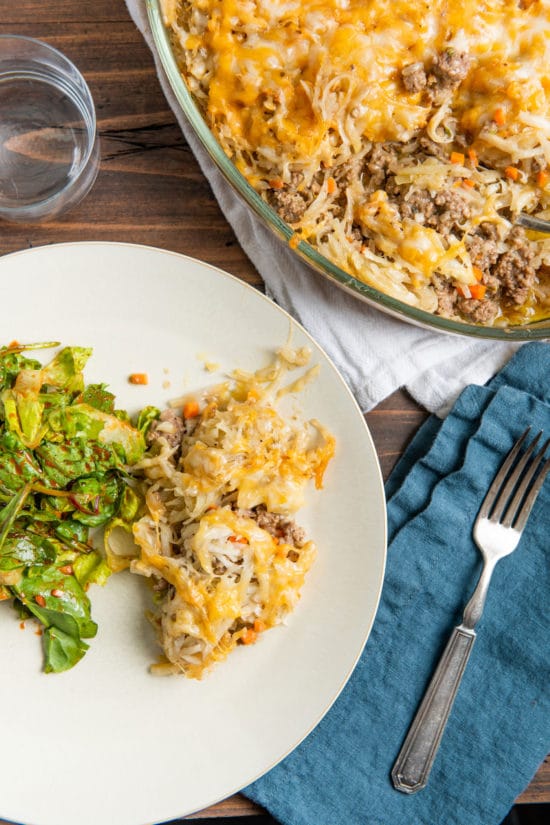 What to Serve with Cheesy Beef and Hash Brown Casserole:
Make a great big green salad to go with this, so you can feel like you've achieved dinnertime balance.
And because the combination of beef and cheese and a starch is just a tough one to beat.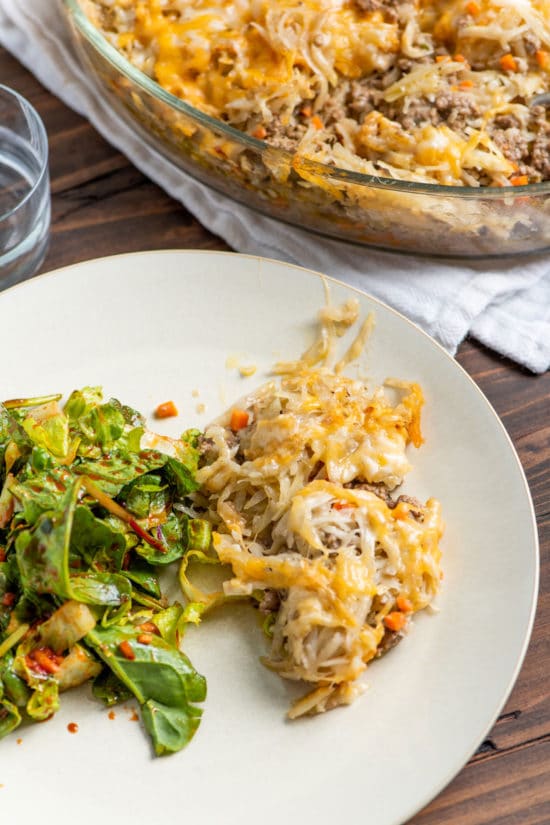 Other Cheesy Ground Beef Dinner Recipes:
And to have: 10 Things To Make With Leftover Ground Beef!
Like this recipe? Pin it to your favorite board on Pinterest.

Pin This
Cheesy Beef and Hash Brown Casserole
Crispy but tender shredded potatoes top a casserole of juicy ground beef bound together with a creamy cheesy sauce.
Ingredients
2

pounds

ground beef

2

tablespoons

olive oil

divided

1

cup

chopped carrots

1

cup

chopped onions

2

teaspoon

finely minced garlic

¼

cup

sliced scallions

Kosher salt and freshly ground black pepper to taste

2

teaspoons

dried oregano

1

cup

chicken broth

1

cup

sour cream

2

cups

shredded cheddar cheese

1 8-ounce package, divided

2

large Idaho all-purpose potatoes

(about 3/4 pound), peeled and grated
Directions
Preheat the oven to 375°F. Lightly oil a shallow 2-quart baking dish or spray with nonstick cooking spray.

Heat a large skillet over medium high heat. Add the ground beef and cook, stirring frequently, until the beef is completely browned. Drain in a colander. Carefully wipe out the skillet, and return it to medium heat.

Heat 1 tablespoon of the the olive oil in the skillet over medium heat. Add the carrots, onions and garlic and sauté for 4 minutes, until tender. Add the scallions and the browned ground beef and stir to combine. Season with salt and pepper and stir in the oregano and chicken broth. Bring to a simmer then stir in the sour cream, and 1 cup of the shredded cheese. Simmer for 3 minutes, until the cheese is melted and everything is blended.

Turn the mixture into the prepared baking dish. Place the shredded potatoes in a clean dishtowel and twist and squeeze over the sink to remove as much water as possible from the potatoes. Shake the potatoes into a medium sized bowl. Toss the shredded potatoes with the remaining tablespoon of oil, and season with salt and pepper.

Evenly distribute the potatoes over the ground beef mixture. Bake for 40 to 50 minutes until the potatoes are tender and browned on top. Sprinkle the remaining cup of shredded cheese on top of the potatoes and return the casserole to the oven for 5 minutes, until the cheese has melted. Serve hot.
Nutrition Information
Calories:
541.37
kcal
|
Carbohydrates:
13.22
g
|
Protein:
28.65
g
|
Fat:
41.4
g
|
Saturated Fat:
18.5
g
|
Cholesterol:
125.13
mg
|
Sodium:
396.71
mg
|
Potassium:
670.55
mg
|
Fiber:
1.63
g
|
Sugar:
2.95
g
|
Vitamin A:
3174.8
IU
|
Vitamin C:
7.98
mg
|
Calcium:
284.48
mg
|
Iron:
3.19
mg
Made this recipe? Post a photo of your delicious creation on Instagram with our hashtag #dinnersolved