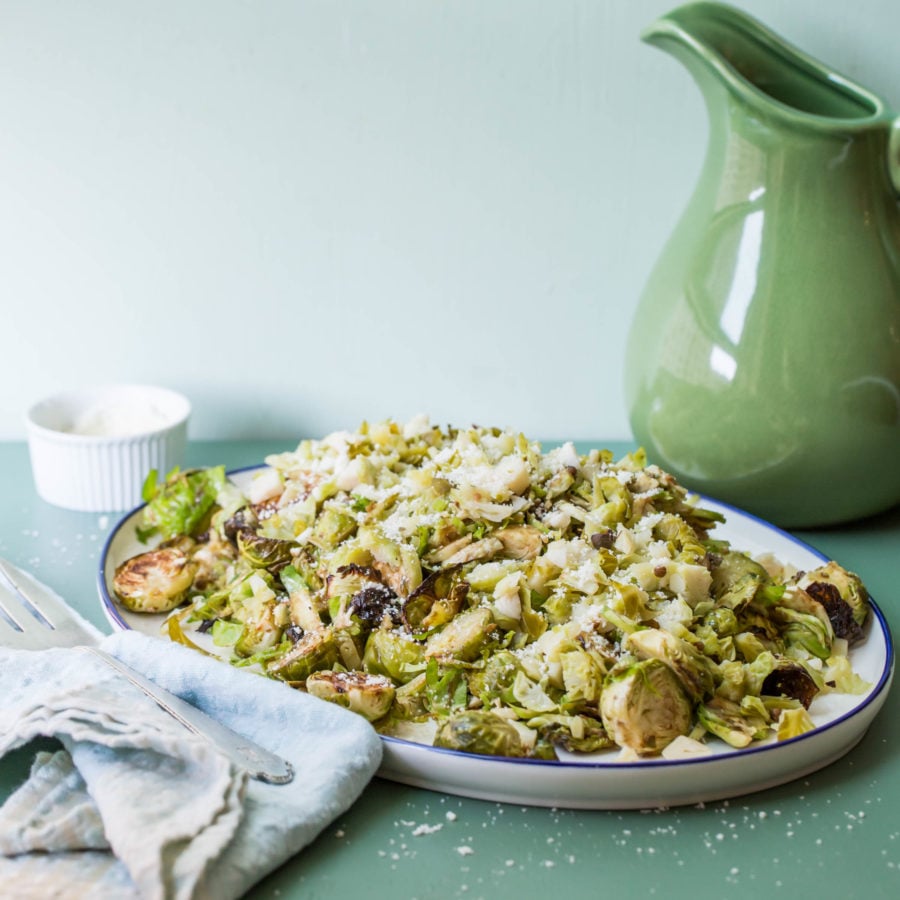 The minute I started trimming Brussels sprouts for this dish, my husband Gary (one of those hopelessly avowed Brussels sprouts haters, who no longer will even give them a glimmer of a chance) starting making noises. "Oh yum, yum! Jack get out here! Brussels sprouts! Oooohhh, can't wait!", and other such clever commentary. Because in Gary's mind the only good Brussels sprout is a dead Brussels sprout. And he pretty much expects the kids to toe this line, based on the old saw that kids hate this particular vegetable, without any reason other than because they are a hate-able food.
But they don't hate Brussels sprouts. Sometimes. Occasionally. It's definitely one of those ebb-and-flow foods.
But because I love Brussels sprouts, and because I like to pour fuel on a fire on occasion, I told him that in fact I was prepping the first step of a recipe call Brussels Sprouts Three Ways. Just to get him deeper into his sproutsanti-Brussels Sprouts frenzy. "Oh YUMMY, wow, three ways you say, that's even better!"
So this is a combination of roasted, raw slivered and pickled Brussels sprouts — heaven for any and all Brussels sprouts lovers. An important item of note: Make the pickled Brussels sprouts a few days before you plan to cook this dish. Or use another pickle-y food (many of us have a jar of something pickled, like giardiniera, or another such item picked up on an enthusiastic trip to an Italian specialty store or a farmers market – this is your chance to use it). Or leave it out. Then it's Brussels Sprouts Two Ways (and still a source of derision in my house).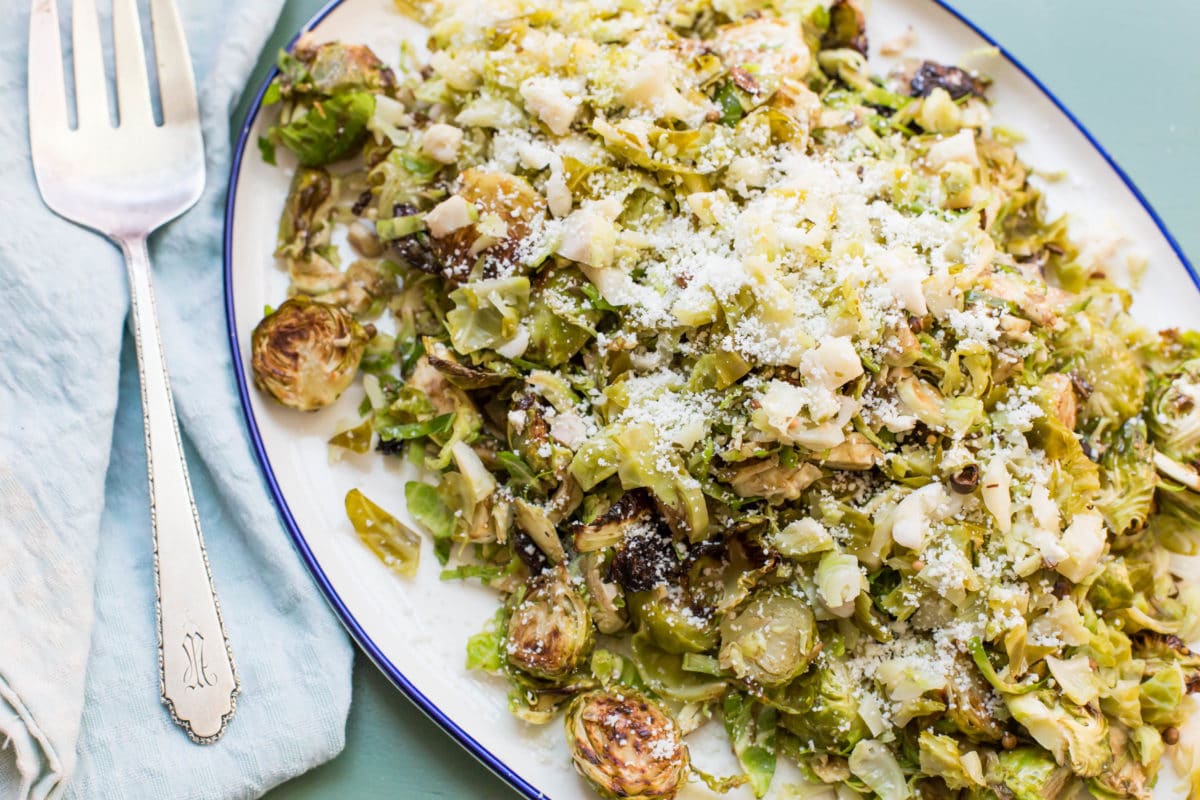 I'm allergic to nuts, but I can imagine that a handful of chopped hazelnuts or walnuts or pistachios or pecans would be nice strewn all of the stop, adding another layer of flavor and texture.
Brussels Sprouts Three Ways: A combination of roasted, raw slivered and pickled Brussels sprouts is like heaven for any and all Brussels sprouts lovers.

Tweet This
I feel like so many cheeses would work with this dish, from a little bit of a crumbled blue cheese or feta to shaved Alpine-style cheeses (like Emmental or Gruyere) to Pecorino Romano (salty, use sparingly) to Grana Padano to finely crumbled cojita cheese, which is what I used, and what you're looking at in the photos.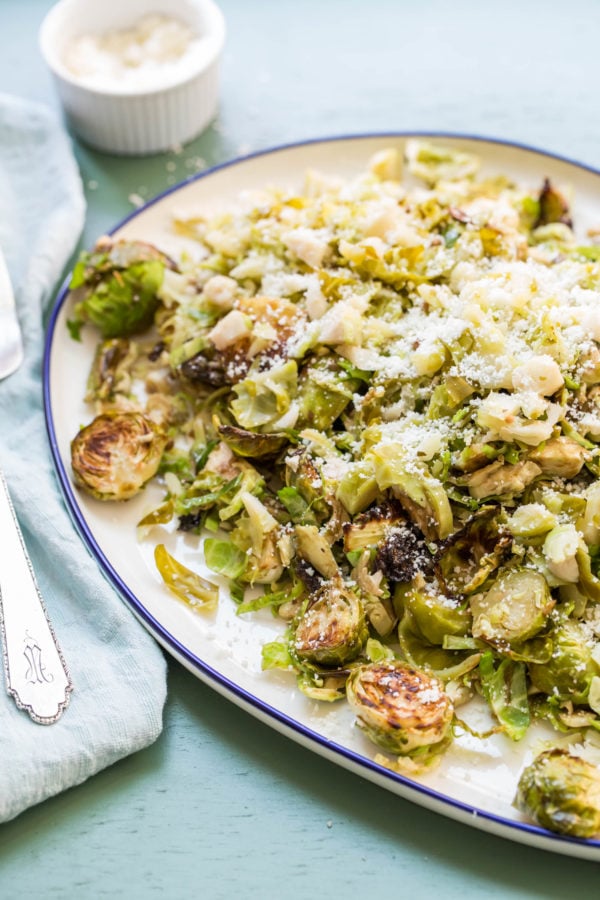 The sautéed Brussels sprouts should still be warm for this to be perfection. For this to be convenient, they can be room temperature.
Whatever you decide, both in terms of serving temp and cheese choice, sprinkle over the cheese shortly before serving.
Other Brussels Sprouts Recipes:
Brussels Sprouts Three Ways
I love this dish. A lot. I won't pretend everyone else in my family does. A combination of roasted, raw slivered and pickled Brussels sprouts.
Total Time:
1
hour
10
minutes
Ingredients
For the Dressing
3

tablespoons

balsamic vinegar

if you've got a good one for special, use it

3

tablespoons

extra virgin olive oil

¼

cup

minced scallions

white and green parts

1

tablespoon

Dijon mustard

2

teaspoons

honey

1

Kosher salt and freshly ground pepper

to taste

½

cup

slivered cheese or ¼ cup grated

such as Grana Padano, Pecorino, feta, blue cheese, or cojita
Directions
Preheat the oven to 400°F.

Prepare the Brussels Sprouts: Cut all of the Brussels sprouts in half, through the stem. Very thinly, as thinly as you can, slice about 1/3 of the halved Brussels sprouts. Set the slivered Brussels sprouts aside.

Spray a rimmed baking sheet with nonstick cooking spray. Place the halved Brussels sprouts on the baking sheet, drizzle over the 2 tablespoons olive oil, sprinkle with salt and toss. Spread out on the sheet and bake for about 20 to 25 minutes, until the Brussels sprouts are tender and browned in spots.

While the Brussels sprouts are roasting, roughly chop the half recipe of the Pickled Brussels Sprouts.

Make the Dressing: In a large bowl combine the balsamic vinegar, olive oil, scallions, Dijon mustard, honey and salt and pepper. Add the slivered Brussels sprouts and toss to combine well. Add the roasted Brussels sprouts and toss again.

Spread the Brussels sprouts combo on a serving platter, and sprinkle over the chopped pickled Brussels sprouts. Sprinkle over the shaved or grated cheese.
Nutrition Information
Calories:
202
kcal
|
Carbohydrates:
14
g
|
Protein:
7
g
|
Fat:
14
g
|
Saturated Fat:
3
g
|
Cholesterol:
6
mg
|
Sodium:
258
mg
|
Potassium:
469
mg
|
Fiber:
5
g
|
Sugar:
6
g
|
Vitamin A:
962
IU
|
Vitamin C:
97
mg
|
Calcium:
151
mg
|
Iron:
2
mg
The nutrition values are provided as an estimate. It is not intended as a substitute for the advice of a qualified healthcare professional.
Made this recipe? Post a photo of your delicious creation on Instagram with our hashtag #dinnersolved