This post may contain affiliate links. Please read our privacy policy.
Ok, we've done green, we've done yellow. Now over to orange (This single color lunch series is definitely my food nerdiest moment yet, I think).
This little series was just something I did to entertain myself during a long hot summer of packing camp lunches, and getting bored out of my skull. And it's also a nice way to get your kid to engage at the supermarket — searching for food that fit a particular color scheme, and hopefully picking some new foods to try.
So, orange. Bright and cheery, orange is a color that holds a host of possibilities when packing a school lunch.
This one contains, cubed cheddar cheese, sautéed shrimp (I know, they are kind of pink, let's just let that go), carrots, a peach, peach yogurt, and dried apricots.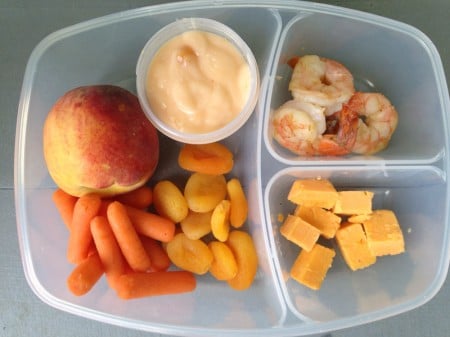 Other orange options: orange peppers, mangoes, nectarines, fresh apricots. And there are quite a few yogurt flavors with orange hues to pick from. For sure you can have quite a range of choices at the cheese counter – lots of orange there to choose from.
Sweet potatoes. Butternut squash (maybe a butternut squash soup in a little thermos? Or orange carrot soup?) Pumpkin. Cornbread. Cantaloupe and other melons. Papaya.
A slice of cold pizza?
An also– an orange!