Potluck Parties
I absolutely love a potluck party. I like hosting them, I like attending them, I like thinking about what to bring. You can be as creative as you like, or as safe as you like, and either way, your offering will be greeted with gratitude and enthusiasm.
Recently I brought a frittata, pre-sliced into thin little wedges, to a party for an appetizer, and it was a very satisfying starter. I started ruminating on what makes a dish especially portable.
Here are some things I think about when I am bringing a dish (or "toting" as they say in the south, which I feel entitled to say once in a blue moon because my grandfather was from Savannah, Georgia):
Good Portable Dishes
Ask yourself these questions:
• How sturdy is it? (no soufflés, no foams…not that you were going to do that anyway)
• How far am I traveling, and do I need to think about a cooler?
• How good will it taste at room temperature, and will it be okay to sit out on a buffet for some time?
• What's the weather, and will it be served outside or inside?
• Does the dish need refrigeration once it's there?
• Can I bring it in the container that it will be served in?
• How pretty is it?
• Is it a crowd-pleaser?
• Do I need to do anything to it once I am there?
This last question is a biggie for a number of reasons. First, when you get there, do you really want to start fussing with your dish? Also, will your host expect (read: be happy about) you to swing into the joint and need counter space? Or even more bothersome, oven space or fridge space, which might very well be already spoken for. It;'s a good think to think abuut ahead of time so you're not tip-toeing up behind your friend whispering things like, "I hate to trouble you, but might you have a whisk/some parsley/an 8-inch baking pan/a container of crème fraiche?" I try not to be that guest, and if I do need something, I attempt to remember to ask the host ahead of time if it's okay to encroach upon her in any way.
Here are some dishes I make during the summer when I am toting or potlucking. Or that might just be served up right in my own backyard.
And Summer Salad Recipes: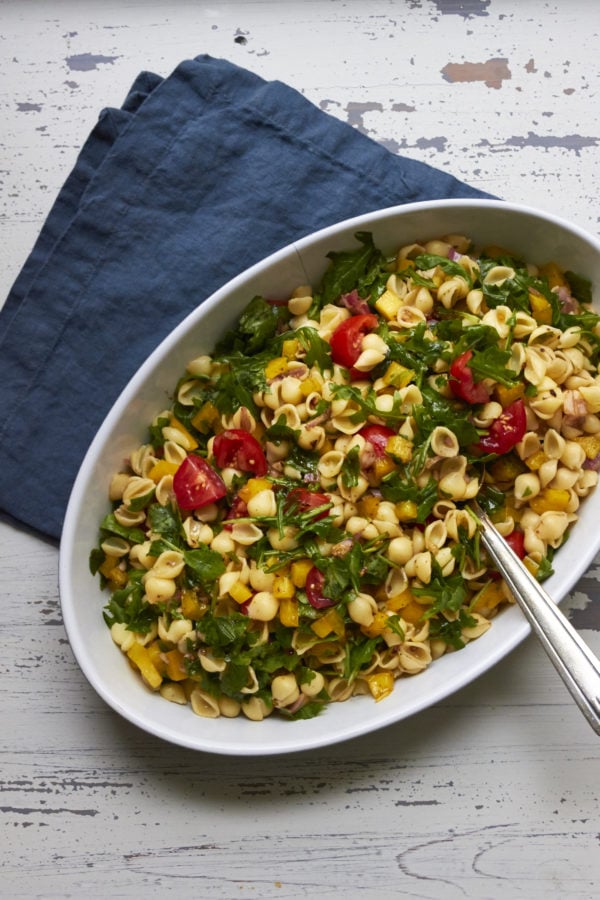 Bright, Herby Three Bean Salad
So easy, so colorful, so make ahead, so crowd-pleasing….and actually a vegan pasta salad, too).

Yes, another Greek Salad recipe. And I doubt it will be the last.