This post may contain affiliate links. Please read our privacy policy.
Creating a beautiful cheese platter is one of the most festive ways to entertain, especially during the holidays. An assortment of cheeses and accompaniments is just bewitching to look at, and introducing people to new cheeses is a lot of fun. And I'm no longer surprised by this – though I was – but it turns out my kids are willing to try pretty much any cheese that I put in front of them. So that's just another incentive to put a cheese platter in place.
How Much Cheese To Buy
You could put out three wonderful cheeses, or if you're looking to create a really robust selection, up to 6. When considering what and how much to buy, listen to cheese and specialty food expert Ken Blanchette, who runs the amazing cheese department at freshdirect.com. "A great cheese plate will have variation in size, shape and texture. For a cocktail party, plan on 2 ounces per person. If there will be more food available, drop it down to 1 ounce per person."
And the great news is that you can always use the leftovers to make a killer macaroni and cheese. Another reason my family is happy to see a cheese plate.
How To Arrange the Cheese Platter
There are no hard and fast rules, but here are some guidelines to keep in mind. Also, very important: cheese tastes much fuller and better at room temperature, so be sure to take it out of the fridge at least one hour before serving.
You may want to slice a few slices of the cheese before putting out the platter; it helps people get over any hesitation about being the first to dive in! If you can put out one knife per cheese, that's best, making sure sharper knives go with harder cheeses.
Using labels to let people know what cheese is what is always a nice idea – you could even just write the names of the cheeses on a small piece of paper or tape and place one next to each cheese.
What Kinds of Cheeses to Include
Variety! Ken Blanchette recommends a combo of firm, soft and a blue or other pungent cheese. Think about:
-Texture: Hard vs. soft, crumbly vs. creamy
-Type of milk the cheese is made from: the most common three types of milk used to make cheese are sheep, goat, and cow's milks (sometimes they are blended). Each imparts its own flavor to the cheese.
– Pungency: Offer some mild, some pungent, and some in the middle.
What Else To Add to the Cheese Platter
Additional items. Whether a condiment to serve and eat with the cheese itself, or something to nibble alongside and in between bites of cheese, these are some good add-ons for a robust cheese platter:
Nuts, such as pecans, walnuts, almonds (marcona almonds are pretty great), macadamias. Candied nuts are also an interesting addition to a cheese plate; the sweet and savory play nicely together.
Fruit pastes, such as quince, or a fruit jam, such a fig
Fruit: Grapes, figs sliced pear or apple, or dried fruit (apricots, cranberries, dates)
Honey, either in a little jar or bowl, or maybe some real honeycomb, which is so pretty and cool to look at.
What to Serve the Cheese With
Breads and crackers: Choose an assortment, and make sure some are plain
Breads: sliced baguette, ciabatta, pumpernickel, herbed breads, olive, maybe a nut bread – make sure any flavorings are natural so they don't overpower the flavor of the cheeses
Crackers: Again, keep the flavors simple. There are a ton of great crackers and flatbreads on the market; go for an assortment.
A Great Cheese Platter Assortment
The seven cheeses (and a few extras) presented here are a bit more unusual than brie, cheddar, and some of the other cheeses commonly encountered on a cheese plate. You should feel free to pick the ones that appeal, and combine them on a plate or board with some of your favorites. The best thing about making cheese assortments is that you can constantly shake things up. My kids went crazy for the Affidelice and the fresh goat cheese in particular.
Fresh Goat Cheese or Chevre:
So popular now, and so easy to find, the classic flavor characteristics of chevre are a fresh goat milk taste, mild flavor and smoothtexture. Try a smear of this on a cracker or baguetts slice with a drizzle of honey, or maybe some fig jam.
Aged Goat Cheese:
-Beautiful little buttons of ripened goat cheese, or "crottin" are adorable, and showcase the distinctive flavor of gaots' milk perfectly. These are called Bijou, from Vermont Creamery and they are dried and left to mature for a month resulting in slightly sweet with a yeasty flavor.
-Coupole is another aged goat cheese from Vermont Creamery, who is one of the best goat cheese makers in the U.S. Made in the French style, this American original has a dense texture and fresh, milk taste. The strong ripened flavor of the rind is markedly different than delicate fresh taste of its interior.
Affidelice: Slightly smaller than its popular sibling, Epoisse Berthaut, but a bit less pungent. Affidelice is washed in Chablis instead of marc. When brought to room temperature and ripe it is soft, and spoonable, with a concentrated richness and a creamy texture.
Tartufo Truffle Gouda: This cheese is made from raw cow's milk, but what makes it amazing is that just prior to the pressing and shaping of the cheese, shavings of Italian black truffles – real truffles! — are generously sprinkled throughout the curd.. This is a showstopper cheese, perfect for holiday entertaining.
Salvatore Bklyn Smoked Whole Milk Ricotta: You may think you know ricotta cheese, and you may think it's not so interesting to eat on its own. Well, this ricotta is smoked over the wood, and while it is incredible smeared over a piece of bread or a cracker, maybe with a bit of fig preserves.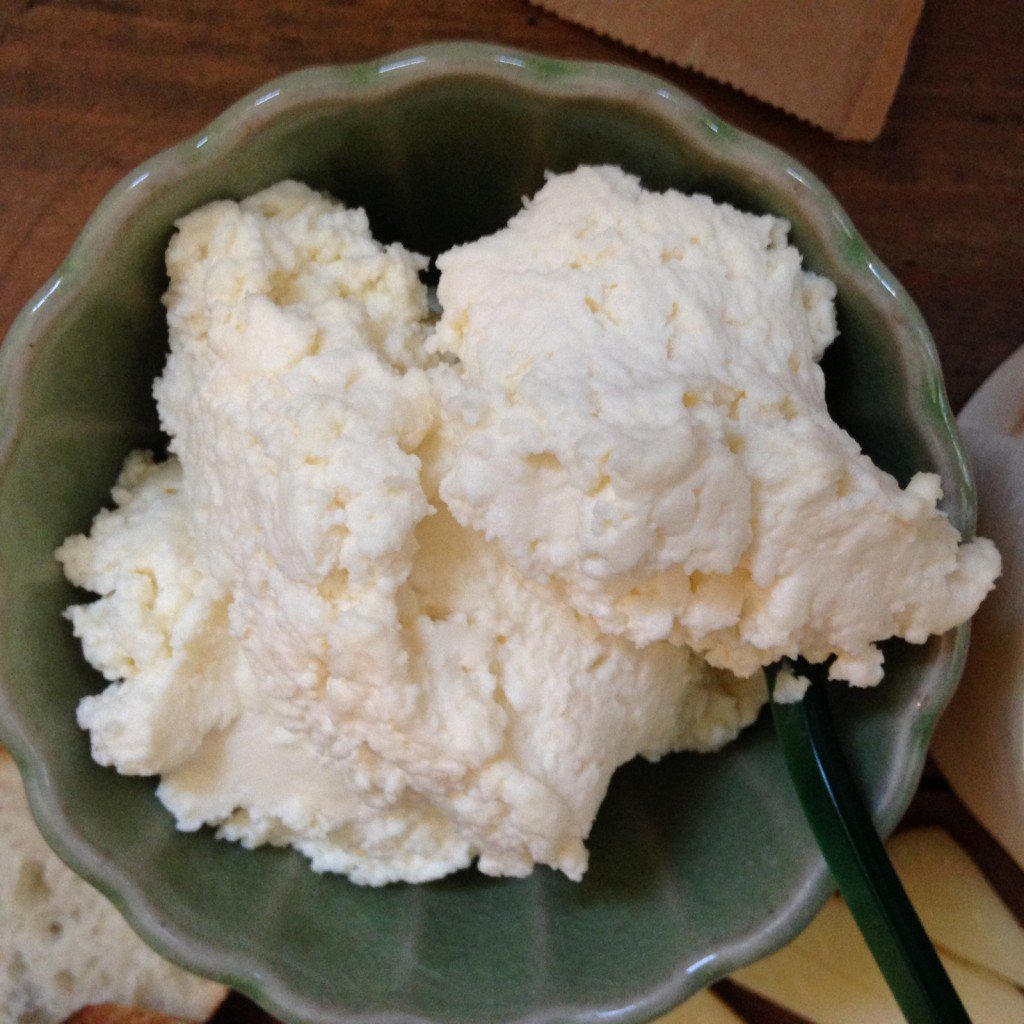 Parmesan: People often think about Parmesan for grating and cooking, but its wonderful eaten on its own, served with a wedge knife to chop of little crumbly chunks. The nutty, salty flavor explodes in your mouth, and it's lovely with a slice of apple or pear.
.
Fontina: A simple cow's milk cheese is always good to include on a cheese platter for those with milder palates, especially many kids, or just for a quieter moment amongst more pungent cheese. The smooth texture and gentle but still rich flavor of fontina makes it a consistently good choice.
Blue Cheese: Sharp, usually salty, sometimes a bit sweet, the powerful flavor of a blue cheese really rounds out a good cheese plate. They are usually a little stinky, but most serious cheese lovers really go for that. This Dolcina Gorgonzola packed a perfect punch.
Fig Jam: This item feels pretty gourmet, but it's now available all over the place. Other jellies and jams make a nice sweet counterpoint to cheeses, be they rich, creamy, crumbly pungent or mild, but there's something about the fig jam that really works.
Honey Comb: Just as it is produced by bees, how cool is this? Completely raw and unprocessed, so pure tasting. Drip it over various cheeses.

And there you have it! Some inspiration for creating your own cheese platter at home. If you have any cheeses you are obsessing over, I am really hoping you'll share.