This post may contain affiliate links. Please read our privacy policy.
What Is Quince?
Quince is a bulbous, bumpy, altogether goofy-looking fruit. The word "quince" is pronounced, "kwins." When in doubt, just remind yourself that it rhymes with "prince," and you should be fine. Originally hailing from the Caucasus, the mountainous area between the Black Sea and the Caspian Sea, quince has found its way all around the world — now, this fruit is used globally, playing a prominent role in Latin American cuisines, in particular.
Quince is most recognizable by its bright yellow skin. The shape and size of this fruit are similar to a lumpy pear. Quince is light green when unripe. As it ripens, its skin transitions to become bright yellow with small flecks of brown. Let it ripen at room temperature. The flavor and aroma will develop, and when it smells wonderful, that's when it's ready to cook and eat.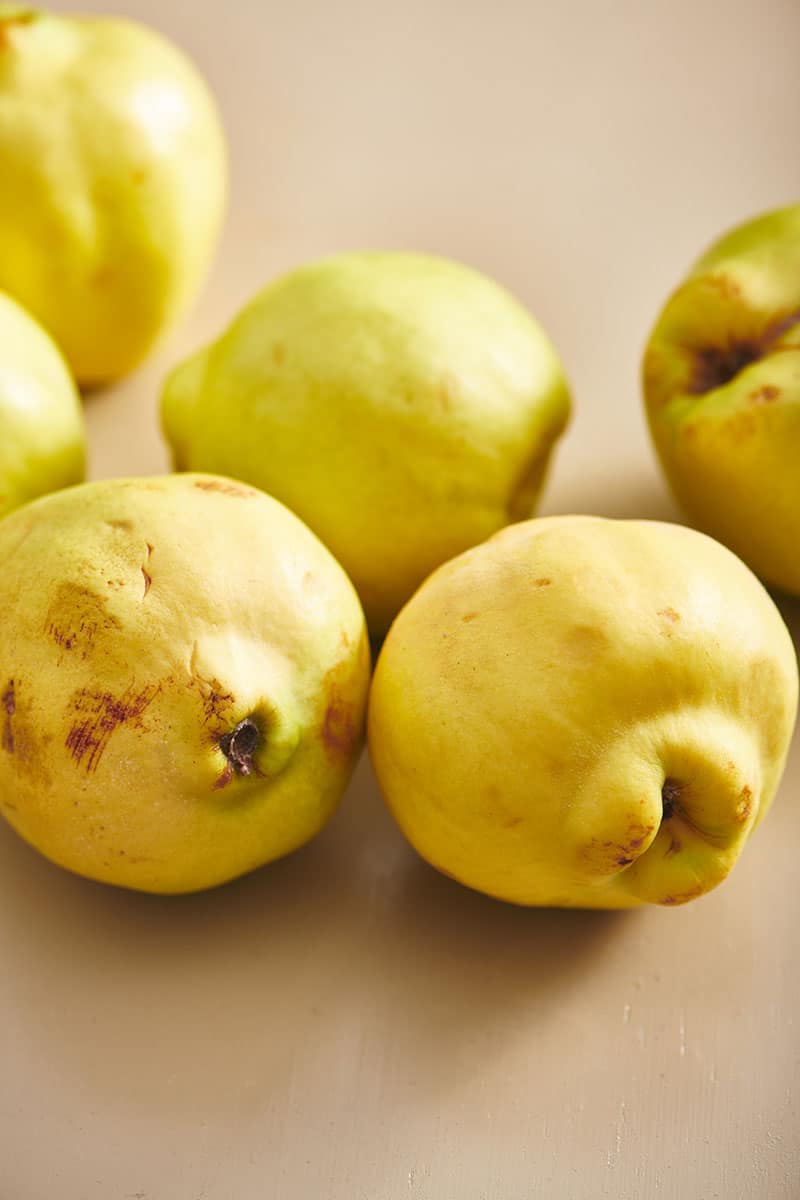 Quince is most popularly cultivated and sold in Southern states, but can technically be grown everywhere in the U.S., (if you're considering planting your own tree, good for you!). Head to a local farmers market if you'd like to experience the freshest version of quince. Quince season generally stretches from late fall to early spring. It's important to note that quince is not currently farmed in many places, so it's hard to get when not in season. Snag it while you can!
What Does Quince Taste Like?
When raw, the quince can be very tough and bitter, thanks to the presence of natural tannins in its flesh. Once cooked, however, the flesh of this fruit becomes tender and sweet. Its taste is most similar to a cross between an apple and a pear. The smell of this fruit is also very notable: when quince is ripe, it begins to emit a strong, sweet fragrance. This aroma is part of why quince fruit was so popular back in the day, and part of its appeal today!
Quince Nutrition
The USDA notes that each quince fruit packs around 52 calories, which is very low for a fruit of this size. It also comes with health benefits. Quince is a good source of calcium, fiber, magnesium, potassium, and copper, among other nutrients.
How To Prepare and Cook With Quince
Quince is rarely eaten raw: it's too tough and too sour. The most recommended way to prepare quince is to boil it. First, you need to peel your quince. Next, cut the fruit into quarters and get rid of its core. Using a paring knife, remove all the seeds, and cut out any bruised parts or imperfections. If you want to prevent the fruit from browning as you work, you can always place it into a bowl of room-temperature water as you prepare the rest of your quince.
When your quince is ready, dump it all into a large pot of boiling water. You can save the water from the boiling process to make syrup — it will be super flavorful, and great to add to cocktails! Once your quince is boiled, it will be ready to use. A knife should slide into it after about 15 or 20 minutes; the texture will be like that of a ripe pear.
Quince can make great jam, jelly, or marmalade; alternatively, if you're more of a baker, you can fold some into a pie or tart. And it's a great addition to smoothies! Cooked quince can be served with everything from oatmeal to roast pork.
Storage
After boiling your quince, store any unused fruit in a plastic resealable bag in the freezer. That way, you can fish out a few pieces every time you want to add some sweetness to a smoothie, or just have a soft chunk of goodness as a snack.
Fun Facts About Quince
Did you know that quince fruit has been well-loved since the period of Ancient Greek rule? The quince actually had symbolic value in Ancient Greek religion: it was associated with Aphrodite, the goddess of love, and was recognized as a symbol of fertility. Here are some other fun facts about quince fruits:
In Greek mythology, the fabled "golden apple" that Paris was told to give to the most beautiful goddess may have actually been a quince.
In Ancient Rome, cooks often served a dish that was a mixture of quince, honey, and leek.
At weddings in Ancient Greece, it was customary for brides to eat some quince before the ceremony in order to ensure that their lips were well-perfumed.
Try Adding Quince to These Recipes