This post may contain affiliate links. Please read our privacy policy.
These days we are all looking for quick meals we can make from a handful of ingredients, and those that use items we have on hand, whether in the fridge or in the pantry. Pasta is an obvious to go springboard for all kinds of recipes, and family-friendly as well. You might also think about using whole wheat or whole grain pasta instead of "regular", and there are also a lot of bean/legume-based pastas on the market that pack an extra nutritional wallop.
Plus pasta comes in so many shapes and sizes, you can make the same recipe more than once with a different shape pasta and it will feel different to you (and your kids). And you might also buy a bag or box of pasta in a different color or mix of colors. Green, orange, red, purple, many of these pastas are colored with vegetables such as spinach or beets, which add some more nutritional, and some fun visual, appeal.
---
5 Pantry-Friendly 5-Ingredient Pasta Recipes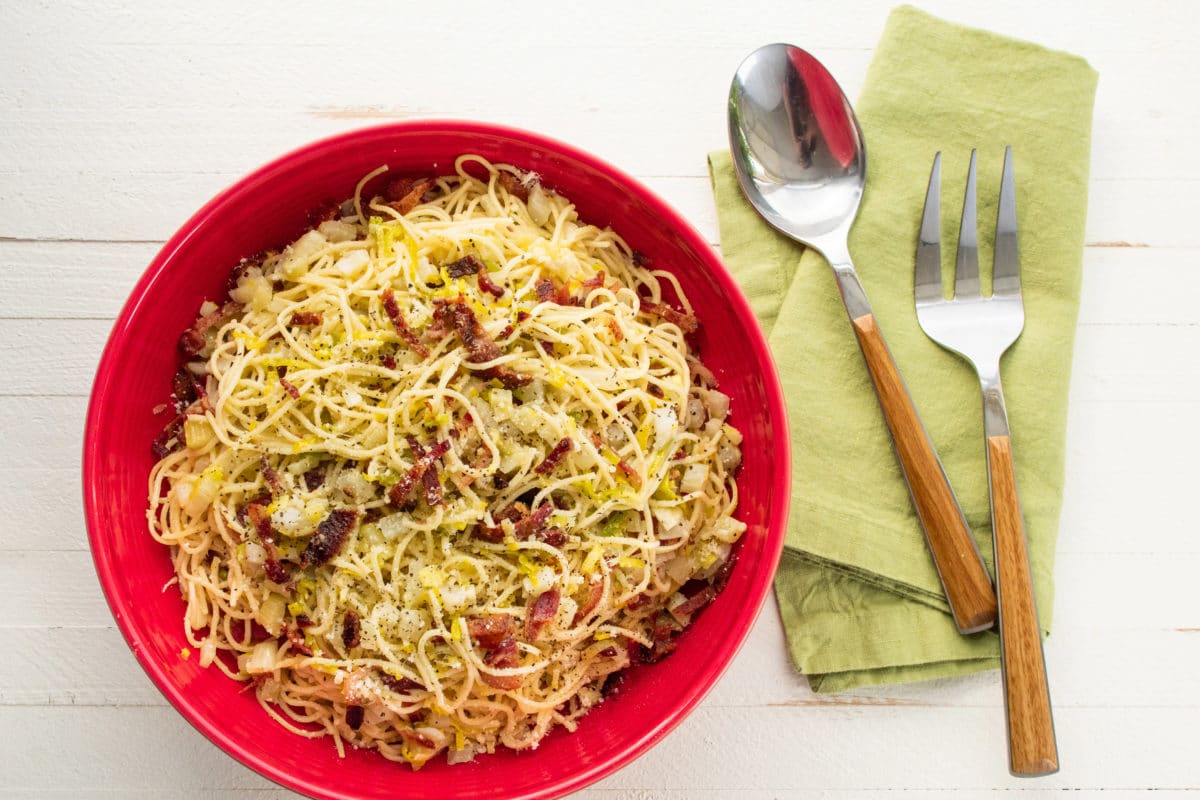 At once elegant and peasant-ish, these few ingredients come together in a kind of classy way.
Bacon freezes well as does Parmesan (which also lasts for months in the fridge), so those are smart flavor-packed ingredients to keep on hand, and fennel is pretty sturdy as lasts for a while in the fridge.
---
This flavorful 5-ingredient pasta features chicken sausage (or the sausage of your choice), plus nutritious kale.
Sausage freezes and defrosts easily so it's a good staple to have on hand.  Skip the black olives if they won't fly with your family – the pasta will still have plenty of flavor.
---
Sometimes one of the most appealing things about a recipe is the small amount of time it takes in front of the stove.
This one incorporates sundried tomatoes which keep forever in the pantry., and has an appealing ruddy red color. You can use dried or oil packed sundried tomatoes.
---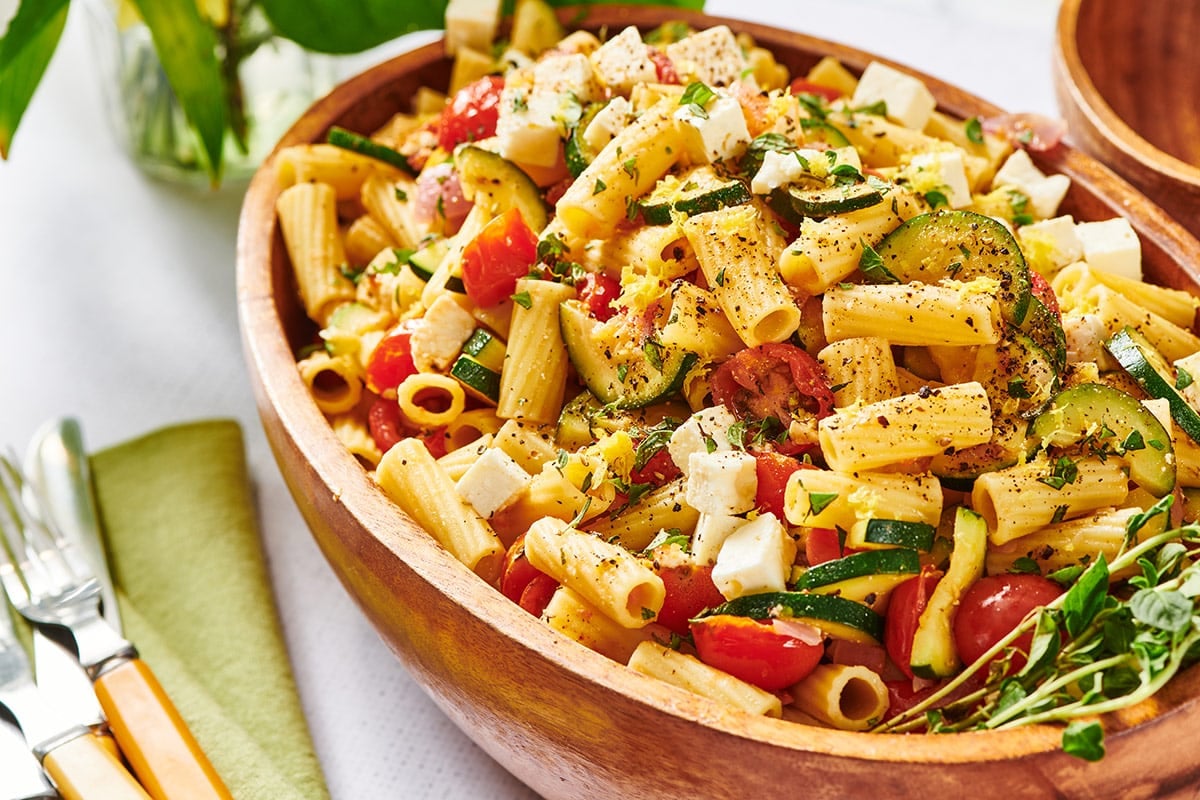 Feta, zucchini and tomato are classic Greek ingredients and they come together in this pasta like they've know each other forever.
You could use diced canned tomatoes instead of fresh if that's what's available to you.
---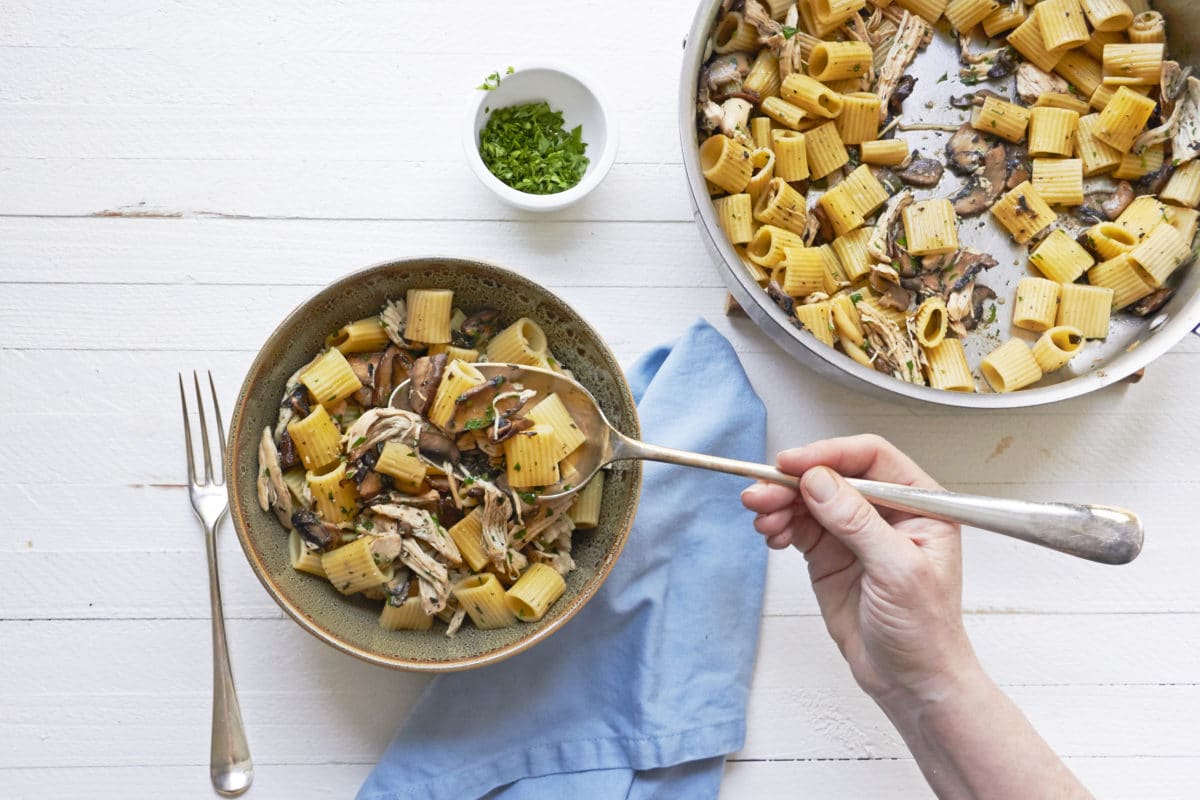 Pick up some mushrooms and a rotisserie chicken and have this pasta for dinner in about 30 minutes.
In a pinch you could use reconstituted dried mushrooms and canned chicken.
---