Soup and Stew Recipes
Gee willikers, what to make for dinner tonight? If the answer is something warm and comforting and served in a bowl, I'm all in.
I love soup and stew season because it pretty much means that nothing in my fridge goes to waste (see this flexible recipe for a vegetable soup for an idea of how that works). It also gives me an expansive canvas on which to use many condiments and seasonings that are just hanging around in my fridge or pantry, like coriander, red chile paste, and miso.
See below for some of my favorite go-to bowls!
---
5 Great Soup and Stew Recipes
The very definition of a stick to your ribs soup, with a lift from the fennel, amazing thickness from the red lentils, and crazy good flavor from the chicken. Plus—slow cooker! As in, hot and waiting for you when you get home! Sold.
---
Avgolemono is the lemony chicken soup of Greece. This take on the classic is fairly well populated with both chicken and orzo—our family likes a lot of bang for their buck in a chunky soup.
---
A humble pureed vegetable soup is a particular kind of pleasure.  And leeks are just unsung heroes in the kitchen, and sometimes deserve center stage.
---
A small amount of cream turns a pot of simple tomato soup into a creamy, lush, pretty-pink tomato soup experience. This recipe uses canned tomatoes, which means you can make it right about . . . now.
---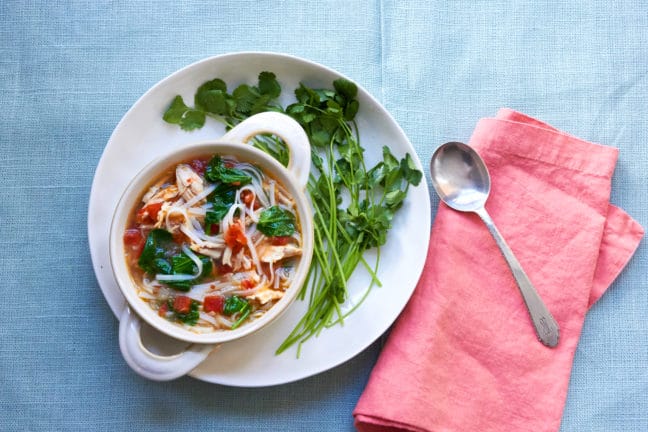 Another chicken soup, but totally different. Ginger, cilantro, coconut milk, fish sauce—a vibrant combination of ingredients, and a deliciously restorative soup. All in all, comfort food, but on the lighter side.
---
More Cold-Weather Dinner Ideas: