This post may contain affiliate links. Please read our privacy policy.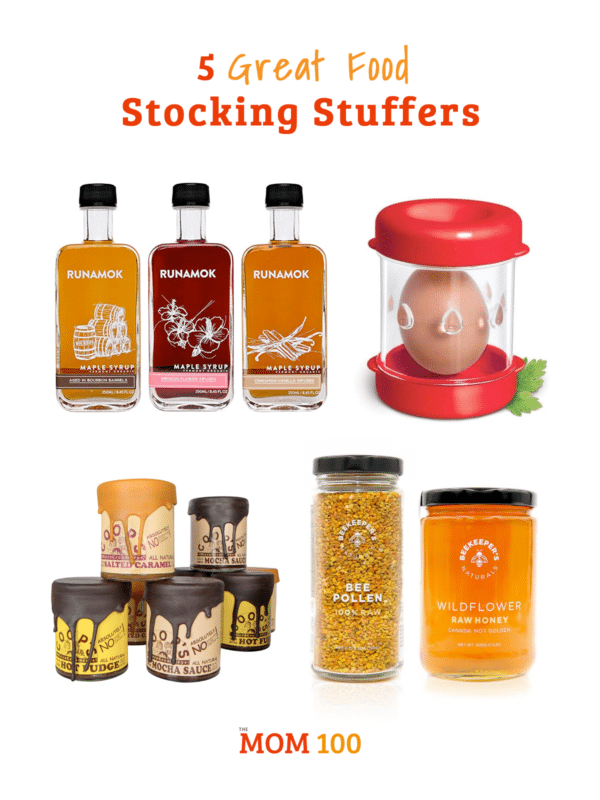 Let's just say the phrase stocking stuffer suggests that you have a stocking. Which we actually don't. Because we're Jewish. BUT we do give a ton of gifts over the holiday to family and friends and some are big and some are small and the small gifts that hit a note are as important as the ones that cost a lot of cash… sometimes more—they are the presents that say I know what you like/lust after/wouldn't treat yourself to. Maybe that last one more than anything.
All of these gifts are not super pricey but they are things that we might not indulge in for ourselves. But when someone we love knows we would be thrilled to get them—well, what a treat.
---
First of all, who would not want a beautiful bottle of maple syrup to get them through the winter? Baked Squash with Chili and Maple Syrup, Lazy Oven French Toast or Spiced Pumpkin Pancakes with Maple Syrup, in Sweet Potato Spoonbread…. I practically keep a bottle on my counter during the colder months.
And then recently I discovered the whole wide world of Runamok Maple Syrups, which take the maple syrup game to another level. Cinnamon Vanilla, Jasmine Tea, Elderberry, Cinnamon-Vanilla, Bourbon Barrel aged there are 12 very interesting varieties to play with. This is also a super host/hostess gift, with great packaging—the three pack is a real treat.
I have been a bit of a broken record about the Negg—just ask my family. I was sure it was absolutely one of those single-purpose (read: cabinet clutter) gimmicky tools that you would use once, and then toss because kitchen real estate is too valuable.
But when I saw how cleanly and consistently it helped peel hard boiled eggs, and I realized how great my deviled egg game was about to get, I did a very sharp about face. If you know someone who is fond of hard-boiled eggs for any reason, this is a fun and very usable gadget.
The family owned company that makes these delicious all-natural sauces likes to say that the packaging interests people, but the deliciousness keeps them coming back. And both things are true: the fun lids (made of recyclable plastic) look like the sauce has overflowed the container and is dripping down the sides, and the flavors are pure and decadent.
The sauces—with no artificial additives, no preservatives, no high fructose corn syrup and all gluten free—come in four varieties: Hot Fudge Sauce, Vegan Hot Fudge, Caramel and their new Cold Brew Mocha Sauce. Serve these warm or room temp these over ice cream, of course, and also cakes, pies, fruit, dip a cookie into them…..stick one in a stocking, box up four to bring as a houseguest gift.
This company is obsessive about bee products, and their line of wellness products reflect this mission. They combine their passion for saving the bees with their interest in creating interesting superfoods to boost people's energy, immune systems, and performance.
The 100% raw honey comes in varieties like Wildflower and Buckwheat, and you can buy them in single jars, or get an assortment of little jars. Their Cacao Superfood Honey is a combination of their sustainably sourced honey and Ecuadorean cacao, and all you will wonder is what else you can spread this on. And for athletic food lovers looking for a natural energy boost source, go for the 100% raw bee pollen.
5. Wooden Scoop Set
Is this not the cutest little collections of spoons ever? I am a serving utensil nut (just another notch in my kitchen weirdness belt), and always on the lookout for something different. These are from the Hearth and Hand line with Magnolia, on sale at Target, and I might leave one in the sugar canister, use another to serve jam or Parmesan or things like that at the table. Oh, right I am supposed to give these as a gift… I guess I will order another set.