There is almost nothing that doesn't get improved by being grilled.
Pizza, corn, lamb chops, steak—all become their finest versions of themselves (okay, one of their finest versions of themselves) when cooked on a grill. And, of course, there is the burger, which is one of the best-loved foods best-suited to meet up with live fire.
And yes, you can buy pre-made patties and have a satisfying meal, but with a few extra minutes and a handful of additional ingredients you'll get to "Remember those burgers from last year's Memorial Day/Father's Day/Fourth of July?" Memorable burgers. Here are five of those burger recipes to get your summer started.
P.S. I always get a little mad when I ask guests at a barbecue, "Who wants beef burgers?" and tons of hands shoot up, and then I ask, "Who wants turkey?" and everyone yanks their hands down and only a couple go up. I live for an excellent turkey burger, and I will not rest until everyone understands just how good a turkey burger can be. In the powerful words of that freedom fighter Combeferre from Les Misérables, "Will you join in our crusade? Who will be strong and stand with me?"
I realize this is an exaggerated amount of weight to place upon a non-red-meat burger.
Happy grilling, mes amis.
---
5 Great Burger Recipes for Fourth of July
A burger with a little heat, thanks to a Cajun-inspired spice blend that you can make in moments from pantry-drawer spices. And there is always the option of leaving some of the burgers plain for those who want to keep it simple.
---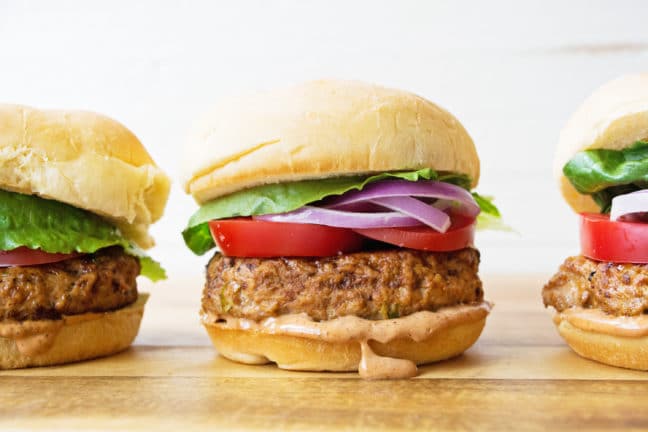 The turkey burger that just might convert the turkey-burger skittish. Moist and flavorful with pureed chipotles in adobo (one of the best secret ingredients to have on hand at all times) and barbecue sauce (you favorite—store-bought or homemade, whatever works), this is one of my family's all-time favorite burgers.
---
When ketchup and mustard aren't quite enough, stir up this quick and easy and unbelievably flavorful sauce—and also use it as a drizzle over asparagus and potatoes, as a sandwich spread, as a dip for celery and carrot sticks . . . you won't run out of ideas.
---
I love the idea of comfort/bar food at home. These burgers have that amazing buffalo flavor thing going on, with a quick dip in a little butter and Frank's Red Hot sauce bath. A dollop of creamy blue cheese sauce finish them off. As Gary would say, "That works."
---
The Asian flavors in this burger make it something new and different. And there's another twist—chopped mushrooms blend right into the ground beef, giving this burger an extra layer of flavor, and also cut back on the fat and adding more nutritional benefits. But if you don't mention it, everyone will just think this is one of the best burgers they've had in a while.
---
More Recipes to Make This Summer: