October Meal Plan
How's everyone doing? Hanging in there? Maybe you found some time to go apple picking, or pumpkin hunting or you're starting to think about holiday plans?
It's definitely fall now — chilly in the evenings, time to break out those cute jackets and sweaters. And more importantly, time to start cooking those autumn favorites, and think about braising and stewing and roasting. I love those words. I'm certainly going to miss ripe tomatoes and corn, but I'm excited about the comfort foods that seem so necessary at this time of year. And while summer cooking brings with it all kinds of joy, nothing smells as good as cold-weather cooking. Soups and sauces simmering on the stove, chickens getting crispy and juicy in the oven, brownies baking. Just plain old yum.
So what is in season, and what do we feel like making? Well, this is what's calling to me this October.
---
11 Seasonal Recipes to Make This October
The smell and taste of tart-sweet apple cider mixed with cinnamon, orange, cloves and allspice simply cannot be beat.  A pot of this on the stove will make anyone who walks into your home feel welcome and fall-feted.
---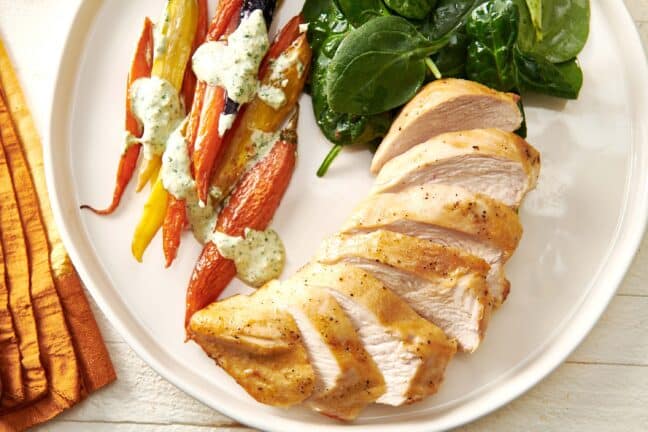 The classic spice blend mixed with a bit of butter, brown sugar, garlic powder and cayenne makes a great seasoning for chicken breasts.
---
This Asian-inspired recipe is pretty different from the sort of brussels sprouts that graces many a fall holiday table, with a whole lot of flavor and punch.  I am firmly convinced we all need more Kung Pao in our lives.
---
If you like pulled pork and you like lamb, then this is the best of both worlds.
---
A satisfying soup: creamy, soothing (but with a tiny kick), and loaded with chunks of tender potatoes.
---
A handful of Indian spices turn a couple of ingredients into a satisfying full on meal.
---
These slowly cooked lamb chops are fall apart tender and are nestled into a lovely vegetable studded red wine and tomato sauce.
---
This is our go-to lasagna, made with a meat sauce that has a combo of ground turkey and turkey sausage in the sauce. It will never let you down.
---
Tender with crispy edges, and a pop of salty cheese and fresh parsley, these savory sweet potatoes are an easy but festive side dish.
---
Kind of like a rough and ready scalloped potato dish in a cast iron pot.
---
Move over barley, there's a new grain in town. Make this in big batches and freeze some for weeks to come (or bring a container to a pal who could use some food love).
---