Finding the food lover in your world the perfect gift is a little bit of a mission for many of us.  My mom, my sister, my sister-in laws, a few of my closest friends….we all like to cook and entertain, and I love the hunt for the perfect something. Here are some of the things that will be crowding into my little gift closet (yes, I have a gift closet….yeah, I know) in the coming weeks, waiting to be given (and I may have to buy duplicates of a few….I already hit the balsamic vinegar that was supposed to be for David….)
---
Practical (But Awesome!) Gifts
I have a mini food processor, with about a 2-cup capacity, and I have some larger Cuisinart food processors with 7-cup and higher bowls….but nothing in between.  Then I found Cuisinart's 4-cup version, and I am wondering where it's been all my life.
It's just the right size for a decent sized batch of pesto, or a dip, or to chop a couple of onions.  And if you're not ready to commit to larger food processor because of storage space, or just have the question of how much you'll use it, this is a perfect way to get to know this amazing kitchen tool.
These days I feel like I don't come home from an event without yet one more branded canvas or plastic-ey tote bag.   I'm lousy with them, but still, that's not what I necessarily want to carry when I am doing a quick run to the store and trying super hard to be green, or carrying my computer and paperwork on a trip.
Then I found this hardworking and good looking tote bag from Kansas City manufacturer Sandlot Goods and I have been finding it to be just the things for taking to the market or throwing some work and snacks into and heading out for my day.  It comes in a bunch colors, and it's made of waxed canvas which gives it a cool mottled look and an intriguing texture.  The interior has a lining which can be easily wiped clean.
First let's say a pretty or cool apron is always a terrific gift, in my book.  But there are a few extra special things about these 100% cotton aprons from MADMADE.  One, they are reversible so you get two pretty patterns for the price of one (and say one side is a bit stained from the previous day's cooking—flip it over, and save a washing!). Second, they are designed pinafore-style, which means no strap around your neck, which can be irritating. These straps go right over your shoulders.  Thirdly, they come in sizes! So you can actually buy the right size for your lucky recipient. Fourth—pockets—on both sides!  And long waist straps so you can tie is loosely or tightly, whatever suits.
This adorable nostalgia-inducing (even if you never had one like it growing up) toaster is equal parts kitchen décor in my book.  Even in a modern kitchen, it is just a little spot of charm.  It's got all kinds of nice features, like a removable warming rack, a timer so you can get to the right level of browned, bagel settings, and more.  The hardest part is deciding what color to pick—it comes in black, red, cream, white, and I am in love with this soft blue.
---
Indulgent Gifts
If you know a truffle lover then all you have to do is determine what your ideal budget is and how much you love this person (not really serious—I love people way past my budget), and then pick the right assortment of Regalis truffle products to fit the bill.  The Black Truffle Popcorn Salt is what I am planning to get one of best friends as a stocking stuffer. The Truffle Assortment Gift Crate is what I'm hoping someone (MOM!) gets me.
Olivers Limited Gold edition of their balsamic vinegar is the proverbial Cadillac of balsamic—do not give this to someone who will splash it willy nilly into a pasta salad, but someone who will appreciate every pricy little drop (you can see from the above photo that I couldn't wait to use mine).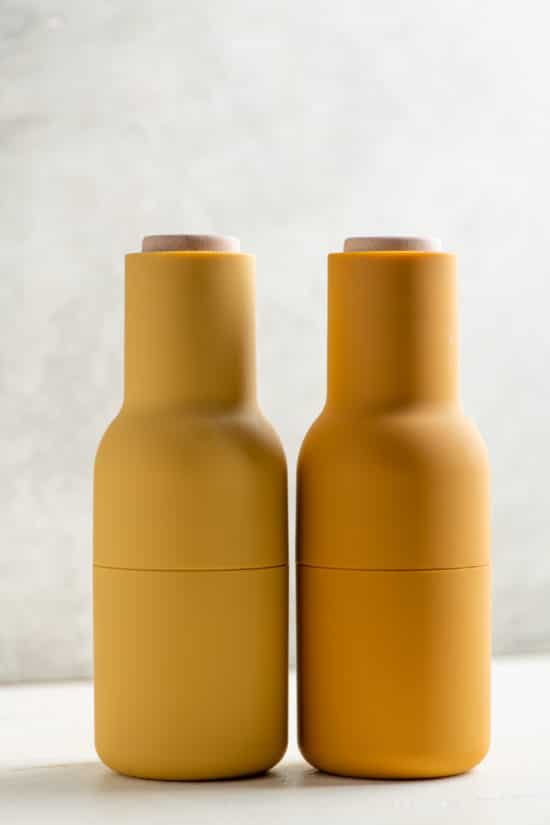 I bought these during a recent trip to Copenhagen and even though I had no need for a new salt and pepper grinder set it was one of my favorite tabletop purchases in a while.  Every set comes in two impeccably paired colors (there are more on the Menu site to choose from), the soft rubber surface is easy to grip and clean, and there is something so incredibly satisfying about the shape and hues.  They feel like a little bit of modern art on your table.
---
Gifts To Order
Do you know a displaced New Yorker?  Then you are about to become that person's hero (especially if they are either Jewish or have a penchant for classic Jewish deli food).  An assortment of the greatest hits from Katz's Deli includes their world famous pastrami, corned beef, salami and mustard (did you know mustard can be famous?  Now you do), as well as hot dogs, sauerkraut, pickles, and a bunch of bagels.  If you want to show someone, or remind them, of what Nooo Yawk deli is all about, this oughta do it.
If there is an ice cream lover in your world, you are about to make them very, very happy.  The selection of this award winning ice cream from the small-batch company based out of SF is stupidly appealing.
Their famous Secret Breakfast Ice Cream is bourbon ice cream with cornflakes (that's right), Blue Bottle Vietnamese Coffee Ice Cream is made with BB's organic coffee, sweetened condensed milk and chicory, Salted Caramel Cocoa Nib Ice Cream is crunchy, sweet, and salty, and Dark Chocolate Smoked Sea Salt Ice Cream is a sophisticated balance of savory and sweet, made with 72% Guittard dark chocolate.