So, you're driving down the highway, heading to your mom's, or your aunt's or your cousins' for the holidays.  You've managed to get the car packed with your luggage, the wrapped presents, the Raspberry Streusel Coffee Cake you promised to bake and bring, and everyone is accounted for, even the dog (who REALLY IS COMPLETELY HYPOALLERGENIC, despite the fact that Aunt Myra starts to wheeze every time she sees him).
You're feeling pretty good; you've got this holiday thing under control.  Your significant other cheerfully calls your host to say you are 30 minutes away (right on schedule!).  Then you hear him say,  "Oh, Uncle Irving and Aunt Marilyn are coming?  That's nice….with the kids?  Great!"  Wait, this is news.  You have not gotten them presents, and your start looking about the car, wondering what you can wrap and give them.  An open pack of gum?  A frayed comic book?  The dog?  But, wait……there is a Cracker Barrel Country Store, gleaming at the exit just ahead…..victory will be yours (and also maybe a Pecan Log).
Here are some last minute gift ideas that will save the day, and barely make a dent in your travel time.
For the host:
A Whole Country Ham (Uncooked)
You have to know your audience for this, and probably let them know it's coming, but if you're going to stay at a house with a bunch of people for a little chunk of time, showing up with a main course — and one that then can become sandwiches, appetizers, and a little something to pick at for days, plus comes with its own honey glaze — well, that's the very definition of the gift that keeps on giving..
For the nieces and nephews:
No matter how technologically advanced our kids get, a menagerie of old-fashioned lollipops is always very happy-making.  And one of them is a frog riding a bicycle.
For your aunt and uncle:
A selection of Braswell's jams, jellies and preserves, such as Raspberry Pomegranate, Triple Berry, and Meyer-Lemon Blood Orange Pepper Jelly means that toast and muffins will always be slathered, peanut butter will never be lonely, and cheese platters will always have a little sweet element to round them out.
For your sister:
My sister and I have a servingware problem.  We both just keep buying it, giving it to each other, and finding  new places for pretty new bowls like this one.
For your mom:
Black and Tan Rooster Kitchen Towel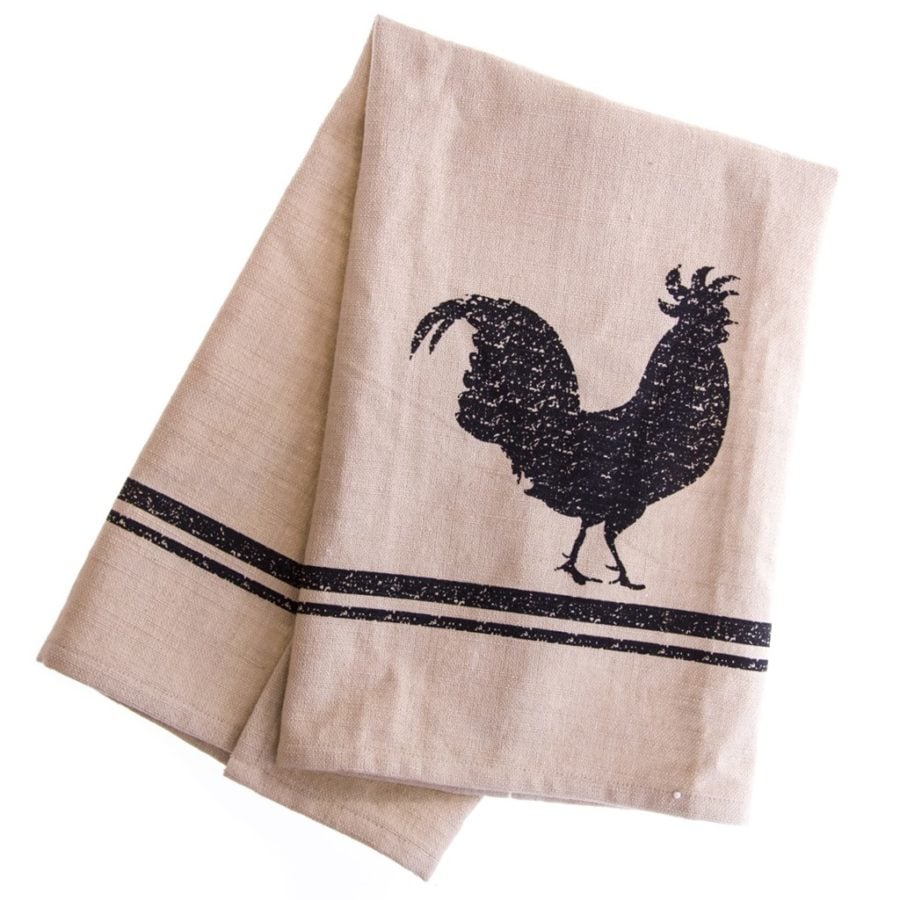 My mom has her dishtowels organized into two groups – the ones she uses before guests come, that are a bit stained and she's not all that attached to, and the "good ones", which can be visible during dinners and parties.   And now my sister and I do the same.  Please tell me we are not the only ones.
For a cheese-loving friend:
Acacia Wood Cutting and Cheese Board
One of my go-to "hostess" gifts for the holidays are a few nice cheeses and/or cured meats, and a beautiful cutting bard to serve them on.  The food gets eaten, and the cutting board gets used again and again.
For your brother-in-law:
Reversible Lodge Cast Iron Griddle
One of my brother-in-laws will mix up a triple batch of pancake batter on a weekend and keep flipping pancakes until everyone is lying on the floor, stuffed.  This griddle would rock his world.
This post is sponsored by Cracker Barrel.  All content, ideas, and words are my own. Thanks for supporting the sponsors that allow me to create new and special content like this for TheMom100.com