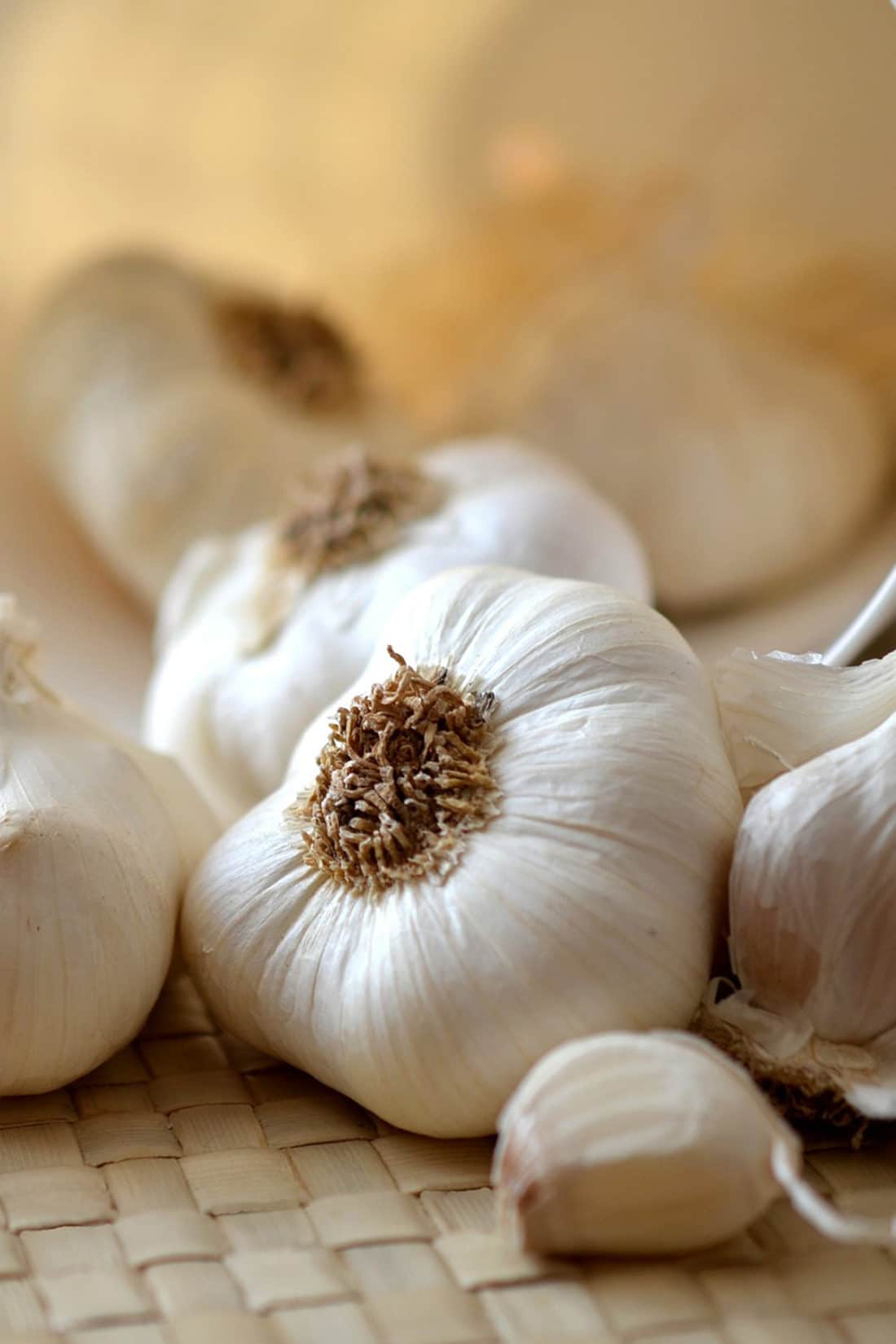 Garlic! Oh, tell me you love garlic….(assuming you do, you're here on this page) So, when you are cooking with garlic, you don't usually need to chop it super-fine, because when it cooks, it will soften and mellow, and blend itself into the dish. But if you are using garlic in an uncooked dish, or a recipe where the garlic really needs to kind of dissolve itself into the dish — whether it be a marinade or a sauce or a rub — you usually do want a pretty fine mince. It can be unpleasant to bite into a big chunk of raw garlic in a dressing or a salad or what have you, so this easy mincing technique will show you how to get the garlic as finely chopped as you want.
In short, if you've bitten into a too-big piece of garlic in a bowl of gazpacho or a bruschetta topped with tomato basil topping, then you know that being able to mince garlic super fine is a very good skill to have.
At the end of this post, there is a video showing you how to mincing garlic really finely and – if you keep going – making it into a paste, which will pretty much dissolve into whatever you are mixing it with.
Just smash a clove or two (or five) of garlic with the side of a heavy knife, slip off the papery skin, and start chopping it on a cutting board with a knife. As it gets chopped, add a pinch or so of kosher or sea salt, and keep chopping. The salt acts as an abrasive so that the garlic gets minced, fine, finer, finest.
Every once in a while, use the side of the knife to smear the garlic against the cutting board, then scrape it back up and keep mincing. You can even hear the salt crunching under the blade of the knife as it works to help pulverize the garlic.
Stop when the garlic is as finely minced as desired, and remember that there is already some salt mixed in, so use a lighter hand when you season the finished dish.
Then go ahead and make those marinades and Roast Beef with Mustard Garlic Crust and Horseradish Sauce with confidence!
Also, you may want to know how to make roasted garlic super easily. Another fabulous way to incorporate garlic into all kinds of dishes.
And check out the video version of this tip. Ta da.