As of now, any of us with kids who don't live on their own are now spending pretty much 24/7 with them. And even though there are bigger issues at hand, we still need to figure out what to do with our little (or not so little) guys that will provide entertainment and distraction …and maybe even a meal or a snack.
When I was a book editor I received a proposal for a parenting book that had maybe my favorite title ever. It was called :"17 hours 'Til Bedtime" and I thought that was hilarious. Then I had kids and found it amusing and apt on deeper levels. Love my kids to pieces, I do, but at any age confined and bored kids = trouble and too much screen time and ornery. So let's give them a little poke, and nudge them towards the kitchen we they can make themselves useful and also hopefully find something fun to focus on.
Also see What Can My Kids Do In the Kitchen?
---
10 Easy Cooking Projects to Do with Kids
Forget that box. In about 20 minutes, you can be eating the real deal.
This is a lush baked mac and cheese, and if you've never made a homemade baked mac and cheese before you and yours are going to be delighted.  Kids can grate cheeses, if they are old enough to handle a grater. They can measure all of the ingredients and mix together the panko topping. If they can be safely near a hot stove they can help stir together the sauce. And they can sprinkle the crumb topping over the casserole.
---
If my family could only have one meal for the rest of their lives, this might be it.
The kids can measure away, and this is a really good recipe to use as a teaching tool to discuss how many teaspoons go into a tablespoon (three, of course), and if you double or triple this recipe it's an awesome math moment in the kitchen. Kids can also put the different toppings in small bowls.
---
The best thing that can happen to a ripe avocado (though I am open to debating).
Kids can cut the crosshatches in the avocados, which does not have to be done neatly, nor does it require a sharp knife. You could let littler kids scoop out chunks of the avocado with a spoon instead. And mash away.
---
A delicious and easy 20-minute meal you can throw together with pantry ingredients and any vegetables you like.
The kids can measure all of the ingredients for the sauce, whisk it up, and toss it with the noodles.
---
This basic deviled eggs recipe is versatile, super easy, and a perennially popular appetizer and snack.
Kids can scoop out the yolks from the hard cooked eggs, measure the mix ins, and choose different seasonings. They also can have fun garnishing the eggs with different toppings, like paprika or herbs.
---
Pizza dough is so easy to make, and will instantly elevate your pizza game!
They can make the dough, knead the dough, stretch and shape the dough, and top the dough with sauce, cheese and their favorite toppings.  
---
Make caulitots, win over the kids (and yourself), and become a card carrying member of the Cauliflower Fan Club.
The kids can squeeze dry the cooked chopped cauliflower in a clean dishtowel, maybe grate cheese if they can handle a grater, measure the rest of the ingredients, blend up the tot mixture, and shape it into cylinders.  
---
This takes all of 10 minutes to get into the oven, and it makes any meal just that much better.
Any meal feels a little more festive when cornbread is served.  They can measure and mix the dry ingredients, crack the eggs and blend them with the milk and melted butter, and combine the wet and dry ingredients.
---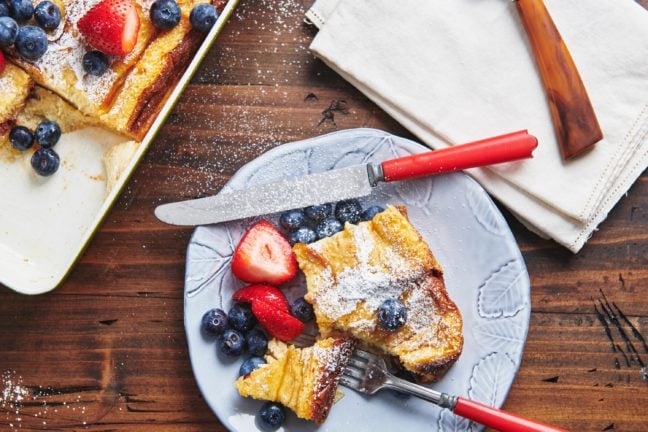 When french toast for breakfast is appealing, but making it in the morning isn't. An easy make-ahead French toast in the oven.
An easy make-ahead French toast in the oven is a great dish to use to pull the kids into the action.  They may be able to help slice the bread (there are lots of kid-friendly plastic knives on the market).  Mix up the egg and milk mixture, pour it over the bread, and help submerge the bread.  They can also pick and choose whatever dried fruits or nuts they like to go in the casserole.
---
When chocolate meets peanut butter, only good things can happen.
Pounding the graham crackers into crumbs for the peanut butter layer is great fun. They can do all of the basic measuring and press the peanut butter mixture into the pan.
---