Apple Cider Beef Stew
Print
Serves 6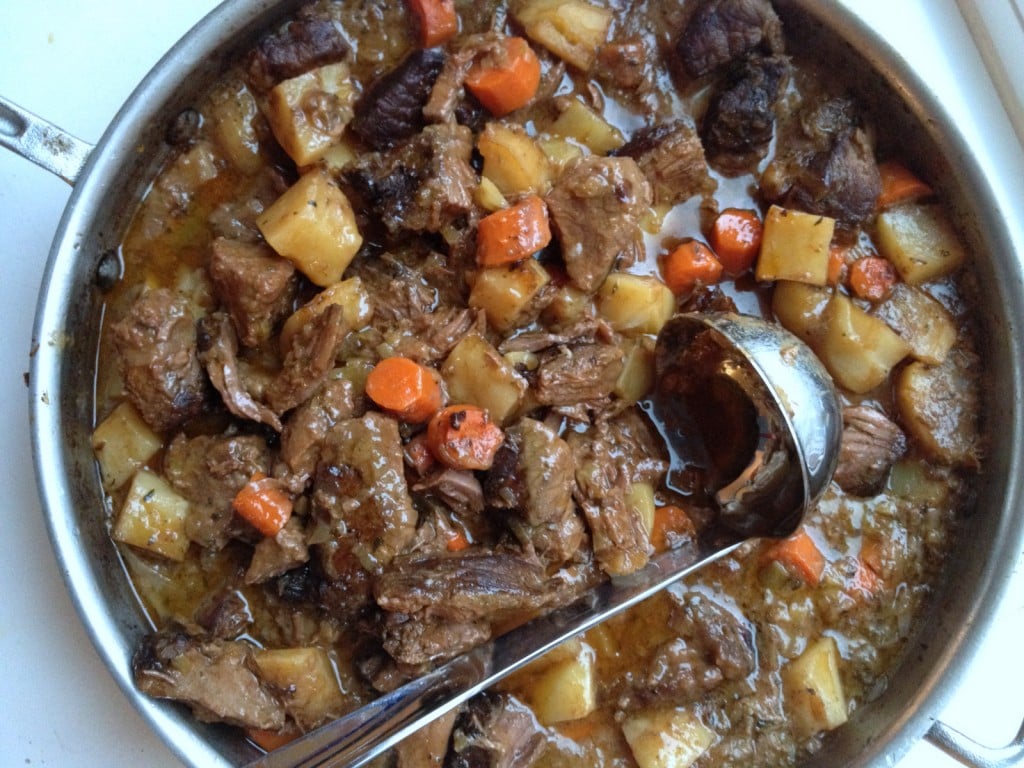 My family loves a classic beef stew made with red wine and tomatoes, but after an overzealous shopping expedition at a farm stand I found myself with a lot of apple cider in the fridge.  (What is it about cider at a farm stand?  Is it possible to NOT buy a couple of jugs?  Especially if they are smart enough to give away little samples.)
Success.  This apple cider beef stew is a nice change of pace, according to the gang, and next time I might even put some cubes of firm apple into the stew towards the end.
3 tablespoons olive oil

1 large onion, sliced

2 large leeks, sliced and rinsed (white and light green parts)

1 teaspoons dried thyme

2 pounds beef stew meat, cut into 1 ½ to 2 inch chunks

2 teaspoons Kosher salt

Freshly ground pepper to taste

2 tablespoons all-purpose flour

2 tablespoons apple brandy, Calvados, cognac or brandy (optional)

1 ½ cups cider, or more as needed

1 tablespoons cider vinegar

2 tablespoons tomato paste

2 large baking potatoes, peeled and cubed

3 large carrots, peeled and cut into 1-inch pieces
1. Heat 2 tablespoons of oil in a large pot, or Dutch oven, over medium heat and sauté the onions, leeks and thyme until they are very soft and lightly browned, about 10 minutes.  Remove the leek mixture to a plate.
2. Season the beef with salt and pepper and sprinkle it with the flour.  Place the same pot over medium-high heat, add the remaining tablespoon of oil, and add the meat in a single layer; don't crowd the meat, you may have to brown it in two batches.  When it is browned on the bottom, after about 2 minutes, turn it and brown the other side for about 2 minutes (you do not need to brown all sides of the pieces of meat).  Add the browned meat to the plate with the leek mixture.
3. Return the pan to medium high heat and add the brandy, if using.  Scrape the bottom of the pan to loosen the browned bits.  Add the cider and continue to stir, scraping up the flavorful bits on the bottom of the pan.   Stir in the cider vinegar and tomato paste, then return the meat and leek mixture to the pot.  Lower the heat to medium low, and cook the stew at a gentle simmer for, partially covered, 2 hours, until the meat starts to become tender.
4. After 2 hours, add the potatoes and carrots, and cook for another 30 to 40 minutes until the vegetables are tender.  You may need to add a bit of cider towards the end if the stew looks like it needs more liquid.
Browning the Meat
One of the few things that is a bit of a chore when you are making a stew is browning the meat before adding the liquid and letting it do its thing for a couple of hours. I think it's an important step is getting the best flavor from the meat, and a nice texture too, but I usually don't have the patience have to brown all "sides" of the cubes of meat to achieve this goal, just a couple of sides will get you there.